In this week's roundup from the Association for Unmanned Vehicle Systems International, which highlights some of the latest news and headlines in unmanned vehicles and robotics, the University of Alaska inspects oil pipelines with an FAA-approved beyond visual line of sight flight, the SharkCam AUV is deployed in the UK, and the National University of Singapore begins fully autonomous passenger shuttle service.
University of Alaska Fairbanks team completes first FAA-approved BVLOS mission in U.S.
A University of Alaska Fairbanks (UAF)-led team recently completed the first FAA-approved true beyond visual line of sight (BVLOS) domestic flight of a UAS in the United States under the small UAS rule.
A Skyfront Perimeter long range hybrid-electric UAS flew 3.87 miles as it inspected a portion of the Trans-Alaska Pipeline. Operators flew the UAS from the university's Alaska Center for Unmanned Aircraft Systems Integration.
Instead of using human observers, the UAF team used onboard and ground-based detection systems during the flight to detect and avoid other aircraft in the airspace. One of the systems used was Iris Automation's Casia, which is an onboard collision avoidance technology. The team also used a five-nautical-mile system made up of eight ground-based Echodyne radars that provided aviation radar coverage along the flight path.
"These first flights demonstrated that new technology can provide a route toward safe beyond-visual-line-of-sight operation of unmanned aircraft in Alaska," says Cathy Cahill, director of ACUASI, which is part of the UAF Geophysical Institute.
"We want to ensure the safety of manned aviation while opening new opportunities for unmanned aircraft cargo deliveries to villages, monitoring of infrastructure, mammal surveys and a host of other missions of use to Alaskans."
The flights were conducted under the UAS Integration Pilot Program (IPP), which UAF is participating in. Some of UAF's goals during the program include enabling routine monitoring flights of both the trans-Alaska oil pipeline and Hilcorp Alaska's Swanson River Oil Pipeline, delivering medical supplies to remote areas, and enabling BLOS operations across Alaska 24 hours a day, all year long.
"The Integration Pilot Program is helping us advance the safe, secure and reliable integration of drones into the national airspace," says FAA Acting Administrator Daniel K. Elwell. "This important milestone in Alaska gets us closer to that goal."
AUV used to observe behavior of basking sharks
For the first time, an autonomous "SharkCam" has been used in the UK to observe the behavior of basking sharks off the Inner Hebrides.
Using an AUV, scientists were able to follow the world's second largest fish below the surface of the water and collect high-quality oceanographic data and wide angle high-definition video of their behavior from a distance.
Scientists hope that the images captured by the REMUS 100-meter rated SharkCam Robot will "reinforce the case" for creating the world's first protected area for basking sharks in this part of the sea.
The AUV was deployed off the coast of Coll and Tiree in July. Initial footage from this deployment shows the sharks moving through the water column, potentially searching for food, feeding near the surface and swimming close to the seabed.
Through further analysis of the video footage obtained captured by the AUV, along with visuals from towed camera tags attached to the sharks and the deployment of advanced sonar imaging, the hope is that scientists will be able to learn more about these sharks and their underwater behavior, social interactions, group behavior and courtship.
"This year's collaboration has allowed us to use a combination of camera technologies and given us a glimpse of basking sharks' underwater behavior – a real first and very exciting," says Dr Suzanne Henderson, marine policy and advice officer at Scottish Natural Heritage (SNH).
"The footage has already made us reassess their behavior, with the sharks appearing to spend much more time swimming just above the seabed than we previously thought."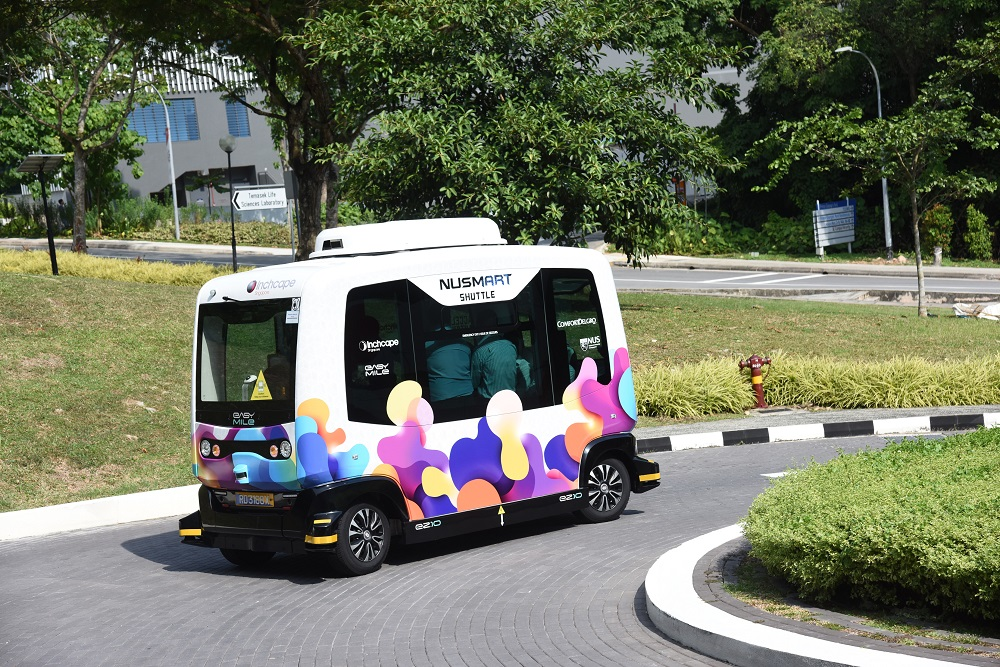 EasyMile's NUSmart Shuttle begins passenger service at National University of Singapore
This week, EasyMile's fully autonomous NUSmart Shuttle began passenger service at the National University of Singapore's (NUS) Kent Ridge campus.
Part of a year-long study, the trial, which is free to all commuters, is designed to determine the commercial viability of providing safe autonomous shuttle bus services. The shuttle will operate along a predefined route.
"As a pioneer in autonomous vehicle technologies, EasyMile is proud to support its partners in testing the integration of our autonomous shuttle for public transportation," says Alexandre Pequignot, EasyMile Business Development & Partnership manager for Asia Pacific.
"We have supported more than 230 deployments worldwide in various environments and this project will give us more insights for future deployments in Singapore."
The shuttle, which is an EasyMile EZ10 autonomous shuttle, will operate Mondays through Fridays on 20-minute intervals during set times. The operating hours are expected to increase progressively during the trial.
The shuttle will not operate when it rains during the initial phase of the trial, in an effort to enable the vehicle to calibrate its internal systems, but EasyMile says that a wet weather service could be available at a later stage.
Running entirely on electricity, the NUSmart Shuttle can carry up to 12 people, and can also accommodate a wheelchair. It also has an in-built access ramp for mobility challenged passengers.
A safety operator will be on board the shuttle while it is moving during the trial, to address inquiries from commuters, and to make sure that the vehicle is operating safely.
The shuttle is equipped with a full range of sensors that help it detect and avoid potential obstacles. To navigate on the roads without help from external infrastructure, the shuttle relies on its own internal array of software and hardware technologies.
EasyMile notes that this trial is the first autonomous shuttle bus to be operated by a land transport operator in real mixed traffic conditions, alongside regular buses, cars and motorcycles. The NUSmart Shuttle is funded and imported by Inchcape Singapore, and it will be operated by ComfortDelGro's wholly-owned subsidiary, ComfortDelGro Bus Pte Ltd.
"This passenger service trial provides us with an opportunity to observe how passengers respond to an autonomous vehicle," says Yang Ban Seng, ComfortDelGro managing director and Group CEO.
"The operational experience gained will also be invaluable as we prepare for a future where autonomous and artificial intelligence becomes an integral part of our daily commute."
Share your vision-related news by contacting Dennis Scimeca, Associate Editor, Vision Systems Design

SUBSCRIBE TO OUR NEWSLETTERS