Unmanned systems: Police drone deployments and dangerous arctic exploration
Law enforcement in North Dakota, autonomous shuttle service in California, and robot subs in frigid waters.
Aug 19th, 2019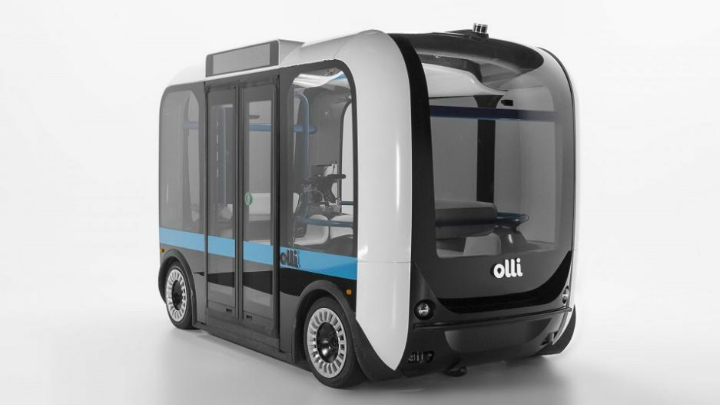 In this week's roundup from the Association for Unmanned Vehicle Systems International, which highlights some of the latest news and headlines in unmanned vehicles and robotics, North Dakota law enforcement in Bismark receives expanded UAS flight permissions, autonomous shuttle service begins in Rancho Cordova, California, and a robotic sub undertakes a dangerous mission of Arctic exploration.
Burleigh County Sheriff's Department receives approval to fly UAS over people
The Burleigh County Sheriff's Department in Bismarck, North Dakota has received approval from the FAA to fly its UAS over people.
According to the department, it is the first law enforcement agency in the state, and just the second county law enforcement agency in the nation, to receive such permission.
The four-year authorization allows the department to operate its UAS over urban areas in which people live or gather. The department launched its UAS program about a year ago, and during that time, it was only allowed to fly the technology in rural areas, such as when it recently provided assistance after a rural highway washed out during heavy rain on the Standing Rock Sioux Reservation, which caused two deaths.
"If we have to operate within the city of Bismarck, that's where this waiver is really going to come into play for us," says Deputy Tom Schroeder. "We can fly over people to conduct business. We can fly over a park, we can fly over a golf course, things like that."
With this authorization, the department can also use its UAS to assist fellow law enforcement agencies within the state's borders if there is an incident that requires a UAS to be flown over populated areas.
"This waiver will not only enhance efforts in Burleigh County but also statewide," Schroeder says.
The department currently has a total of five UAS, which are used for a variety of purposes including planning, crash reconstruction, emergency response, pursuing fleeing suspects, and documenting crime scenes. The UAS that will be used to fly over people is equipped with a parachute recovery system designed by ParaZero SafeAir. If the UAS fails, the system shuts down the rotors, deploys a parachute and emits a buzzer to warn bystanders below.
"As the first law enforcement agency to secure a … waiver, their achievement paves the way for other agencies as well," says Avi Lozowick, ParaZero vice president of policy and strategy. In June, the North Dakota Transportation Department became the first state government agency to receive an FAA permit to fly UAS over people. According to Schroeder, the Burleigh County Sheriff's Department decided to "partner with the state and take advantage of the research and homework that they've done."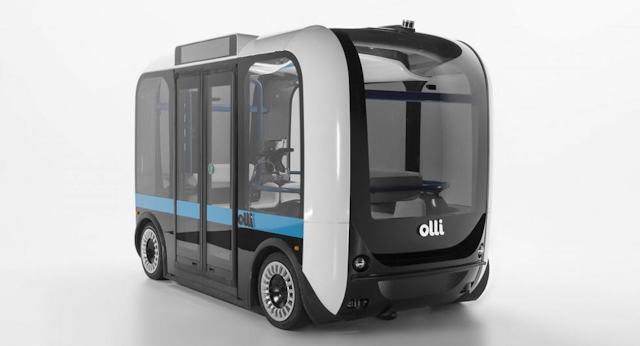 Local Motors' Olli autonomous shuttle now operating in Rancho Cordova, California
Local Motors has announced that its Olli autonomous shuttle recently began operating in the city of Rancho Cordova, California at the White Rock Corporate Campus, which is a large business park that is home to 1,600 employees.
Over the next three months, Olli will be available to campus employees and the general public under a pilot project being funded primarily by the Sacramento Area Council of Governments (SACOG). The city of Rancho Cordova is providing additional funding assistance.
"Olli was designed with an eye on the future of mobility, knowing transportation needs are evolving in a variety of settings, including within the business community," explains Matt Rivett, Local Motors executive vice president.
"This partnership with Rancho Cordova is definitely a milestone, and we anticipate that Olli will be embraced as the safe, user-friendly transportation option that she is."
During the three-month pilot project, rider surveys will be used to collect data to help get an understanding of how the public feels about self-driving shuttles.
The surveys will also be used to gauge how the public feels about the potential for congestion relief and better mobility, the reduction of single occupant vehicle use, and the potential for the use of the latest Intelligent Transportation System (ITS) technology.
"The Sacramento Area Council of Governments is thrilled to see the rubber hitting the road as Rancho Cordova launches its autonomous Olli shuttle pilot," says James Corless, SACOG's executive director.
"This project was dreamed up in our Civic Lab innovation accelerator program and funded by the SACOG board of directors and private sector matches. We look forward to seeing how innovative mobility solutions can operate in a business park setting, providing a clean, zero-emission transportation choice for workers."
The Olli shuttle will operate at the White Rock Corporate Campus until Nov. 7.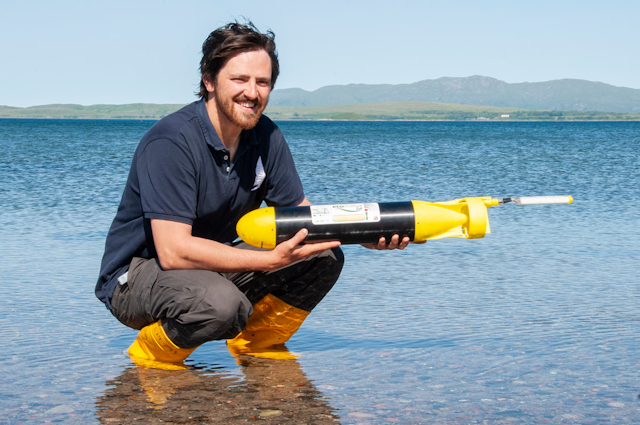 ecoSUB robot to perform Arctic research mission considered too dangerous for humans
In an effort to help scientists understand the true extent of melting from Arctic glaciers, an ecoSUB underwater robotic vehicle will perform an Arctic research mission that is considered too dangerous for humans.
The ecoSUB will be deployed to the foot of a melting glacier in Arctic Norway. The goal of the mission is to learn more about the effect of meltwater on a process called 'calving', which causes huge chunks of ice to break off the glacier edge.
As part of the mission, the ecoSUB will enter one of the most hostile environments on earth to take measurements such as temperature and salinity as far down as 100 meters below Kronebreen glacier on Svalbard, providing researchers with a better picture of the effect that warming ocean properties have on the calving process.
The readings obtained by the ecoSUB will help researchers get a better understanding of the process of sub-glacial discharge, which is a term given to "melt water that flows down through the glacier and out into the ocean," according to ecoSUB Robotics.
EcoSUB Robotics explains that "this water is fresher than the surrounding sea water, so starts to rise in the water column, creating a plume that pulls in warmer Atlantic water. As it rises, it circulates and creates a sandpaper effect against the face of the glacier. This process undermines the wall of ice, causing huge chunks to collapse into the sea."
With this in mind, the team from the Scottish Association for Marine Science (SAMS), which owns and operates the ecoSUB, will deploy a larger AUV further from the glacier to take more detailed measurements. A UAS will also be used to take aerial images of the glacier to help build a 3D map, while simultaneously capturing a bird's-eye view of calving events.
"Given the importance of Arctic glacial ice melt in terms of climate change and sea level rise, the interaction between melt water and sea water beneath glaciers is hugely understudied. We have satellite images and models that help to predict the extent of ice loss but it is extremely important to 'ground-truth' these predictions by investigating conditions in the field," explains oceanographer Prof Mark Inall, the leader of the SAMS team.
"It would simply be too dangerous to go into such a hostile and remote environment with a boat. Not only is there a risk of falling ice, but large-scale calving causes huge waves, so it is a dangerous environment. That is where the ecoSUB will come into its own, working at the front line of Arctic science."
Share your vision-related news by contacting Dennis Scimeca, Associate Editor, Vision Systems Design

SUBSCRIBE TO OUR NEWSLETTERS