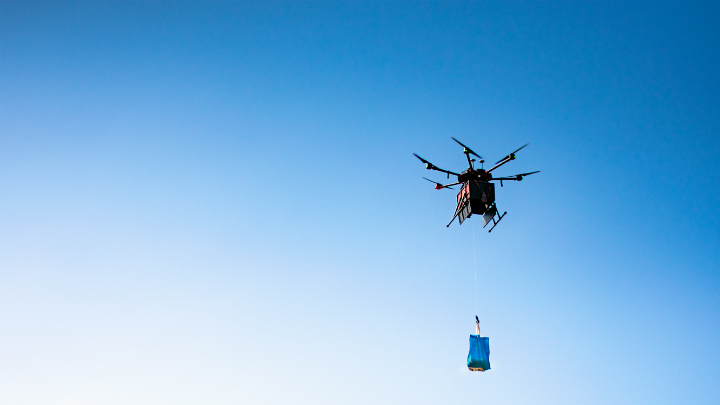 In this week's roundup from the Association for Unmanned Vehicle Systems International, which highlights some of the latest news and headlines in unmanned vehicles and robotics, the Kansas Department of Transportation and Xcel Energy company in North Dakota receive permission for long-distance drone flights, and drone food deliveries begin in North Carolina.
KDOT IPP team to conduct landmark BVLOS UAS flight leveraging only onboard detect-and-avoid systems
The Kansas Department of Transportation (KDOT) UAS Integration Pilot Program (IPP) team has been granted permission to conduct the first ever beyond visual line of sight (BVLOS) UAS flight that utilizes only onboard detect-and-avoid systems.
According to the KDOT team, this is the first-ever FAA authorized Part 107 operation to fly without visual observers or ground-based radar in place, as the flight will leverage Iris Automation's onboard collision avoidance system, Casia.
"Flying rural missions like these without a human pilot onboard or costly radar on the ground is exponentially safer and more cost effective," says Iris Automation CEO and co-founder Alexander Harmsen.
"The FAA is trusting us to pave the way for a safer, scalable future together with this precedent-setting second approval of our system."
The milestone flight will be a collaborative effort between KDOT, Iris Automation, Kansas State University (K-State) Polytechnic Campus, and Westar Energy, as the entities will perform a nine-mile mission to inspect power lines in rural Kansas. The KDOT team says that this approval is the first of its kind for long line linear infrastructure, and is the first step to enable routine commercial linear infrastructure inspection across the state.
"This approval has a significant impact on the scalability of infrastructure inspection in Kansas, allowing us to conduct flights longer, cheaper and faster than previously possible," says Bob Brock, KDOT director of Aviation.
"Kansas continues to lead the nation in safe UAS integration."
According to the KDOT team, this is first UAS flight in FAA history "to leverage onboard sense and avoid systems alone for collision avoidance support." This will also be the first required automated avoidance action. Flights will be conducted over the next few months, and will provide the FAA with critical data on true BVLOS activity.
K-State Polytechnic's Applied Aviation Research Center will be responsible for the training and flight operations with a cross-functional team from the KDOT IPP team. The research center played a pivotal role in developing the safety case that ultimately led to FAA approval.
"We look forward to leveraging this waiver to integrate UAS technology into the transmission line inspection process," says Kurt Carraway, UAS executive director of the K-State Polytechnic Applied Aviation Research Center.
"We are certain that utilities will be able to quickly realize a return on investment while mitigating safety to their maintenance personnel and increasing the reliability of their infrastructure to the general public."
Causey Aviation Unmanned, Flytrex to begin delivering food via UAS in NC
The FAA has granted UAS services company Causey Aviation Unmanned Inc. (CAU) and Flytrex permission to begin using UAS to make food deliveries in Holly Springs, North Carolina.
The flights, which will be conducted under the UAS Integration Pilot Program (UAS IPP), will be a collaborative effort between CUA, Flytrex, the North Carolina Department of Transportation (NCDOT), the Town of Holly Springs, and Kite Realty Group Trust.
"Regulation is crucial to the future of widespread drone delivery, both for safe operations and public acceptance, which is why we have been working diligently with the FAA to adhere to the highest standards of safety," says Yariv Bash, CEO and co-founder of Flytrex.
"We continually strive to reach new heights when it comes to advancing commercial drone use around the world. That is why we are thrilled to have been chosen to work so closely with the FAA to help this pilot take off. This is just the beginning as we expand the possibilities of sky-bound delivery."
Flytrex's UAS will fly along one predetermined delivery route, connecting a distribution center at Holly Springs Towne Center—a shopping destination owned and operated by Kite Realty Group—with a nearby outdoor sports and recreation hub called Ting Park.
The flight route crosses over Route 55, and will fly primarily over unpopulated areas, as it avoids flights over adjacent neighborhoods.
CAU says that its UAS delivery operations for compensation under this provision will be conducted in accordance with Part 107 rules, and within line of sight of the remote pilot in command (RPIC).
The deliveries are expected to begin soon.
North Dakota UAS IPP, Xcel Energy receive waivers to conduct wider range of UAS flights without visual observers
On Friday, Aug. 16, Sen. John Hoeven of North Dakota announced that the FAA has issued waivers for North Dakota's UAS Integration Pilot Program (IPP) and electric services company Xcel Energy, which will allow each entity to conduct a wider range of UAS flights without a chase plane or other visual observers.
"These updated waivers for the North Dakota IPP and Xcel Energy are a big win, and with them in place, companies across the country should recognize that our state is the location of choice for advanced UAS operations," Senator Hoeven says.
"The waivers strengthen the federal, state and private partnerships we've built and enable the testing and implementation of this technology for public, commercial, rural and urban applications. That means our test site and pilot program can provide unmatched opportunities to demonstrate the benefits of unmanned aircraft, including cost-savings and safer working environments, while also helping to advance the technology's full and safe integration into the national airspace."
The waiver for the North Dakota UAS IPP expands North Dakota's ability to conduct beyond visual line of sight (BVLOS) flights in urban environments and over people. The waiver also incorporates the night flight authorization, which Hoeven helped secure for the Northern Plains UAS Test Site into the IPP's operations.
For Xcel, the new waiver "moves the company from an authority based on a specific location to one based on meeting certain operational criteria," which significantly expands the company's ability to test and develop UAS applications. With the waiver, Xcel will now be able to conduct UAS flights without a visual observer within 100 feet above and 20 feet laterally of its transmission lines across eight states, including in North Dakota.
"Our work on unmanned aircraft systems with Senator Hoeven demonstrates that collaboration benefits our customers, the economy and the environment," says Kent Larson, executive vice president and group president of operations for Xcel Energy.
"Our latest waiver is a significant step forward as we build on our industry leading use of drones to improve the safety and reliability of the electrical grid. North Dakota is a national pioneer in developing new ways to use drone technology, and we thank the senator for his leadership and support integrating drones into the national airspace."
Share your vision-related news by contacting Dennis Scimeca, Associate Editor, Vision Systems Design

SUBSCRIBE TO OUR NEWSLETTERS