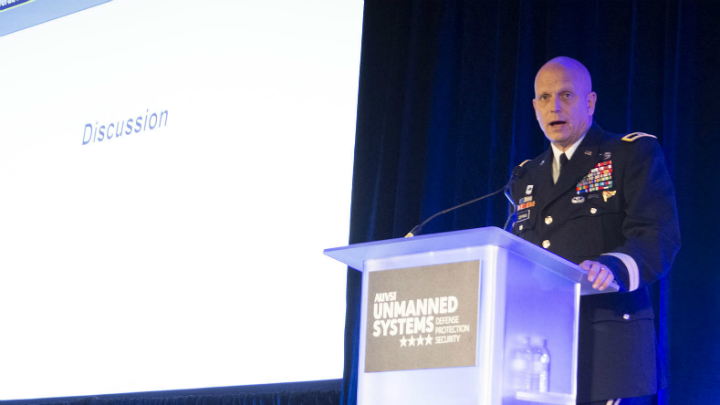 In this week's roundup from the Association for Unmanned Vehicle Systems International, which highlights some of the latest news and headlines in unmanned vehicles and robotics, drone flights without visual observers to begin in North Dakota, a quadcopter drone sets a landmark achievement for distance flight without recharging, and U.S. Army Futures Command lays out the future of drone use in the American military.
Airbus Aerial granted waiver to conduct BVLOS ops without visual observer in Grand Forks
The FAA has granted Airbus Aerial a waiver to conduct beyond visual line of sight (BVLOS) UAS operations without the need for a visual observer in Grand Forks, North Dakota.
Airbus Aerial will perform these flights under the North Dakota Department of Transportation's UAS Integration Pilot Program (IPP).
"UAS are a critical aspect of the future of aviation in America – and, in fact, globally. We are honored to be a part of such an important, historic effort," says Jesse Kallman, head of Airbus Defense and Space's Intelligence business activities in North America.
Under the waiver, Airbus Aerial will work with Xcel Energy—whom also recently received a waiver from the FAA to conduct a wider range of UAS flights without a chase plane or other visual observers—to deploy a SenseFly eBee Plus fixed-wing UAS to fly BVLOS over the right-of-ways of Xcel Energy's distribution networks in residential neighborhoods.
According to Airbus Aerial, this work allows the utility industry to appropriately assess and utilize UAS, while also taking advantage of the benefits of a "cost effective and scalable program" across their entire network.
Airbus Aerial says that BVLOS and operation over people (OOP) flights "are the only way to appreciate a significant increase in ROI with UAS technology." The company adds that "as the scale grows, the lessons learned and benefits will expand into new markets."
"Waivers to this magnitude are not achieved unless you have an innovative team of partners that are extremely dedicated, working for the advancement of UAS integration initiatives while keeping safety at the forefront," says Russ Buchholz, UAS program administrator for NDDOT's Integration Pilot Program.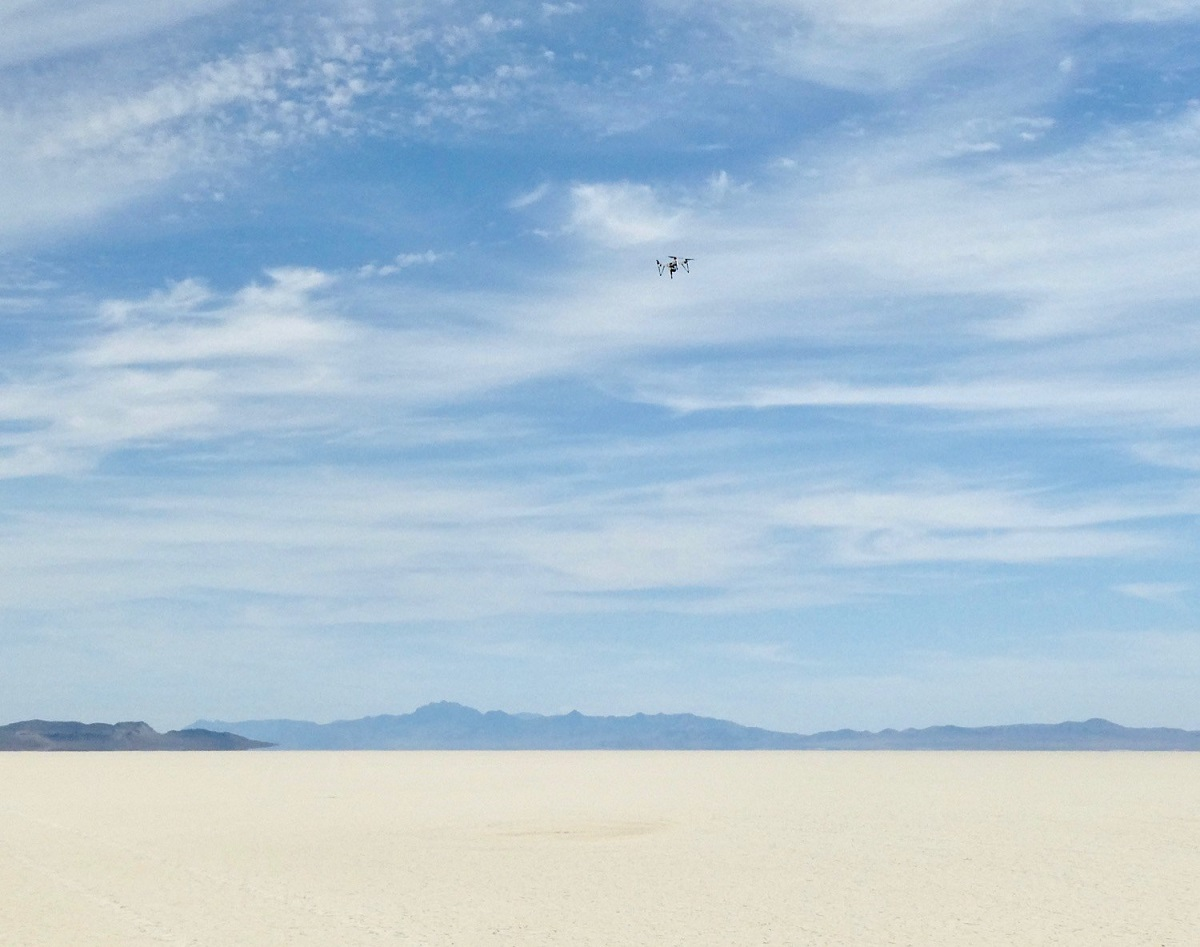 Impossible Aerospace's US-1 crosses northern Nevada desert without recharging
Impossible Aerospace has announced that its US-1 "flying battery" quadcopter is the first aircraft of its kind to cross the northern Nevada desert without recharging.
The feat was accomplished on Aug. 6 during repeated 72-minute flights across the playa.
"The US-1 is the first major breakthrough in drone performance since the introduction of the quadcopter," says Spencer Gore, CEO.
"More importantly, is the first battery-electric aircraft to rival the performance of a conventionally powered system."
Impossible Aerospace says that an unmodified production US-1 was used during the flight. Carrying a FLIR Duo Pro R camera and HD video transmitter, the US-1 flew distances of 29 and 21 miles respectively, with and against the prevailing winds.
According to Impossible Aerospace, other aircraft have flown similar distances, but what made this flight unique was that the US-1 uses propellers instead of wings to fight gravity, which requires more energy per mile but allows the aircraft to hover in place.
The Aug. 6 flight was planned to avoid operations over people and protected wilderness areas. Conducted under 14 CFR 107.25, the flight had a pilot operating as a passenger of a moving vehicle over a sparsely populated area maintaining visual line of sight to the aircraft.
"The ultimate vision of Impossible Aerospace is to build long-range electric aircraft that carry goods and people around the world, emissions free," Gore says.
"But electrification changes literally everything about an aircraft, and many of these changes will take years to prove safe enough for passenger transport. In the meantime, we believe it's prudent to push the envelope of electric aircraft using unmanned aircraft, and to advance drone regulations by piloting use cases that save lives."
Impossible Aerospace notes that the US-1 has seen "strong commercial traction" with government and enterprise customers. The day before the flights, the city of San Pablo, California announced plans to purchase three US-1 aircraft for its police department to use. The following week, SeekOps, a gas detection company, announced it would integrate with US-1.
Unmanned vehicles to change the way we fight our wars
Unmanned vehicles "are going to change the way we fight our wars," according to Brig. Gen. Ross Coffman, Director of the Next Generation Combat Vehicle (NGCV) – Cross Functional Team (CFT), U.S. Army Futures Command.
Among the many ways this technology could help soldiers on the battlefield is by taking them out of precarious situations and conducting dangerous operations.
While robots will not save the number of people needed, they "will save the people you have by managing risks," Coffman said during his keynote address on the final day of AUVSI Unmanned Systems Defense. Protection. Security in Washington.
There is no shortage of ways that unmanned systems — be it in the air or on the ground — can help the warfighter, but Coffman said he doesn't believe these systems should have full autonomy.
"I don't want the machine to do whatever the machine wants to do, I want it to do exactly what I told it it can or cannot," Coffman said. "They must follow our rules."
'Need better than our potential adversaries'
Unmanned systems will play an integral role in the future battlefield; one where information is aggregated onto a common interface where everyone on the battlefield can see it, Coffman said. A machine will then determine a recommended course of action for humans to decide which assets have the highest probability to kill for that particular threat.
At the core of the fight is a machine-assisted, enemy common operating picture that is aggregated and seen across the battlefield, Coffman said. In their hands, soldiers will have a common interface where they will have a range of options presented to them by machines. The information will be generated largely by air and ground systems.
"I'm a ground guy, I'm focused there," Coffman said. "However, I love anything in the air that can help. This is an important space."
Coffman noted that while his friends, and many in the public, think that the goal is to develop autonomous systems that kill what they are programmed to kill, he actually wants to do quite the opposite.
"We're turning existing vehicles into robots to conduct experiments," Coffman said, to determine how they're going to fight with robots in the future.
According to Coffman, who has been charged with the task of leading the effort to build three classes of experimental vehicles for army decision, the robots will be controlled by the manned control vehicle. Right now, the thinking is that there will be two individuals per one robot, but Coffman wants to get to a place where there will be 12 robots that can be controlled by one human.
"I think that's very doable," he said. "When? I don't know. I'm putting 2025 out there, but it could be sooner."
The vehicles will be payload agnostic, semi-autonomous, and be able to be equipped with various sensors and weapon systems, as well as UAVs. They will be tested and put through the paces to solve a variety of problems.
The hardest problem being encountered right now, Coffman said, is the distance between the robot and the control vehicle. Coffman would like there to be a distance of at least three kilometers, but right now they're at about 1.1 or 1.2 kilometers, which is still extremely beneficial.
At the end of the day, Coffman said he will always want more, but he noted perfection is not the goal.
"We don't need perfection, we need better than our potential adversaries."
Share your vision-related news by contacting Dennis Scimeca, Associate Editor, Vision Systems Design

SUBSCRIBE TO OUR NEWSLETTERS