In this week's roundup from the Association for Unmanned Vehicle Systems International, which highlights some of the latest news and headlines in unmanned vehicles and robotics, a new, more powerful recon drone is ready for military service, new UAVs enhance ocean survey operations, and energy companies conduct new beyond visual line of sights tests in Rome, New York, USA.
AeroVironment launches Puma Long Endurance UAS
AeroVironment has launched its Puma Long Endurance (LE) UAS, which is the next generation in the company's Puma All Environment (AE) small UAS product line.
With new capabilities, increased range, and expanded payload capacity, the Puma LE builds on the Puma AE legacy, delivering Group 2 capabilities in a Group 1 footprint. The UAS is equipped with Mantis i45 gimbaled EO/IR sensor and NVG-visible laser illuminator, helping to provide the warfighter with superior imagery for intelligence, surveillance, and reconnaissance (ISR) during day, night and low-light operations on land and in maritime environments.
"Puma LE is the next generation of the combat-proven Puma AE small UAS, delivering immediate tactical ISR, extended endurance and a dedicated secondary payload bay to dramatically expand its mission capabilities," explains Rick Pedigo, vice president of sales and business development for AeroVironment.
"With Puma LE, AeroVironment expands the envelope of small unmanned aircraft systems, and enables our customers to proceed with certainty in ever-changing operational environments."
Weighing just 22.5 pounds, Puma LE can be launched by hand or bungee, making it easy to deploy and recover.
The UAS has 5.5 hours' worth of flight endurance thanks to its on-board batteries, which doubles the time on station of Puma 3 AE. When used with AeroVironment's Long-Range Tracking Antenna (LRTA), the UAS can operate at a range of up to 60 kilometers.
Additionally, Puma LE's economical dual-case mission pack is equipped with everything needed to perform two complete 5.5-hour missions with a single aircraft and Ground Control System (GCS).
Purpose-built for multi-mission operations with up to 5.5 pounds of total payload capacity, Puma LE has a ruggedized secondary payload bay that allows third-party payloads with a dedicated power supply providing 18-24 volts at up to 5 amps to be integrated, as well as an Ethernet connection port for payload communications. With this capability, operators have the flexibility to incorporate specialized payloads such as electronic warfare, RF emitter geolocation, laser designation, communications relay and others.
Puma LE can be operated manually, as well as autonomously using AeroVironment's common GCS. The UAS utilizes plug and play, interoperable line-replaceable unit (LRU) components that can be shared with other Puma AE aircraft.
"This native compatibility reduces training and logistical impact for operators," AeroVironment says.
To optimize their fielded systems, current Puma AE customers can now purchase the Puma LE as an add-on aircraft and install Puma AE LRU components. Multiple Puma LE system options provide customers with the flexibility to choose the correct configuration based on mission requirements.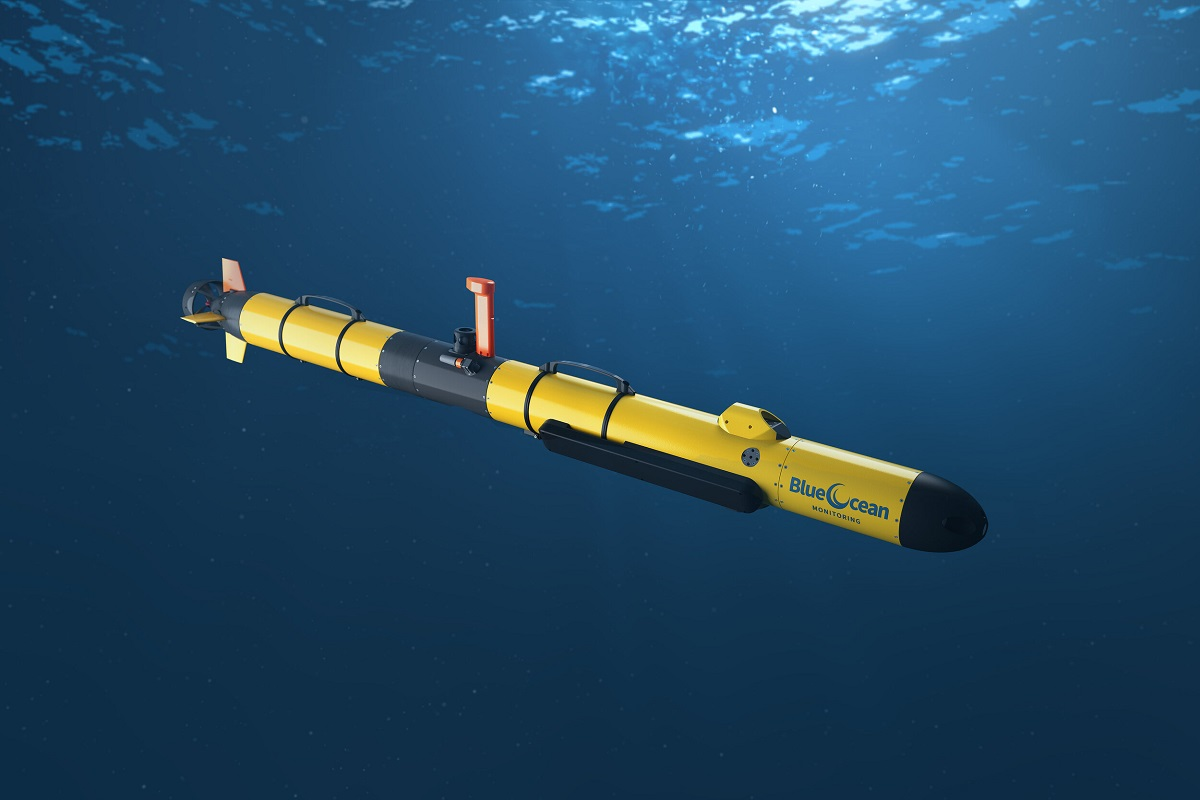 Blue Ocean Monitoring to support its global survey operations with newly purchased AUV
To help support its global survey operations, Blue Ocean Monitoring Ltd. has purchased a new L3Harris Technologies Iver3 AUV.
Capable of operating up to 200 meters, the Iver3 AUV delivers extremely accurate survey data, while significantly reducing project cost, time and risk. The AUV is small enough and light enough to be deployed by a single user from small work vessels or directly from shore.
"The Iver3 AUV is a powerful addition to the expanding range of innovative technology we operate, and the services we can provide," says Keith Wallace, chief commercial officer of Blue Ocean Monitoring.
"We have responded directly to our clients' feedback by comprehensively assessing the latest available technology and procuring what we believe is a superior Light Class AUV for near-field infrastructure and benthic surveys."
The Iver3 AUV is equipped with an EdgeTech 2205B sonar. Combining side-scan sonar with an interferometric Phase Differencing Bathymetry System (PDBS), the EdgeTech 2205B sonar provides a "significantly wider swath" in shallow water compared to Multibeam Echo Sounders, according to Blue Ocean.
Blue Ocean also notes that the EdgeTech 2205B sonar is the only interferometric system on the market that produces bathymetry data with no nadir gap, which furthers the efficacy of these systems for shallow water and low altitude coverage.
"We have immediate requirements for subsea pipeline inspection surveys, shallow water bathymetry surveys and benthic habitat monitoring; however, there are many other applications we are currently exploring," says Simon Illingworth, managing director for Blue Ocean Monitoring.
"The AUV has open system architecture and a modular payload which allows us to be flexible, but it also gives us the opportunity to integrate and test emerging sensor technologies easily as they become available."
Verizon Skyward, Southern Company conduct BVLOS UAS test flights at New York UAS Test Site
Verizon Skyward, energy company Southern Company, and representatives from Hitec recently came together to conduct multiple beyond visual line of sight (BVLOS) UAS test flights at the New York UAS Test Site in Rome, New York.
The goal of the testing was to help Southern Company test UAS and procedures at an active airport as a precursor to long-range BVLOS flights that could help with tasks such as storm damage assessment and routine power line inspections.
"The work we did at NUAIR was an important first step to operating in the BVLOS world," says Corey Hitchcock, Southern Company's chief UAS Pilot.
"Procedures were developed that will lay the foundation of safe BVLOS testing and ultimately lead to BVLOS operations in the greater National Airspace System."
To demonstrate a major use case for Southern's UAS program—line pulling—Hitchcock used one of Southern Company's Matrice 600 UAS to pull a line over a water obstacle, keeping the line elevated and successfully delivering it to a crew member on the other side.
Southern uses this process in the field to pull pilot ropes for electrical transmission and distribution lines, which is beneficial when it comes to time and safety. Following a hurricane in Puerto Rico, Southern used UAS to pull 72,000 feet of rope for conductor wire during power restoration efforts, which saved weeks, maybe even months, of time.
At the airport, core testing was conducted using Hitec's fixed-wing Xeno FX aircraft. Hitec personnel provided hands-on training for everyone present, and after a day of orientation with the aircraft, obtaining permissions, and performing brief training flights, the entities were prepared to conduct sample BVLOS operations.
According to the entities, the first flight successfully tested a modified antenna and proved the aircraft was ready for longer flights. The flight traveled approximately one mile round trip, with about one-quarter mile distance between the launch location and the ground control station.
The second flight doubled the distance of the first flight, with three-quarters of a mile between launch and ground control. Like the first flight, the aircraft performed as expected and accurate data was collected.
The final flight tested the endurance of the aircraft, as it flew for 32 minutes while using just over half the battery capacity. The flight proved the aircraft was well-equipped for long-range BVLOS flights.
"We flew without incident and the aircraft performed just as expected," the entities say.
"We demonstrated that we could safely deploy and control drones beyond visual line of sight using the equipment available."
Share your vision-related news by contacting Dennis Scimeca, Associate Editor, Vision Systems Design

SUBSCRIBE TO OUR NEWSLETTERS