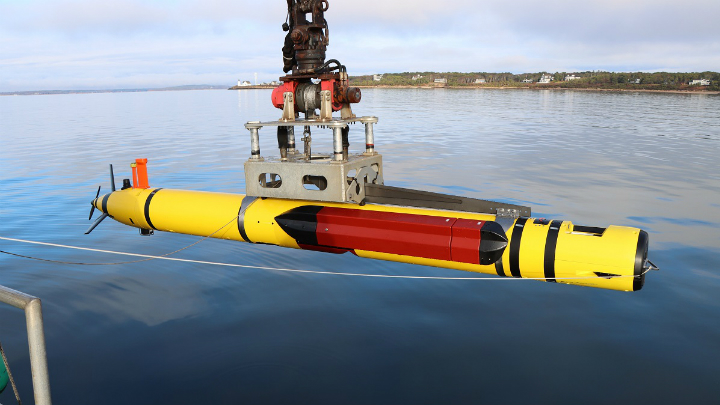 In this week's roundup from the Association for Unmanned Vehicle Systems International, which highlights some of the latest news and headlines in unmanned vehicles and robotics, self-driving semis in Illinois, high-speed sonar processing for unmanned underwater vehicles, and UAS crop-spray initiatives in Pakistan.
Self-driving semi truck begins road test in Illinois
Autobon AI, a technology company based in Lisle, Illinois, has begun testing its self-driving semi truck on the Illinois Tollway.
After undergoing months of testing on the Chicagoland Speedway track in Joliet, the truck is now operating on the road as a result of the permission and cooperation of the Illinois Tollway. A driver will be behind the wheel at all times during testing.
"The driver still has full control," according to Krystian Gebis, the co-founder and chief executive of Autobon AI, via The Register-Mail.
"We want to make sure the truck isn't weaving in the lane and it maintains a safe following distance. We want to make sure it's very precisely driving."
According to Gebis, the company's autonomous technology is not designed to replace truck drivers. Instead, it is designed to help make truck driving less difficult and safer. One of Gebis' motivations behind developing this technology is the number of people killed in truck-related crashes, about 10 a day.
"You want to not have fatigue or stress be a factor in driving," Gebis says. "We are thinking of every possible way we can to make the job more enjoyable for drivers."
Autobon has developed technology that can replace a truck's wind visor, which goes just above the windshield. Equipped with multidirectional cameras, GPS and other sensors, the Autobon wind visor allows the truck to monitor road conditions and respond. The autonomous equipment provides information that the steering wheel, accelerator and brakes inside the truck react to.
To monitor drivers to make sure they aren't nodding off or texting, Autobon is also developing an in-cab sun visor that will be equipped with a camera. The visor can be turned off when drivers are not driving and need privacy.
A remote control operator would be able to monitor drivers. If necessary, the operator can pull a truck over into an emergency lane and stop it.
The Autobon technology does not allow the truck to change lanes on its own; that job will remain in the driver's hands. Testing this week will allow Autobon and the Tollway to collect information about how the technology works in real traffic.
"We're engaging with Autobon to develop a better understanding of emerging vehicle technologies and the way these advances could be used to increase safety on our roads," Illinois Tollway Executive Director Jose Alvarez says in a statement.
Hydroid equips REMUS 600 UUV with HISAS 2040 module for customer
Hydroid Inc. has announced that it equipped a REMUS 600 UUV with the Kongsberg High-Resolution Interferometric Synthetic Aperture Sonar (HISAS) 2040 for a customer.
According to Hydroid, the integration of the in-mission processing allows for the quick download of high-resolution images from the HISAS module once the vehicle returns from its mission.
"The integration is the first of its kind at Hydroid, allowing faster processing of data to shorten post-mission analysis timelines," says Duane Fotheringham, president of Hydroid.
"We're excited to offer this as an option to customers who have time-sensitive missions but also need the high-resolution data of the HISAS module."
According to Hydroid, HISAS 2040 provides up to two centimeter by two centimeter resolution across a 300-meter swath. Combined with the onboard EM2040, HISAS 2040 provides a complete, gap-filled image.
To synthetically lengthen the aperture, synthetic aperture sonar uses algorithms, which provide consistent resolution across the entire swath, both along and across track. This is different from traditional real aperture side scan sonars. HISAS has a high resolution, resulting in the files being very large, and potentially taking several hours to download.
Equipped with the in-mission processor, HISAS data is processed and compressed in real-time along with the navigation data, which allows for the sonar imagery to be downloaded immediately when the vehicle returns from its mission through a 10 gigabyte ethernet switch. Hydroid says that this is ideal for missions that are time-sensitive such as mine countermeasures, where faster data access means safer, more efficient operations. HISAS can also prove useful for applications such as hydrographic surveys, pipeline inspection and rapid environmental assessment.
Two powerful processors were added to the module to integrate the in-mission processing onto the vehicle. This platform allows customers to quickly collect the quality data they need, which ultimately increases their operational flexibility, and helps improve decision making.
UAS help address locust issue in Pakistani province of Sindh
To address the locust issue in the Pakistani province of Sindh, a hometown researcher named Shahzad Nahiyoon has launched a UAS crop-spray initiative.
The first known agricultural drone pilot in Pakistan, Nahiyoon's drones can spray between six to 10 hectares per hour, using tanks that can hold up to 20 liters of pesticides.
"The UAV has emerged as a capable plant protector because it has high operational efficiency, high speed and low drift," Nahiyoon says in an interview with the Express Tribune, via DroneLife.com.
"UAVs are more suitable for complex terrain and small-sized farms with separate plots."
An expert in plant protection, Nahiyoon earned his master's at the Sindh Agriculture University in 2016. Since earning his master's, Nahiyoon has been working towards his doctorate in pesticides sciences at the Chinese Academy of Agricultural Sciences. During his time at the academy, Nahiyoon has learned about the latest techniques in UAS-based plant protection.
"In contrast to the commonly used manned fixed-wing aircraft in the United States, UAVs do not require a take-off airport which makes them much more cost-effective," Nahiyoon says.
Before Nahiyoon introduced drones as an option for these tasks, the provincial government had requested three helicopters, 32 spraying vehicles and pesticides from the Pakistani federal government. These options are considered expensive, and fairly dangerous.
"[Drones] have higher work efficiency, lower operator exposure and improved ability to spray chemicals in a timely and highly spatially-resolved manner," according to Nahiyoon.
Share your vision-related news by contacting Dennis Scimeca, Associate Editor, Vision Systems Design

SUBSCRIBE TO OUR NEWSLETTERS