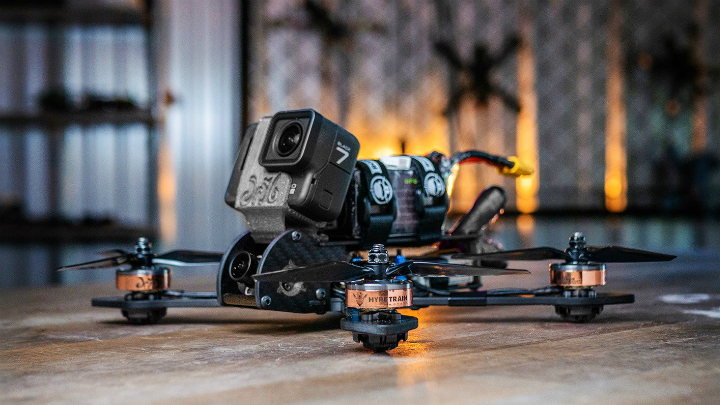 In this week's roundup from the Association for Unmanned Vehicle Systems International, which highlights some of the latest news and headlines in unmanned vehicles and robotics, new remote ID rules for drones, drone racing, and thermal sensor computer simulation.
Industry now responding to proposed remote ID rule for drones
The Federal Aviation Administration's proposed rule for the remote identification of drones has now been printed in the Federal Register, giving interested parties 60 days to respond.
AUVSI is reviewing the rules and will be responding, but in the meantime President and CEO Brian Wynne said he welcomes the move.
"The importance of remote ID regulations cannot be overstated, as they are necessary to enable advanced and expanded operations such as flights over people and beyond line of sight," Wynne said.
"They also serve as the linchpin needed for future rulemakings that will pave the way for transformative uses of UAS with significant benefits for our economy and society, including widespread UAS delivery. Finally, remote ID will also help law enforcement identify and distinguish authorized UAS from those that may pose a security threat."
The issue of identifying who's flying a drone has come to the fore from time to time, including after drone incursions near Heathrow Airport in London and more recently by sightings of night-flying swarms of drones in Colorado and Nebraska.
"The ability to identify and locate UAS operating in the airspace of the United States provides additional situational awareness to manned and unmanned aircraft," the executive summary of the rule says. "This will become even more important as the number of UAS operations in all classes of airspace increase."
The FAA says full implementation of the rule relies on three parts, which are being developed at the same time.
The first is the rule itself, which sets requirements for UAS operators and design and production standards for drone producers. The second is a network of remote ID UAS service suppliers, which would collect the drone identifications and locations in real time and perform that service under contract from the FAA.
The third is the collection of technical requirements that standards-setting organizations will develop to meet the design and production requirements of the rule.
Almost all drones will have to abide by the new rules, with the exception of some home-built systems, drones operated by the U.S. government and unmanned aircraft that weigh less than .55 pounds, such as the new DJI Mavic Mini, which just squeaks under that weight limit.
The rule sets up two categories of remote ID: standard and limited. Standard means that a drone would need to broadcast its identification and location and simultaneously send that information to a UAS service suppliers.
The limited designation would mean the drone could send the info via the internet only, with no broadcast requirements, but they would need to operate no more than 400 feet from their control station.
Drones that can't meet either standard — some homebuilt drones, or older ones manufactured before the rule — could only fly at specific geographic areas specially designated for them.
Timelines
The FAA expects all drones to be compliant with the rules by three years after its effective date. No drones could be manufactured for use in the U.S. after two years of its effective date, and by three years after the date all drones operating in the country would need to be in compliance.
The FAA considered existing technologies such as transponders and Automatic Dependent Surveillance-Broadcast (ADS-B) but found them unsuitable "due to the lack of infrastructure for these technologies at lower altitudes and the potential saturation of available radio frequency spectrum." In fact, the FAA would prohibit drone use of ADS-B for fear of the effect it could have on manned aviation.
Companies such as DJI have proposed other systems, such as DJI's Aeroscope, which identifies drones by analyzing their electronic signals.
The proposed rule would also change the way drones need to be registered. Previously, hobbyists flying drones that weigh more than .55 pounds would need to register themselves, not each individual drone they flew. To meet remote ID needs, they would have to register each aircraft individually.
Red Cat to acquire FPV and drone racing hardware provider Rotor Riot
Red Cat Holdings Inc. has entered into an agreement to acquire first person view (FPV) and drone racing hardware provider Rotor Riot.
Red Cat notes that from 2018 to 2019, Rotor Riot's revenue grew approximately 44 percent year-over-year. Red Cat adds that its acquisition of Rotor Riot will provide the necessary resources and combined expertise to facilitate more growth for both companies.
"We believe this deal is another significant milestone in our strategy to fuel rapid growth," says Jeff Thompson, CEO of Red Cat.
"Rotor Riot is not only a leading provider of FPV and drone racing hardware, but the company is also a trusted resource and deeply embedded in the global FPV community. Combining our companies will further align our SaaS platform and data capabilities with cutting edge hardware available today, and provide a solid foundation for us to develop and engineer new and exciting technologies for both the drone hobby lifestyle and commercial industry."
With plans to continue building and accelerating its drone black box and Software as a service (SaaS) business, Red Cat also plans to use its existing data analytics platform to develop a "robust customer support system" for Rotor Riot.
"As an FPV pilot myself, getting to see Rotor Riot into this next phase is exhilarating. Our dream is to bring FPV drone sports to the mainstream by inspiring people to embrace this hobby and help them overcome the barriers to entry," comments Drew Camden, president of Rotor Riot.
"It's exciting to partner with Red Cat because they share this vision and their resources will help us double down on our efforts."
2019 was a banner year for Rotor Riot. Not only did the company experience substantial growth in its revenue, but Rotor Riot also worked closely with DJI—whom entered into the FPV space last year with a new system to get more people into the hobby— to create content that demonstrates the new system's capabilities. The companies plan to work together moving forward to support each other's efforts.
On Dec. 29, 2019, Rotor Riot Team Pilot Alex Vanover won the Drone Racing League World Championships.
FLIR Systems, ANSYS partner to enhance safety for assisted driving and autonomous vehicles
With a goal of giving automakers the ability to deliver "unprecedented vehicle safety," FLIR Systems Inc. has partnered with ANSYS to deliver "superior hazard detection capabilities" for assisted driving and autonomous vehicles (AVs).
FLIR says that it will equip ANSYS' leading-edge driving simulator with a fully physics-based thermal sensor to facilitate the modeling, testing and validation of thermal camera designs within an "ultra-realistic virtual world."
By optimizing thermal camera placement for use with various tools such as automatic emergency braking (AEB), pedestrian detection, and within future AVs, the new platform is expected to reduce the development time of original equipment manufacturers, the companies say.
"By adding ANSYS' industry-leading simulation solutions to the existing suite of tools for physical testing, engineers, automakers and automotive suppliers can improve the safety of vehicles in all types of driving conditions," says Frank Pennisi, president of the Industrial Business Unit at FLIR Systems.
"The industry can also recreate uncommon corner cases that are exceedingly difficult to replicate in physical environments, paving the way for improved neural networks and the performance of safety features such as AEB."
According to FLIR, a variety of conditions present challenges to current AV and ADAS sensors, including darkness or shadows, sun glare and inclement weather such as most fog. Objects can be effectively detected and classified, though, in these conditions using thermal cameras.
Thousands of driving scenarios across millions of miles can be simulated in just days thanks to ANSYS VRXPERIENCE being equipped with FLIR's thermal sensor. This ultimately allows engineers to simulate difficult-to-produce scenarios where thermal provides critical data, including detecting pedestrians in crowded, low-contrast environments.
"FLIR Systems' recognizes the limitations of relying solely on gathering machine learning datasets in the physical world to make automotive thermal cameras as safe and reliable as possible for automotive uses," says Eric Bantegnie, vice president and general manager at ANSYS.
"Now with ANSYS solutions, FLIR can further empower automakers to speed the creation and certification of assisted-driving systems with thermal cameras."
Share your vision-related news by contacting Dennis Scimeca, Associate Editor, Vision Systems Design

SUBSCRIBE TO OUR NEWSLETTERS