In this week's article from the Association for Unmanned Vehicle Systems International (AUVSI), which highlights some of the latest news and headlines in unmanned vehicles and robotics, we take a look at joint training exercises between U.S. and Romanian forces for missions involving reconnaissance and aerial surveillance, a forthcoming vision-based navigation system for unmanned systems, and NASA testing for beyond visual line of sight testing.
U.S. and Romanian forces conduct training exercise with Raven UAS in Romania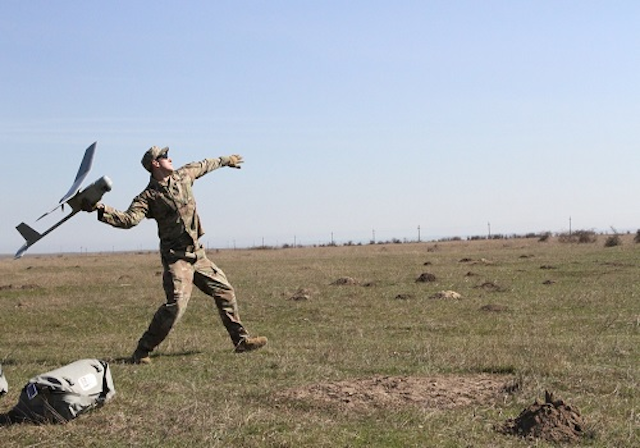 In an effort to learn about the features of the RQ-11 Raven UAS, and how it could help with future missions involving reconnaissance and aerial surveillance, U.S. and Romanian forces recently conducted a training exercisewith the UAS on March 22 in Romania at the Babadag Training Area.
The Raven UAS allows operators to scout an area ahead of time by surveying the area around units, which lowers the danger of collecting intelligence in the field.
"The Raven gives a unit the ability to have eyes on the ground as a reconnaissance tool, instead of putting troops out on the battlefield in harm's way," says U.S. Army Staff Sgt. Nathan Streeter via DVIDSHub. Streeter, who led the training exercise, is a platoon sergeant with Headquarters Company, 1st Battalion, 8th Infantry Regiment.
The training came as a part of a NATO mission called Operation Atlantic Resolve (OAR). The goal of OAR is to bring together the U.S. and its European Allies, along with other partners, so that they can work together to deter aggression and promote regional stability.
"We share a lot of the same equipment with our NATO Allies," Streeter says. "We can show them how we use our UAVs, they can show us how they use theirs and bounce ideas off of each other to learn from each other."
Drone Delivery Canada and University of Toronto and Defence Research and Development Canada partner to develop vision-based technology for UAS
Through a collaborative research and development granting program called the Natural Sciences and Engineering Research Council of Canada (NSERC), Drone Delivery Canada (DDC) and the University of Toronto and Defence Research and Development Canada (DRDC) have signed a sponsored research and collaboration agreementto develop a vision-based navigation system for UAS.
Designed to help UAS navigate safely on their journeys without relying on GPS, the auto-pilot, beyond visual line of sight (BVLOS) technology will eventually be installed on DDC's FLYTE auto-pilot system.
"This collaboration will greatly accelerate our development of vision-based navigation technology for our FLYTE software management and auto-pilot systems required for commercialization," says DDC's CTO Paul Di Benedetto via press release.
"We are working on this next-generation BVLOS drone technology with some of Canada's smartest minds."
The project, which will be jointly funded by DDC and DRDC, will be co-led by Angela Schoellig and Tim Barfoot, both of whom are professors at the University of Toronto's Institute of Aerospace Studies (UTIAS).
North Carolina Department of Transportation establishes best practices and policies for UAS use during first response
After the North Carolina Department of Transportation's (NCDOT) division of aviation held a workshop with emergency management personnel from around the state of North Carolina in January, NCDOT has released a final report on the best practices and recommended policies for agencies in the state using UAS for first response operations.
NCDOT has noted several advantages of using UAS for disaster response, including providing a quicker response time, and the ability to conduct search and rescue missions at a cheaper price.
UAS also eliminate the need for larger aircraft, which reduces the human risk that comes with using larger aircraft, and smaller aircraft also allow access to areas that might not be accessible by larger aircraft.
A statement from NCDOT says, "the division of aviation's goal is to ensure that drones flying within North Carolina are flown safely and responsibly. The purpose of this resource page is to provide state and local governments the appropriate tools to create and manage UAS programs to support their specific operational needs."
While the Federal Aviation Administration has exclusive authority over the use of airspace in the United States, including the airspace being used by UAS, NCDOT has the authority to manage and implement regulations that surround state laws in regards to operations in North Carolina.
SmartPlanes' Freya UAS selected by NASA to conduct BVLOS testing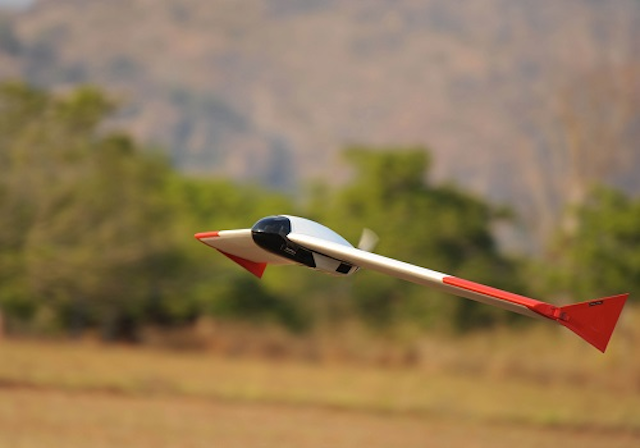 As a part of the NASA UAS Traffic Management (UTM) R&D Technical Capability Level 3 (TCL 3) project, NASA used SmartPlanes' Freya UAS to help with testing related to beyond visual line of sight (BVLOS) operations at the Nevada UAS test site.
The ultimate goal of NASA's UTM platform is to safely integrate and manage UAS into the low-altitude airspace.
SmartPlanes, which is a manufacturer of UAS that can be used for surveying, surveillance, remote sensing and aerial mapping, is confident in its UAS' abilities, especially the Freya UAS, to conduct BVLOS flights.
"At SmartPlanes we are convinced that fixed wing UAVs and especially our latest Freya prototype is very well suited to BVLOS tasks with its 12+ miles line-of-sight telemetry range and 2+ hours flight time," SmartPlanes says in a company press release.
"The fixed wing type UAVs has far more energy efficient flight characteristics and are quickly stretching the boundaries for long distance flights. With experiences from the World Wildlife Fund nature conservation activities in Tanzania, Africa, we are comfortable that Freya's flight endurance will sufficiently enable and succeed in long range tests."
SmartPlanes is currently working with the US Army Corps of Engineers in Maryland, as they conduct long range tests, and they are also working with Alta Devices' Technology to achieve a partly solar powered, 24-hour flight.
View more information on the AUVSI.
Share your vision-related news by contacting James Carroll, Senior Web Editor, Vision Systems Design

To receive news like this in your inbox, click here.
Join our LinkedIn group | Like us on Facebook | Follow us on Twitter
Learn more: search the Vision Systems Design Buyer's Guide for companies, new products, press releases, and videos