In this week's article from the Association for Unmanned Vehicle Systems International (AUVSI), which covers some of the latest news and headlines in unmanned vehicles and robotics, we take a look at unmanned aerial systems (UAS) equipped with LEDs, new security robots, an SUV with a roof-mounted drone for search and rescue, and beyond visual line of sight drone flights.
Draganfly and SureFire partner to incorporate LED technology into Draganfly's UAS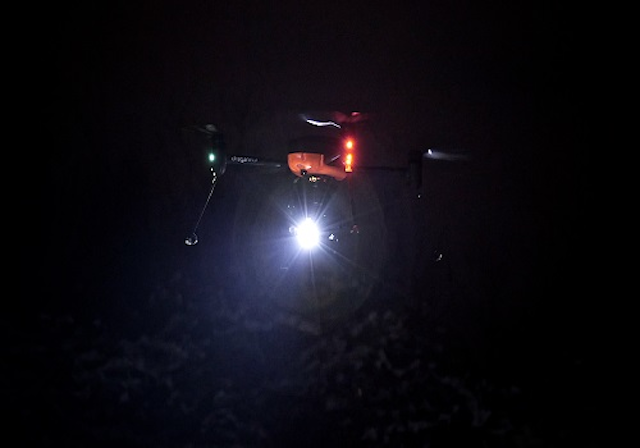 Draganfly Innovations and SureFire LLC have announced a partnership that will see SureFire integrate and test its LED technology on Draganfly's UAS, to provide the UAS with nighttime operational capabilities.
As a part of the partnership between the two companies, Draganfly will equip its Commander UAS with SureFire's dual beam optically enhanced 2000 Lumen unit. The lights will be installed on Draganfly's active stabilized mount (ASM) gimballed camera mount.
The companies say that having a powerful light on a UAS allows for better situational awareness and allows rescuers to locate subjects faster.
SureFire's LED unit has been proven effective, as it has been successfully tested during search and rescue exercises, as well as for general night time videography.
Thanks to SureFire's LED's, Draganfly UAS operators will now have access to data during nighttime operations in a similar manner that they are used to during the daytime.
Cobalt Robotics unveils its new line of security robots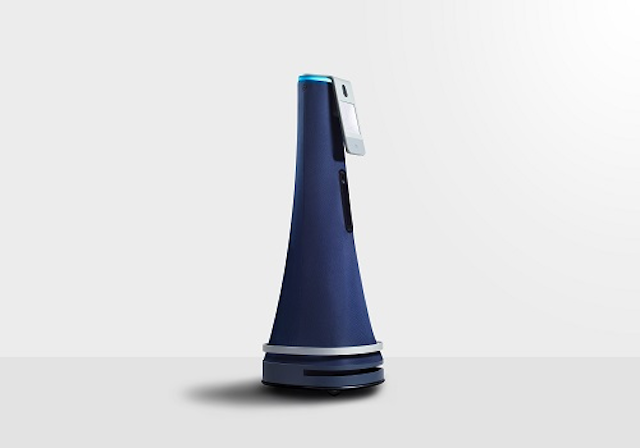 Cobalt Robotics Inc. has unveiled its new line of indoor robot security guards, which are meant to complement human security guards, not replace them. It took Cobalt just one year to develop the robots and their accompanying artificial intelligence software.
Each robot security guard, known as robo-guards, has a total of 60 sensors, including ultrasound, lidar, depth sensors and cameras, and wide-angle day and night cameras, which help the robo-guards detect people around them.
The robo-guards also have mics and two-way video chat screens, which allow for remote human interaction between a security guard or building manager and a person that the robo-guard approaches, as well as RFID scanners on board, which allow the robo-guard to check a person's badge.
Using their technology, the robots scan an area for irregularities and alert security guards on things that need extra attention or inspection. In the future, the robots could be used for other things such as mapping changes in a building, and tracking tagged assets within that building.
Land Rover's new Discovery search and rescue SUV has a roof-mounted drone
Search and rescue crews a part of the Austrian Red Cross will begin using an SUV equipped with a quadcopter UAS that can take off from and land on the SUV. The vehicle was designed by Jaguar Land Rover's Special Vehicle Operations (SVO) unit, and it is a "special version of the new Land Rover Discovery dubbed 'Project Discovery.'"
Built to serve as an aid during search and rescue missions, the UAS is capable of providing the rescue crew in the SUV with live footage, giving them access to information such as where potential survivors of an accident or disaster are located, and how the landscape may have changed because of events such as earthquakes, avalanches, wildfires and storms.
An Austrian Red Cross training center in Erzberg will get the first opportunity to use the SUV and UAS, starting in June when the project is deployed to take part in a 12-month stint. During that stint, the UAS will run simulated operations to help rescue crews determine the best uses for the technology.
North Dakota researchers receive grant to develop network for BVLOS UAS flights
Thanks to a grant from the North Dakota Centers of Excellence Commission, the Harris Corp., in partnership with the Northern Plains UAS Test Site and the University of North Dakota, will work on developing a network that provides aviation-grade services for beyond visual line of sight (BVLOS) UAS flights.
According to the Harris, the network, which is expected to be developed within the Grand Forks-to-Fargo corridor, would be the first of its kind in the United States.
"This network will create a real-world environment for users to develop, test and certify new products and services," says the executive director for the Northern Plains UAS Test Site, Nicholas Flom, through a Harris press release.
Harris hopes to partner with end users in the local area to create test scenarios for UAS. Eventually, the company would like to conduct a variety of tests for different scenarios, including roadway inspection, public safety and emergency services, and precision agriculture.
View more information on the AUVSI.
Share your vision-related news by contacting James Carroll, Senior Web Editor, Vision Systems Design

To receive news like this in your inbox, click here.
Join our LinkedIn group | Like us on Facebook | Follow us on Twitter
Learn more: search the Vision Systems Design Buyer's Guide for companies, new products, press releases, and videos