This week's roundup from the Association for Unmanned Vehicle Systems International (AUVSI), which highlights some of the latest news and headlines in unmanned vehicles and robotics, covers AUVSI's Hill Day luncheon from September, during which members of the US Government and the AUVSI discussed the impact of unmanned aerial systems (UAS), including deployment for fighting wildfire and in response efforts to Hurricane Harvey and Hurricane Irma. Additionally, the article covers new drone-based services for inspection and predictive weather.
Government representatives discuss impact of UAS during AUVSI's Hill Day Luncheon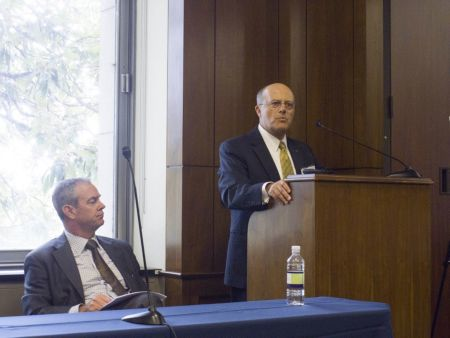 During AUVSI's Hill Day luncheon on Sept. 12, Mark Bathrick of the U.S. Dept. of Interior (DOI) and Marke "Hoot" Gibson of the Federal Aviation Administration (FAA) spoke about how their respective departments are using UAS for "mission-critical operations," and also spoke about some of the latest policy developments to integrate the technology into the country's airspace.
The discussion was led by AUVSI President & CEO, Brian Wynne.
For Bathrick, attending his first Hill Day, the reasoning for the DOI's use of unmanned technology was quite simple from the start.
"We got 500 million reasons why we thought drones were good for us," Bathrick said in regards to the Interior being the largest single land steward in the United States, as it manages 500 million acres of surface land.
With so much land to manage, UAS — of which the DOI has 245 — have a number of different use cases, from putting out wildfires to preserving land that is frequently visited throughout the year, as well as critical infrastructure that the DOI manages.
Bathrick said UAS have allowed the DOI to "close a lot of gaps" in outcomes, in terms of surveying, mapping, and other functions, and ultimately, obtain a plethora of useful data in the process.
"It's all about the data," Bathrick said.
Fighting wildfires using UAS
For the DOI, UAS can have a major impact on the west coast with helping to fight fires. There are upwards of 75,000 wildfire starts every year, and the 2 percent of wildfires that aren't contained within the first 24-hour operational period make up 90 percent of the suppression budget, which is about $1.5 billion a year.
Since the DOI started working on fires from the air in 1930, it only spends about eight hours a day in fighting those fires from the air, and supporting the ground firefighters who put out the fire. They don't fight fire at night for a variety of reasons, and they don't usually fly in the early morning either because of smoke.
Small UAS with sensors can be used to fill that 16-hour gap that those fires are going untreated, according to Bathrick, while also supporting those firefighters who go unsupported for two-thirds of the day.
Fighting fires at night and early morning has its benefits. Since temperatures are down, along with wind, a fire is at its most vulnerable.
Bathrick added that larger unmanned aircraft, such as those that started as manned aircraft or optionally piloted helicopters, can be used to fill the gap as well. The DOI typically operates in a temporary flight restriction (TFR) environment, and the FAA has granted them permission to fly beyond visual line of sight as long as they are controlling the airspace.
Bathrick said that these aircraft need to be operated manned during the day, and unmanned during the night, to triple the amount of time that water retardant is being dropped on a fire.
If UAS can be used to fly during times where manned aircraft don't, even a small reduction in the time to contain fires can have a massive cost benefit and save swaths of land in the process.
Hurricane response
The DOI has also helped with the response to Hurricane Harvey, and is preparing to help with the response to Hurricane Irma as well.
Several entities across the United States have provided their technology to the hurricane response recovery efforts over the past few weeks, thanks in large part to the work of the FAA in regards to getting UAS into the air quickly and efficiently.
The FAA has received a lot of credit for its quick action, but Marke "Hoot" Gibson said the agency is still learning how to accept positive reinforcement.
"Somebody asked me earlier on, 'what's the hardest thing at the FAA?' I said, 'learning to accept praise," Gibson said to laughs in the room.
With well over 100 authorizations issued for UAS operations by the FAA in response to Hurricane Harvey, Gibson said that he feels that this time period over the last few weeks will go a long way in changing the perception of the technology in the public's eye.
Honeywell, Intel team for InView drone inspection service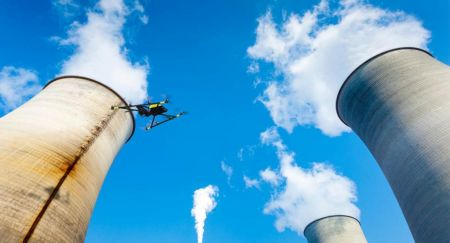 Honeywell has launched a new drone inspection service, InView, by teaming with Intel Corp. and using its Falcon 8+ vehicle.
"This collaboration combines Intel's advanced commercial Intel Falcon 8+ UAV system with Honeywell's leadership in aerospace safety and connectivity to deliver solutions that deliver reliable, efficient and actionable information to utility and industrial customers," says Carl Esposito, president, Electronic Solutions, Honeywell Aerospace.
The goal is to provide industrial customers a way to improve their inspections of critical infrastructure while keeping employees out of harm's way. The InView service can help customers create routine inspections of transmission and distribution systems, and generate data that can be stored, searched and access from offices or in the field.
According to the U.S. Department of Labor, utility line workers have one of the most dangerous jobs in the United States, with 21.5 annual fatalities from high-voltage lines for every 100,000 workers. Using InView, Honeywell says utility companies can use a drone to perform routine inspections of substations, transmission towers and power lines while keeping workers on the ground.
"Through our extensive industrial experience, our customers will also gain access to Honeywell's customized software and data solutions that will help them log, analyze, and eventually predict or prevent outages and structural failures, while protecting the men and women called upon to complete these crucial but high-risk jobs," Esposito says.
"We are incredibly pleased to collaborate with Honeywell on this exciting new business opportunity," says Anil Nanduri, GM of Intel's UAV business group. "The safety, flight precision and robust performance of the Intel Falcon 8+ system are a perfect fit for the Honeywell InView inspection service and will allow its customers to inspect, collect and analyze valuable data in a whole new way."
The Falcon 8+ was highlighted at AUVSI Xponential 2017, when Intel demonstrated its use for a mock bridge inspection.
Honeywell and Intel also recently teamed to create a Connected Freight platform, which lets shippers and logistics companies monitor the movement of high-value or perishable goods, helping prevent damage or loss.
Earth Networks introduces predictive weather offering for commercial UAS market
Ahead of the InterDrone conference in Las Vegas, Nevada, Earth Networks, which provides weather intelligence platforms, announced the launch of Sferic DroneFlight, which is an "advanced predictive weather offering specifically designed for rapidly growing commercial drone markets" within public safety, oil and gas, and construction, to name a few.
According to Earth Networks, Sferic DroneFlight delivers "hyperlocal wind forecasts for any latitude and longitude in the world." This is significant for commercial UAS operations, as this platform answers the need for advanced weather data and helps with various aspects of UAS flights.
Commercial UAS operations tend to take place in the 10-400 foot low-altitude range, so wind speed and direction data are especially important for this area.
According to Earth Networks, this range is too high to exclusively use traditional surface-level wind data, and is too low for wind data utilized by airlines operating at significantly higher altitudes.
Using Sferic DroneFlight, the forecast is available at "10-meter altitude increments and hourly intervals for out to 6 days."
This capability improves commercial UAS flight safety and efficiency at all three phases of UAS operations, which are pre-flight planning, in-flight operations, and post-flight analysis.
"Until now, drone operators have had to plan missions by relying on surface-level weather information or high-altitude measurements provided to commercial airlines, neither of which provides the needed intelligence to optimize missions," says Anuj Agrawal, Chief Marketing Officer at Earth Networks.
"Our new low-altitude Sferic DroneFlight offers the ideal vertical resolution needed for operators to assess relevant weather conditions."
Agrawal adds, "as the drone market and regulatory environment continue to evolve, weather intelligence will be a key technology to enable longer and beyond line of sight missions."
Sferic DroneFlight builds on a long-standing partnership between Earth Networks and Global Weather Corporation (GWC), which is "one of the world's most accurate forecast providers."
Through this partnership, Sferic DroneFlight will provide unique benefits that allow commercial UAS operators to optimize UAS mission timing, maximize UAS flight duration and extend geo-fencing for severe weather, among other things.
In international markets where weather intelligence is unavailable a lot of the times, Sferic DroneFlight complements a "predictive convective storm algorithm" called Earth Networks Dangerous Thunderstorm Alerts.
The algorithm is powered by Earth Networks' "hyperlocal early warning networks of 10,000 weather sensors and 1,500 lightning sensors covering 90 countries."
Around the world, UAS operators can use Sferic DroneFlight and Earth Networks Dangerous Thunderstorm Alerts together to identify weather conditions that could potentially be disruptive such as high winds, hail, and precipitation.
View more information on the AUVSI.
Share your vision-related news by contacting James Carroll, Senior Web Editor, Vision Systems Design

To receive news like this in your inbox, click here.
Join our LinkedIn group | Like us on Facebook | Follow us on Twitter