This week's roundup from the Association for Unmanned Vehicle Systems International (AUVSI), which highlights some of the latest news and headlines in unmanned vehicles and robotics, covers a UAS used to find a missing woman, notes from the Second Global Remotely Piloted Aircraft Systems Symposium, and the results from a flight at a new flight test and training center.
Indiana's Bargersville Fire Department uses UAS to find missing woman
A UAS is being credited with helping to rescue a missing woman in Bargersville, Indiana.
The Shelby County Sheriff's Office says that a woman was reported missing shortly after 2 a.m. on Thursday, September 14.
After police and other search members narrowed the search down, a Johnson County Sheriff's Office deputy who was present during the search recommended dispatch to call the UAS in to assist with the search.
Bargersville Community Fire division chief Eric Funkhouser arrived with the UAS two hours into the search, and within just 15 minutes of being in the air, the UAS found the woman alive.
"We had located her and we were able to end the search basically," Funkhouser says via FOX59.com.
"We were able to see that heat signature on the screen and then take the drone, fly it over where she was located and hover above her. Members of the sheriff's department and those at the scene went straight to where the drone was in the air and locate her."
The UAS has made "roughly 20 runs" to help with searches since its initial launch, and this was the first time that the UAS has helped locate a missing person, much to the satisfaction of Funkhouser.
"It validates everything that we wanted in this program," Funkhouser says.
"To be able to go out and make a difference and locate someone who was having a medical emergency this morning, and find her and get her the help she needed – she was lost out there – to locate her means everything to us."
Currently, there are two members of the Bargersville Community Fire Department that are certified to fly the UAS, but that number could grow as the UAS gets utilized more and more.
Collaboration is key to integration, ICAO conference attendees told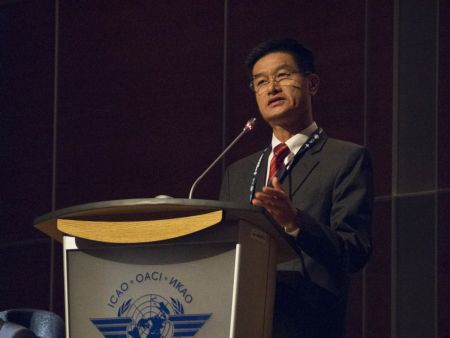 Pictured: Tan Kah Han at ICAO Conference
Collaboration is the key to integrating unmanned aircraft into the airspace, keynote speakers from three countries said at the opening of the Second Global Remotely Piloted Aircraft Systems Symposium, held at the Montreal headquarters of ICAO, the International Civil Aviation Organization.
Alessandro Cardi, deputy director general of Italy's ENAC aviation authority, said his country began its regulatory work with mid-size UAS, such as the Piaggio P1HH Hammerhead, unveiled a few years ago at the Paris Air Show.
For that aircraft, and others of a similar size such as the Falco UAS, Italy is using segregated airspace for such operations as humanitarian missions and commercial cargo delivery demonstrations.
Now, however, the country is grappling with much smaller UAS, which have mushroomed around the world as they have become cheaper and more available.
There is no way to tell how many are in use in Italy, he said, because registration of them is not required. They also fly in places traditionally off-limits to manned aviation, such as over crowds and near buildings, he said, which "poses a big challenge" for regulators.
Earl Lawrence, director of the U.S. Federal Aviation Administration's relatively new UAS Integration Office, said the United States is also grappling with the pace of change.
The FAA "as a whole has shifted into high gear," he said, mentioning the establishment of the Drone Advisory Committee and the Center of Excellence for drone research.
"At the FAA we have embraced a new way of thinking," he said. "We know we cannot move at the speed of government while the rest of the industry moves at the speed of Silicon Valley."
The DAC is the starting point, but the Center of Excellence is contributing research important to integration, such as a recent look at the potential effects of small UAS hitting people on the ground, and a forthcoming report, due in "coming weeks," about what happens when a small UAS collides with a manned aircraft in mid-air.
Lawrence said the FAA will soon be automating part of the Part 107 approval process, moving beyond the current people-intensive system, and will start fielding that beginning early next year. It's the "first concrete step in fielding a UTM [unmanned traffic management] system," he said.
Tan Kah Han, senior director for safety regulation at the Civil Aviation Authority of Singapore, said his island nation has many of the same problems as the U.S. and Italy, coupled with its dense population and crowded airspace.
Singapore is experimenting with a variety of regulation schemes, including having dedicated flight corridors for last-mile drone delivery. Like the United States, Singapore is also investigating the impacts, literally, of things like crashing small drones.
Collaboration was the word of the day for the start of the conference, and several speakers highlighted its importance.
"Coordination is essential," said Jan Pie, secretary general of the AeroSpace and Defense Industries Association of Europe. "No regulatory framework, no business. That's it."
In a later panel, AUVSI President and CEO Brian Wynne noted that unmanned systems of all types — air, ground and maritime — must work together as well as integrate with manned aviation.
He noted that now is the time to get it right, and said General Motors, in the 1970s, took the wrong approach to diesel integration, and as a result the market for diesel in the United States remains small compared to Europe.
"The execution is important. It's critical," he said. "If you don't execute properly, the technology never takes off."
General Atomics Aeronautical Systems Inc. first test flight at new Flight Test and Training Center
Using its GA-ASI Block 5 Predator B/MQ-9 Remotely Piloted Aircraft (RPA), General Atomics Aeronautical Systems, Inc. (GA-ASI) flew its first test flight out of the company's new Flight Test and Training Center (FTTC) facility in Grand Forks, North Dakota on August 30.
The flight, which was nearly 1,075 nautical miles round-trip, was the longest transit flown by a RPA in Class A civilian airspace under an FAA-granted Certificate of Waiver or Authorization (COA).
Thanks to the COA, the UAS was able to fly in airspace managed by air traffic controllers without the requirement of using a "chase" airplane.
"This flight signified several 'firsts' for us and for the industry," says David R. Alexander, president, Aircraft Systems, GA-ASI.
"As we continue to demonstrate our ability to fly RPA safely alongside passenger planes, we further our efforts towards certifying the aircraft and increasing their mission possibilities in Class A civilian airspace."
This landmark flight also marked the first time that a UAS flew through "multiple spot beams of a High-throughput Satellite (HTS)," which is a "new generation of satellites providing higher data throughput and interference mitigation."
An RPA needs to be able to move smoothly from one satellite beam to another as its mission distance increases, and for this flight, the UAS communicated with two HTS beams.
Last month, GA-ASI announced that a new permanent hangar had been completed for its FTTC facility. The new hangar, which replaced the temporary facility that had been operating since June 2016, is home to GA-ASI's operational hardware, offices and conference rooms.
View more information on the AUVSI.
Share your vision-related news by contacting James Carroll, Senior Web Editor, Vision Systems Design

To receive news like this in your inbox, click here.
Join our LinkedIn group | Like us on Facebook | Follow us on Twitter