In this week's article from the Association for Unmanned Vehicle Systems International (AUVSI), which highlights some of the latest news and headlines in unmanned vehicles and robotics, we take a look at a demonstration involving an unmanned aerial system (UAS) with a radar warning receiver, an autonomous UAS designed for inspections in the oil and gas industry, a vertical takeoff and landing UAS, and a Lockheed Martin and US Air Force-led demonstration involving manned and unmanned aerial vehicles.
GA-ASI completes airborne demonstration of Predator B UAS equipped with radar warning receiver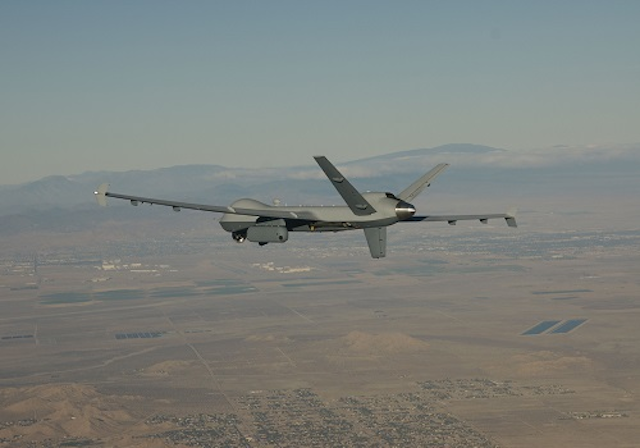 General Atomics Aeronautical Systems, Inc. (GA-ASI) has announced the completion of a successful airborne demonstration in which its Predator B/MQ-9 Reaper Block 5 UAS was equipped with the Raytheon ALR-69A Radar Warning Receiver (RWR).
The RWR is carried within GA-ASI's standard payload pod, and is responsible for identifying potential radar threats in or near "contested airspace" environments, which provides aircrew and air element command and control units with improved situational awareness.
"The successful demonstration of a mature radar warning receiver on our company-owned Predator B clearly shows the utility of the aircraft in conducting missions in the proximity of threat radars and enemy air defenses," says executive vice president of Mission Systems at GA-ASI, Claudio Pereida, through press release.
"We are pleased to be the first company to demonstrate this capability on a remotely piloted aircraft and hope to make it available to interested customers on a quick-reaction basis."
In various flight profiles, the payload pod was able to validate RWR performance which met or exceeded current thresholds for both ground and air radar threats.
Also, the information provided by the RWR to the flight crew helped trigger flight crew action, including validating threat information by manually cross-cueing to other onboard sensors.
Canada's SkyX develops fully autonomous UAS for inspections in oil and gas industry
A Canadian startup named SkyX has announced that it has developed a new suite of fully autonomous UAS that are designed specifically to conduct inspections within the oil and gas industry.
The UAS, which is named SkyOne, has vertical takeoff and landing (VTOL) capability, and can inspect pipelines for damages and detect things such as leaks, vegetation encroachment, and vandalism.
With an ability to also conduct mapping and security surveillance missions, the SkyOne can recharge itself in the field by flying to the nearest available xStation before completing the rest of its mission. The UAS can also cruise at 150km/h for 70min.
"Our unique solution, which combines both VTOL flight and autonomous remote charging, puts us well ahead of the competition," says Didi Horn, the founder of SkyX, via Aerospace-Technology. Horn is a former Israeli Air Force captain and UAS pilot.
"As a result, we are en-route for significant expansion, offering an unprecedented opportunity for a strategic investment partner to help us conquer and secure significant market share in an ever-growing industry."
During its flights, the UAS provides continuous, unlimited data in real-time to its users. Users can control an individual SkyOne or an entire fleet of the UAS, and using real time video, they can monitor events involving the UAS.
Textron to demonstrate modified Aerosonde UAS with VTOL capability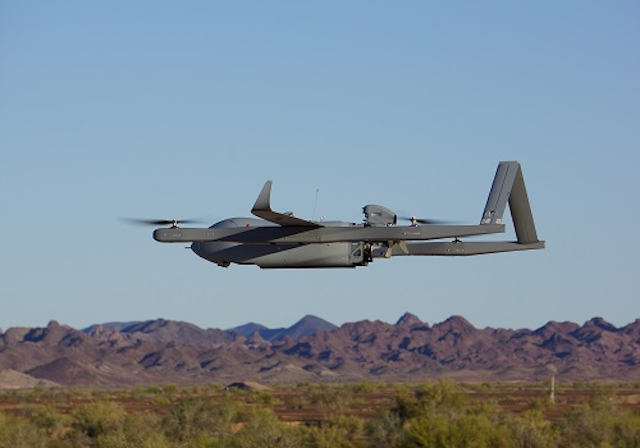 In June, Textron will demonstrate a modified version of its Aerosonde UAS, the Aerosonde Hybrid Quad (HQ), from a Navy vessel.
The modified version of the UAS has a vertical takeoff and landing (VTOL) capability, thanks to four battery-driven rotors installed on the twin booms of the UAS.
In an interview with Seapower Magazine, Textron's vice president for Small and Medium UAS David Phillips says that Textron is prepared to bid on a Coast Guard intelligence, surveillance and reconnaissance (ISR) services requirement for a small UAS to launch from its national security cutters, and the Aerosonde or its HQ version are both options for the Coast Guard.
"We believe our system is well positioned," Phillips tells Seapower Magazine. "The capabilities of our system match rather well with their program."
Lockheed Martin, US Air Force and partners successfully demonstrate manned/unmanned teaming
Lockheed Martin Skunk Works, the Air Force Research Laboratory (AFRL), the U.S. Air Force Test Pilot School and the Calspan Corporation have announced the successful demonstration of manned/unmanned teaming, using an experimental F-16 aircraft that acted as a surrogate Unmanned Combat Air Vehicle (UCAV).
Dubbed the Have Raider II, the demonstration, which was aimed at improving combat efficiency and effectiveness for the warfighter, saw the F-16 aircraft act as a surrogate UCAV autonomously reacting during an air-to-ground strike mission to a dynamic threat environment.
Three key objectives were achieved during the demonstration, which took place at the Test Pilot School over the course of two weeks. The first objective met was "the ability to autonomously plan and execute air-to-ground strike missions based on mission priorities and available assets."
The second objective met was "the ability to dynamically react to a changing threat environment during an air-to-ground strike mission while automatically managing contingencies for capability failures, route deviations, and loss of communication."
The third and final objective met was "a fully compliant USAF Open Mission Systems (OMS) software integration environment allowing rapid integration of software components developed by multiple providers."
Through press release, Lockheed Martin Skunk Works Loyal Wingman program manager Shawn Whitcomb says, "the Have Raider II demonstration team pushed the boundaries of autonomous technology and put a fully combat-capable F-16 in increasingly complex situations to test the system's ability to adapt to a rapidly changing operational environment."
"This is a critical step to enabling future Loyal Wingman technology development and operational transition programs."
AFRL's autonomous flight operations engineer Capt. Andrew Petry adds, "this demonstration is an important milestone in AFRL's maturation of technologies needed to integrate manned and unmanned aircraft in a strike package."
"We've not only shown how an Unmanned Combat Air Vehicle can perform its mission when things go as planned, but also how it will react and adapt to unforeseen obstacles along the way."
View more information on the AUVSI.
Share your vision-related news by contacting James Carroll, Senior Web Editor, Vision Systems Design

To receive news like this in your inbox, click here.
Join our LinkedIn group | Like us on Facebook | Follow us on Twitter
Learn more: search the Vision Systems Design Buyer's Guide for companies, new products, press releases, and videos