This week's article from the Association for Unmanned Vehicle Systems International (AUVSI), which highlights some of the latest news and headlines in unmanned vehicles and robotics, takes a look at long-range UAS endurance test missions, a new patent for transferring packages between UAS during flight, a UAS/sensor evaluation program for fire science, and a UAS inspection technique that cuts time and money for inspections in the oil and gas industry.
Lockheed Martin's Fury UAS conducting long-range endurance test missions on a regular basis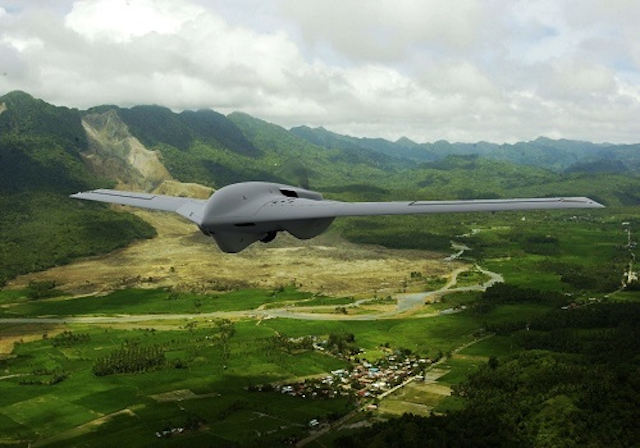 As a part of its preparation for the low-rate production of its Fury UAS, Lockheed Martin is regularly flying the Fury UAS as a part of long-range endurance test missions, at the company's operating base in Arizona at the Yuma Proving Ground.
The Fury UAS, which is an advanced tactical Group 3 UAS, has flown more than 200 hours, and demonstrated more than 12-hour endurance, since May 2016. While conducting these flights, the UAS operates 100 pounds of payloads.
Some of the payloads included during these flights are multiple signals intelligence payloads, SATCOM links, and electro-optical/infrared surveillance systems. The Fury UAS can efficiently handle a variety of missions, thanks to its ability to support multiple payload integration.
"These flight tests have consistently proven that Fury is a true 'anytime, anywhere' tactical Group 3 aircraft," says Director of Unmanned Systems at Lockheed Martin, Kevin Westfall, through press release.
"Fury can be deployed to execute strategic and tactical Intelligence, Surveillance and Reconnaissance missions with endurance and capability previously found only in Group 4 systems."
Westfall adds that Lockheed Martin is in a position to "quickly deliver Fury and to rapidly scale up to full-rate production needs," thanks to the infrastructure in place at the company's manufacturing facilities.
Lockheed Martin is in discussions with potential customers domestically and internationally.
IBM inventors granted patent for transferring packages between UAS during flight
Inventors at IBM have been granted a patent for transferring packages between UAS during flight.
The patent, known as US Patent No. 9,561,852, says that by transferring packages between UAS during flight, there is an extension of the range of those UAS that are delivering packages from a warehouse to a customer's house.
This patented system developed by IBM inventors uses the company's supply chain expertise to facilitate precise delivery services to customers using UAS.
"Drones have the potential to change the way businesses operate and by leveraging machine learning, drones could change ecommerce," says Sarbajit Rakshit, IBM Master Inventor and co-inventor on the patent, through a press release.
"Our inventor team is focused on improving how the most valuable cargo is delivered globally. This could create opportunities such as managing drones to deliver postal packages and medicine in developing countries via the most direct route."
IBM believes that its invention can help address several potential issues surrounding deliveries using UAS, including limited flight range, theft of unattended packages once delivered, and a lack of delivery network optimization.
Using IBM's invention, these issues can be addressed by providing in-flight UAS to UAS package transfers, which in turn extends the package delivery range.
A scenario that the company highlighted as being ideal for its patent involved a customer expecting a package dispatching a personal UAS to receive and securely deliver that package to their home.
A UAS delivery network optimization could be provided to autonomous UAS through the communications link that is described in the patent.
Multiple entities team up for UAS/sensor evaluation during "Fire Science Consortium: Measuring fine scale fire behavior and fire effects" Event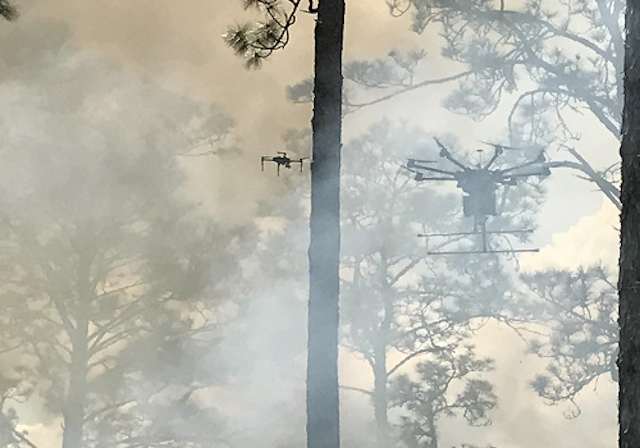 As a part of the "Fire Science Consortium: Measuring fine scale fire behavior and fire effects" controlled burn, the DOI, USGS, Forest Service (FS), EPA, NOAA UAS Program met from April 17 to 23 in Tallahassee, Florida.
The event was hosted by the Tall Timbers Research & Land Conservancy, and during the event, a team flew UAS over the fire, using several UAS and sensors, including the iMet meteorology sensor, which provides temperature, relative humidity and pressure.
The University of Florida–Gainesville (UF), the Canadian Forestry Service (CFS), and the EPA/Office of Research and Development (ORD) all took part in a field sampling effort during a prescribed burn, as a part of a U.S. Geological Survey (USGS) proposed USGS‐Internal Innovation Fund project.
Using IR remote sensing at multiple spatial scales, a UAS flown by the University of Florida-Gainesville, which was the USGS grantee, monitored the surface temperatures and the spread of wildland fires from above and below the forest canopy, while carrying ORD's emission sensor/samplers and an infrared (IR) sensor.
The Canadian Forestry Service will analyze data provided by the IR sensor system. The Office of Research and Development, along with the USGS, will analyze emission data.
While flying for the Forest Service, the University of Montana flew IR sensors, and iMet sensor recording data from two different UAS was provided by the NOAA UAS program.
A multicopter UAS was used to "measure and correlate fire intensity and rate of spread with the type and amount of emissions from a prescribed burn."
IR imagers are responsible for providing images of temperature, and each pixel provides basically the same data as a thermocouple at that point.
Spatially‐explicit data is provided by geo‐referenced imagery, which allows for the computation of rate of flame spread (ROS). This is done by "tracking the position of the flame front from one frame to another and measuring the distance traveled at each perimeter pixel normal to the flame."
Cyberhawk UAS inspection technique drastically cuts time and money for inspections in oil and gas industry
After a thorough analysis of inspection data, an international exploration and production (E&P) company within the oil and gas industry says thatinspections using Cyberhawk Innovations' UAS have proven to be 20 times faster than traditional inspection methods, such as those conducted using rope access.
The E&P company analyzed inspection data that it collected from the last two years. The data not only showed that Cyberhawk's UAS inspection technique was responsible for inspecting 20 times more structures than those conducted using rope access, but data also showed that the inspection method using UAS was 50% cheaper than rope-access inspections as well.
"The feedback received from the client confirms what we already know – that UAVs offer the most efficient solution when it comes to asset inspection across a multitude of industrial sectors," says Cyberhawk's CEO Chris Fleming through press release. "Few methods offer the same safety, time and cost advantages."
Fleming adds, "we expect demand for UAV technology to continue growing, particularly in the international oil and gas sector as operators adjust to working in a new, lower oil price environment. Innovative technologies such as drones, which can offer cost savings of up to seven figures and boast huge potential, cannot be ignored."
Some of the other benefits of using UAS for inspections include reducing work at height, a reduction in the requirement for offshore bed space, a reduction in the use of standby boats, and less helicopter usage. These reductions further indirect efficiencies and savings.
View more information on the AUVSI.
Share your vision-related news by contacting James Carroll, Senior Web Editor, Vision Systems Design

To receive news like this in your inbox, click here.
Join our LinkedIn group | Like us on Facebook | Follow us on Twitter
Learn more: search the Vision Systems Design Buyer's Guide for companies, new products, press releases, and videos