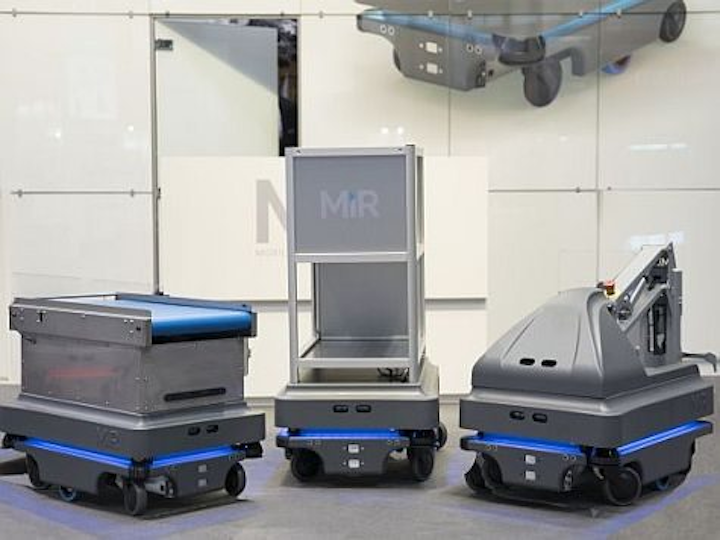 Mobile Industrial Robots (MiR), a company that develops autonomousmobilerobots for logistics applications, tripled its revenue in 2017, reaching USD $12 million in sales.
MiR is a company that was launched in Denmark five years ago that develops mobile industrial robots that are designed to work collaboratively alongside people in applications including manufacturing, logistics and healthcare. In 2017, 25% of total sales came in the United States. Looking forward however, the company is aiming for $32 million in 2018. To do so, MiR has expanded its leadership team to include former PricewaterhouseCoopers (PwC) and LEGO Education International managing director René Tristan Lydiksen as chief commercial officer, and Danfoss R&D director Søren E. Nielsen as chief technology officer.
Growth this past year was achieved, according to Thomas Vista, MiR CEO, primarily due to multinational companies that returned with orders for larger fleets of mobile robots after they tested and analyzed the results of their single MiR robots.
"Of course, it's about reading the market and analyzing developments; we saw some positive trends in 2016, but we aimed very high," Visti said. "For us, it was about having a strong plan to ensure we could execute in development, production and sales. I always say that what happens in three years in other companies happens in three months at MiR, and the speed at which we have grown certainly bears that out."
At Automate 2017, I had the chance to meet with MiR, where Ed Mullen, Vice President, Sales, North America, told me that it's the unique technology and design within these robots that make them so appealing.

"Everyone is familiar with AGVs [automated guided vehicles], but these are AMRs [autonomous mobile robots]," he said. "AGVs utilize fixed routes within companies, but with AMRs, we teach it a map and a system plans the best route."
For the robot to navigate autonomously, the system deploys laser scanners from SICK, which provide 360° visual protection around the robot, as well as an Intel RealSense 3D depth sensor, which enables the detection of objects ahead 50-500 mm above the floor. Additionally, there are four ultrasonic scanners that detect transparent objects ahead, such as glass doors.
Current customers include Honeywell, Argon Medical, Kamstrup, Airbus, Flex and others. MiR reports that is now has more robots maneuvering through facilities all over the world than any other manufacturer, as confirmed by ROBO Global LLC. This benchmark index tracks the global robotics and automation market and has been licensed by fund providers in the US, England, Canada, South Korea and Australia, according to MiR.

Robotics industry expert Frank Tobe of ROBO Global states, "MiR's rapid rise parallels another trend: of businesses using point-to-point mobile devices instead of human messengering or towing. It isn't MiR alone that is finding significant growth – other suppliers are also selling well above expectations."
He continued, "But MiR's rise is also being propelled by Thomas Visti's use of a tried-and-true global network of distributors/integrators, which he developed for Universal Robots. That has helped MiR jump-start its global sales from distributors that trust that MiR has a product that is well-crafted and well-suited to manufacturers worldwide. MiR has found a niche market of manufacturers wanting local deliveries within their facilities using mobile robotic solutions."
To maintain its status as a market leader, MiR said in a press release that it continues to invest strongly in product development and in the organization.
"While the market for mobile robots is still at an early stage, it is expected to explode in the next one to two years as more companies discover the possibilities of using mobile robots to automate internal transport," Visti said. "MiR is fully ready to seize the opportunities and hold its market-leading position."
View more information on Mobile Industrial Robots.
Share your vision-related news by contacting James Carroll, Senior Web Editor, Vision Systems Design

To receive news like this in your inbox, click here.
Join our LinkedIn group | Like us on Facebook | Follow us on Twitter