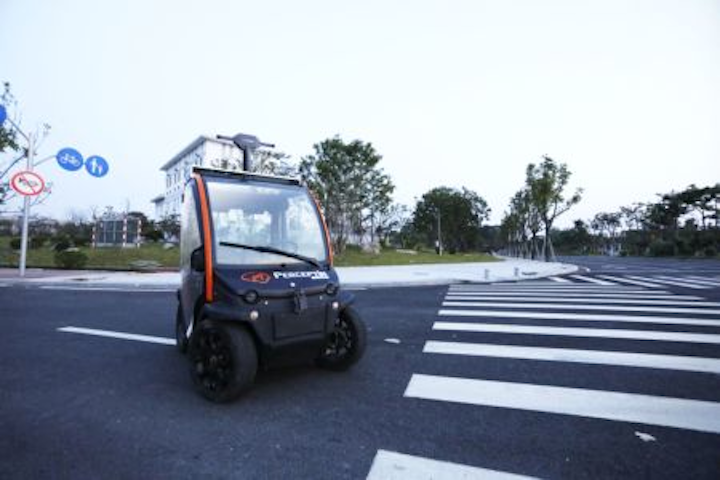 PerceptIn, a full-stack visual intelligence company focuses on robotics, has launched the DragonFly Pod, a customizable autonomous vehicle priced at $40,000 that combines patented vision-based sensor fusion with a patented modular computing system to provide transport in low-speed environments.
Only able to hit a top speed of 20 mph, the DragonFly Pod is initially equipped for corporate and university campuses and areas with limited traffic to transport employees and goods. Following technology enhancements, PerceptIn will be able to deploy vehicles suited for high-speed scenarios, according to the company.
"The barriers preventing the ubiquitous adoption of clean energy autonomous vehicles are technology reliability, safety, ethical and affordability concerns," said Jean-Luc Gaudiot, IEEE Fellow, 2017 IEEE Computer Society President and Distinguished Professor at UC Irvine. "With PerceptIn's vision intelligence technology, the DragonFly combats these challenges and has the potential to offer the benefits of a self-driving car to people globally."
To navigate autonomously, the DragonFly Pod is based on the DragonFly Sensor Module, which consists of various I/O for control and wheel odometry, an interface for grabbing real-time kinetic GPS data and inertial measurement unit for visual inertial odometry, an NVIDIA Jetson embedded development kit, and four global shutter cameras. The cameras feature 1280 x 720 image sensors, acquiring images at a rate of up to 30 fps, with a field of view of 80° (horizontal) by 64° (vertical).
Dr. Shaoshan Liu, Founder and Chairman of PerceptIn discussed the vehicle's perception capabilities.
"At PerceptIn, we're dedicated to uncovering the potential of robotization," said Liu. "To do this successfully, you have to solve for the challenge of robotic perception. Through sophisticated engineering, the robot can see and understand the world around it to know precisely where it is regardless if a GPS signal is blocked. With our engineering team's expertise in artificial intelligence, system integration, hardware engineering, and optics, PerceptIn has essentially built the 'eye' for robots and implemented our product, the DragonFly Pod."
Additionally, PerceptIn has developed a method for modularizing key components of the vehicles, providing what they compare to using Legos, enabling users with limited engineering backgrounds to integrate five or six components to build their own autonomous vehicles.
"Our lego-like approach is more than just about encouraging people to have fun building their own AVs. When people think of AVs, they often think of cars on the road. But there are so many other applications. A farmer, for instance, can use the resources and knowledge we provide in our textbook, community and comic book style manuals on how to build his or her own autonomous machine for his farm."
PerceptIn is now selecting customers for their pilot program. The DragonFly Pod will be available for purchase in the U.S in November of 2018 for $40,000.
Share your vision-related news by contacting James Carroll, Senior Web Editor, Vision Systems Design

To receive news like this in your inbox, click here.
Join our LinkedIn group | Like us on Facebook | Follow us on Twitter