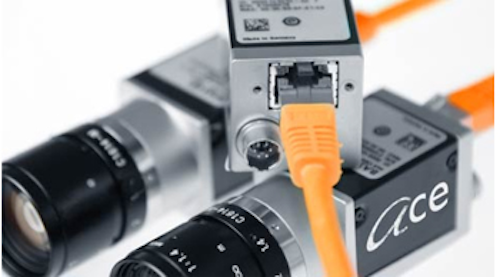 In its 2012 annual report, camera maker Basler (Ahrensburg, Germany) reports that it has achieved one of the best financial results in the company's history.

Sales increased one percent in 2012 to € 55.9m, compared with sales in the previous year of € 55.1m, and the gross profit margin of the company increased to 48.1 percent compared with 44.3 percent the year before. Earnings before taxes remained the same at €5.6m.

The company attributes its success to focusing purely on its camera business, a course it decided upon four years ago.

As it has done in the past two years, Basler will propose to distribute a dividend of 30 cents per share at its general meeting this year.
For fiscal year 2013, Basler expects its sales revenues to increase from € 60m to € 63m.

Related articles on cameras from Vision Systems Design that you might also find of interest.
1. US startup to launch 3-D camera
A California-based startup has recently received $5.6m in funding and soon plans to launch a new 3-D camera based on the same Primesense sensor used in the Kinect.

2. Infrared camera detects pollutants
Sensia Solutions (Leganés, Spain) has developed what it claims is the first infrared camera for detecting sulfur dioxide (SO2), a gas that is considered one of the greatest causes of the acid rain generated by the energy, metallurgy, food and paper manufacturing sectors.

3. Underwater camera gets funding
SubC Control (Clarenville, Newfoundland, Canada) has been aawarded $115,957 to create an underwater single-lens reflex camera capable of taking high definition still photos and videos.

-- Dave Wilson, Senior Editor, Vision Systems Design