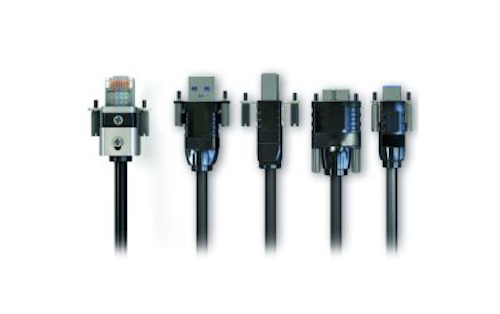 Throughout a busy VISION 2016 schedule, I had the chance to sit down with Thomas Detjen, Head of Sales and Marketing, and Mike Formica, Business Development Manager at Alysium Tech to discuss USB 3.1, future vision applications, and the state of the industry.
In terms of what's new at Alysium, it was apparent that the company is excited about USB 3.1. However, the company does not just focus on one interface, as customer demand and market needs tend to shape overall product development.
"We try to stay out ahead of the market and to develop an assembly that meets the needs of all situations," said Formica. "This includes USB 3.1 Type C Gen. 1, as well as Camera Link HS and CoaXPress products as well."
He also mentioned a new generation of CoaXPress assemblies, which will include a "Lego-style" product design. With this design, customers will be able to adapt nearly all available CoaXPress assemblies (1, 2, 4+1, etc.) with one assembly.
"This product," he said, "provides users with more flexibility and hopefully, reduces stress levels for our customers."
When it comes to the decision to develop products for USB 3.1, Detjen notes that Alysium wants to make sure to stay ahead of the game.
"When USB switches, we want to be ready," he said. "In fact, the new interface Type-C is appearing already in the industrial market, and we are ready with our A+ Type C assemblies."
When asked about potential growth areas for the company and the industry overall, Formica mentioned imaging in deep learning, and Detjen agreed, noting that "the market is moving and expanding faster and faster," and people and companies need to adapt.
In terms of some interesting ways that the company's products have been deployed into vision applications as of late, Detjen told me that 3D scanning applications have been popular lately, as well as Tier 1 automotive inspection and autonomous vehicles.
On the whole, the machine vision and imaging industry feels very strong and stable, noted Formica, who said that "more machine vision applications are always emerging," and that many of these processes have become "highly necessary," which helps lead to growth.
Detjen agreed, noting that "Companies are constantly redefining the market with new products and technologies."
View more information on Alysium Tech.
Share your vision-related news by contacting James Carroll, Senior Web Editor, Vision Systems Design

To receive news like this in your inbox, click here.
Join our LinkedIn group | Like us on Facebook | Follow us on Twitter
Learn more: search the Vision Systems Design Buyer's Guide for companies, new products, press releases, and videos