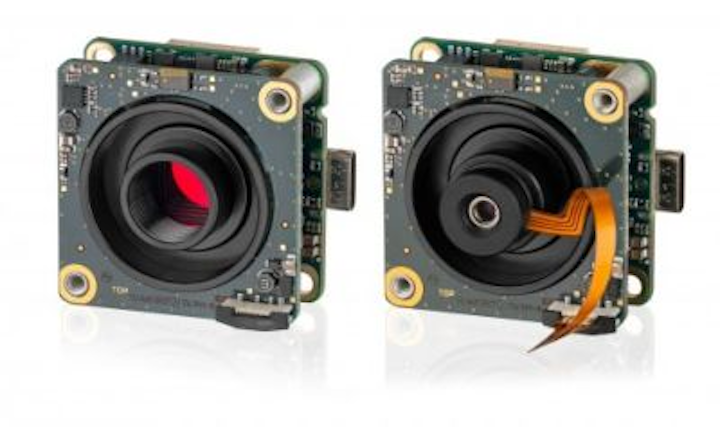 New to the UEye LE series of cameras from IDS Imaging Development Systems are the UI-3881LE AF, UI-3884LE AF, UI-3591LE AF Rev. 2, and UI-3594LE AF Rev. 2 cameras, which are board-level cameras with S-Mount or CS/C-Mount cameras with liquid lens control. The new UEye LE USB 3.1 Gen 1 cameras with liquid lenses are available with the 6.4 MPixel Sony IMX178 CMOS image sensor or the 18 MPixel ON Semiconductor AR1820HS CMOS image sensor.
The cameras also have an additional board for controlling the liquid lenses, which allows the focus to be set directly from the camera. Users can choose between the uEye Cockpit or the camera via API to make adjustments. The liquid lenses use Varioptic technology from Corning and Edmund Optics.
To Learn More:

Contact: IDS Imaging Development Systems
Headquarters: Obersulm, Germany
Product: UEye LE series USB 3.1 board-level cameras
Key Features: Single-board USB 3.1 cameras with CMOS image sensors from Sony and ON Semiconductor, liquid lenses and liquid lens control.
What IDS Imaging says:
View more information on the cameras.

View More Products | Locate a vendor or system integrator | Receive e-mail updates
Share your vision-related news by contacting James Carroll, Senior Web Editor, Vision Systems Design

To receive news like this in your inbox, click here.
Join our LinkedIn group | Like us on Facebook | Follow us on Twitter