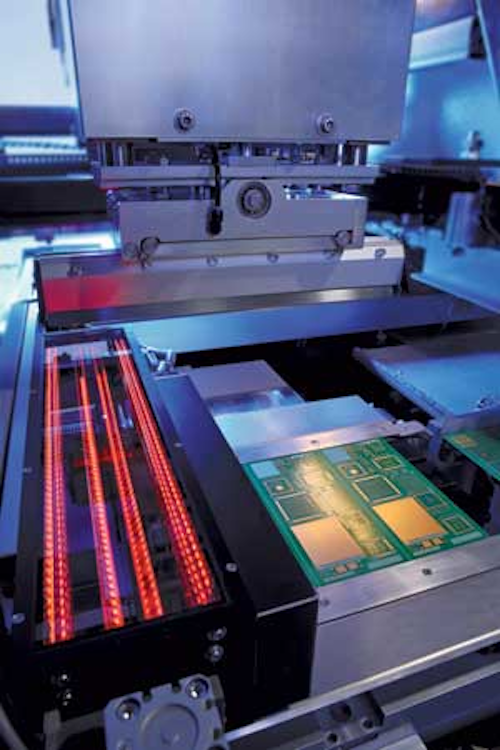 In electronics manufacturing, surface-mount devices are mounted on printed circuit boards (PCBs) using automated pick-and-place systems. Before this process can occur, however, solder-paste printers must apply solder paste to each contact pad on the PCB in sufficient amounts. In this process, the printer first aligns a stencil to the PCB so that solder paste can then be applied to the correct position on the PCB.
Solder bridges, which sometimes occur between two adjacent pads, are unacceptable. In more than 60% of the cases, defects in the solder-paste printing processes are responsible for faulty circuit boards. Since manual rework on a single PCB can cost up to $70, ensuring accurate solder-paste printing is imperative. After printing, components are subsequently mounted on the PCB and secured to the PCB's contact pads in a reflow oven.
To ensure that the stencil was properly aligned to the PCB and that the subsequent solder paste printing contained no defects, Wolfram Huebsch, product manager, printing machines at Kurtz Ersa Group (Wertheim, Germany), required a system that rapidly aligned and inspected the solder paste. By choosing an automated optical inspection (AOI) tool based on a contact image sensor (CIS) system from Tichawa Vision (Friedberg, Germany) Kurtz Ersa Group developed its Ersa Versaprint solder-paste printer, which provides a 100% in-line inspection of the print results at a speed of 9.1 m/sec (see figure).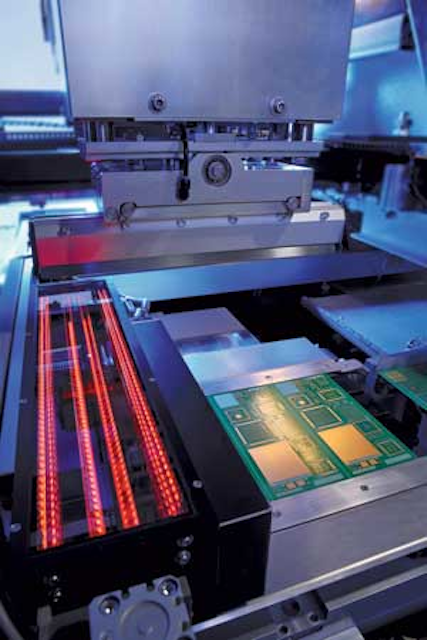 Using an AOI tool based on a contact image sensor system from Tichawa Vision, Ersa's Versaprint solder-paste printer provides a 100% in-line inspection at a speed of 9.1 m/sec.
"Unlike linescan based systems that require multiple cameras to be accurately aligned," says Huebsch, "the 260-mm-long CIS captures an image of the PCB in a single pass." Installed approximately 10 mm from the PCB, the CIS consists of a linear array of separate CMOS imagers that are coupled to an array of staggered gradient index (GRIN) lenses. Since each individual lens captures a small region of the target and there is a small image overlap between each, image reconstruction can generate a seamless linear image array across the field of view. In the CIS installed in the Versaprint system, this results in a spatial resolution of 2400 dpi and a pixel pitch of 10 µm.
Before solder-paste printing, the printing stencil and the PCB must be aligned precisely. To accomplish this, the CIS imager scans and captures fiducial marks located on both the PCB and stencil. Images from the CIS are then transferred over two Camera Link interfaces to a host PC with an NI 1428 Camera Link frame grabber from National Instruments (Austin, TX, USA).
To process these images, Kurtz Ersa Group enlisted the support of Konrad (Radolfzell, Germany). Using NI's LabVIEW software, sub-pixel correction, binarization, and pattern-matching techniques were used to analyze images captured from the stencil and PCB. The data were employed to properly align the stencil and the PCB.
Based on these values, the printer aligns the PCB in the correct position for printing. After printing, the CIS again scans the PCB using both direct and indirect red LED lighting to increase the contrast of the epoxy solder-paste resin, solder, and bridges between the pads. Once again, image data are transferred to the host PC. After again performing sub-pixel correction and binarization on these images, blob-analysis tools are used and the resulting data compared with known good data from a golden template. If the result does not meet the specified standards, production is halted.
More Vision Systems Issue Articles
Vision Systems Articles Archives