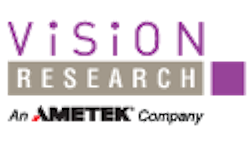 100 Dey Rd
Wayne, NJ 07470
United States
Vision Research designs and manufactures digital high-speed imaging systems used in applications including defense, automotive, engineering, science, medical research, industrial manufacturing and packaging, sports and entertainment, and TV and motion picture production.

The Emmy(r)-Award winning Wayne, N.J.-based company prides itself on the throughput, resolution, image quality and light sensitivity of its systems, robust software interfaces, and reliability and versatility of its camera family -- all which stand as benchmarks for the high-speed industry.

Vision Research cameras are marketed under the Phantom(r) brand and add a new dimension to the sense of sight, allowing the user to see details of an event "when it's too fast to see, and too important not to"(tm). For additional information about Vision Research, please visit www.visionresearch.com.

Vision Research is a business unit of the Materials Analysis Division of AMETEK Inc., a leading global manufacturer of electronic instruments and electromechanical devices.

Request More Information
Fill out the form below to request more information about Vision Research.
---