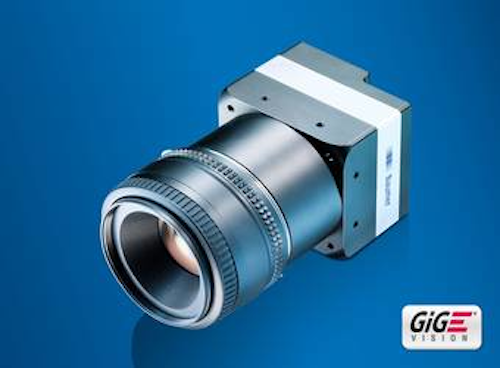 At Automate 2015, Baumer will showcase a number of its latest machine vision solutions, including LX machine vision cameras and Verisens vision sensors.
LX GigE cameras (pictured) feature CMOSIS image sensors and a dual GigE interface and are available with the 8 MPixel CMV8000 sensor (LXG-80), the 12 MPixel CMV12000 sensor (LXG-120), and the 20 MPixel CMV20000 (LXG-200). These cameras are available in color or monochrome and feature Power over Ethernet, multiple I/Os, and are GigE Vision and GenICam compliant.
Baumer will also showcase its Verisens XC vision sensor with Color FEX assistant, and the Verisens vision sensor IP69K. Color FEX assistant enables the simple and quick setup of 3D color identification and definition. The four vision sensor models are available with either 640 x 480 or 1280 x 960 CCD image sensors. The Verisens vision sensors with IP69K are designed for deployment in harsh conditions and are available with a 752 x 480 pixel imager. Both vision sensors also feature an Ethernet interface, the FEX image processor (which enables stable image evaluation at varying light conditions or object colors),
Automate booth number: 198A
To Learn More:
Contact:Baumer
Headquarters: Radeberg, Germany
Product: LX cameras, Verisens vision sensors
Key Features: CMOSIS CMOS image sensors, single and dual GigE mode, multiple I/Os, GigE Vision and GenICam compliant (LX cameras), 0.3/1.2 MPixel CCD sensors, FEX image processor, FEXLoc 360° position recognition, Vision sensors).
What Baumer says:
View more information on LX cameras.
View more information on the VeriSens with Color FEX.
View more information on the VeriSens IP69K.

View More Products| Locate a vendor or system integrator | Receive e-mail updates
Share new products that you think are particularly interesting or helpful by contacting James Carroll, Senior Web Editor, Vision Systems Design.
Join our LinkedIn group | Like us on Facebook | Follow us on Twitter | Connect on Google +