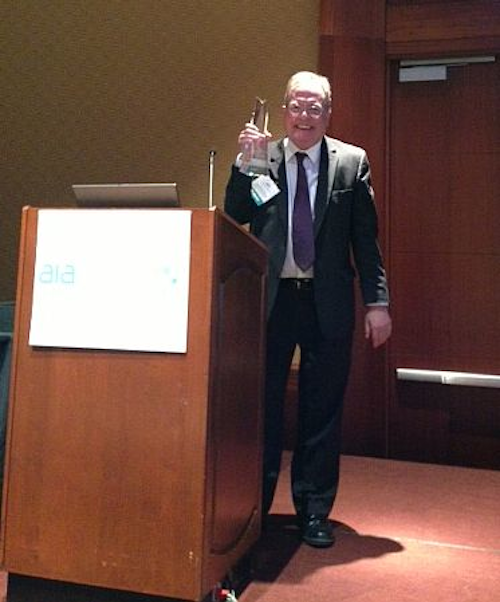 Andrew Wilson, Editor-in-Chief of Vision Systems Design, has been awarded the Automated Imaging Association's Achievement Award for 2013. Wilson was nominated by AIA members and was selected from a talented pool of candidates by the AIA Board of Directors. This is the first time a journalist has been given this honor.
The award was presented to Wilson at the 21st annual AIA Business Conference in Orlando, FL by AIA President Jeff Burnstein. Past recipients include the late Stanley Karandanis, President of Datacube; John Stack, former President of Edmund Optics; and Dr. Robert Shillman, President of Cognex.

According to the AIA, its annual Achievement Award is the vision and imaging industry's top honor. Since 1991, the AIA has recognized individuals for their leadership and outstanding contributions in promoting market acceptance and growth of industrial and/or scientific imaging. Recipients span the globe, and include men and women who have shaped the industry. To learn more about the AIA Achievement Award, visit www.visiononline.org.