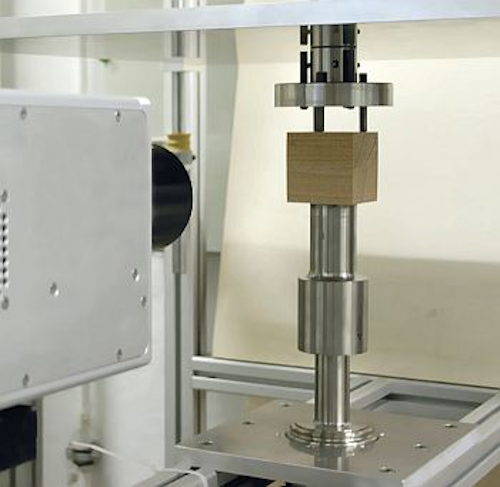 Research scientists from the Fraunhofer Institute for Wood Research, Wilhelm-Klauditz-Institut (WKI; Braunschweig, Germany) are using an ultrasound thermography system to identify material defects in wooden items.
The ultrasound thermography system can detect longitudinal and transverse cracks, glueing errors, delaminations, and black knots, allowing rejects to be caught quickly and eliminated and faulty goods to be repaired.
The system works by vibrating a wooden item using a sonotrode, or ultrasound agitator, at a frequency of 20 kHz. Where there are defects, the different parts of the material rub against each other and produce heat. This heat at the defect's extremities is then picked up by a thermal imaging camera connected to a monitor.
The thermography technique even allows the researchers to probe beneath the surface to uncover dowels that have not been glued and defects hidden under coatings -- something that conventional testing methods are not able to do.
The process is especially suited for finding defects in high-quality solid wooden parts and window frame squares and to detect badly glued joints. The depth to which the wood can be analyzed depends on its thermal conductivity, but depths of up to 20 mm are possible.
The WKI researchers have even managed to use the technique to detect cracks in ceramics and glass. In laboratory tests, they were able to pinpoint defects in ceramic floor tiles and in glass mouthwash bottles.
-- Posted by Vision Systems Design