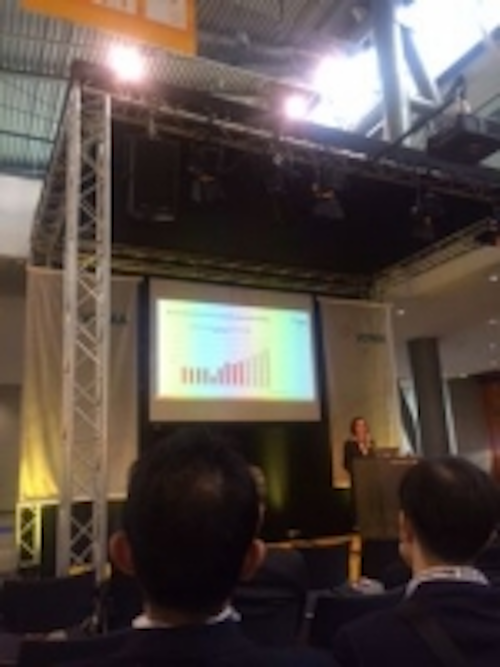 During the very first session of the Industrial Vision Days presentations, Anne Wendel, VDMA machine vision provided an overview of the German and European machine vision markets which indicated that the industry is on the rise.
Last year, the VDMA reported that the German machine vision industry grew more than 6% to an annual sales figure of $1.61 billion. In 2014, a minimum of a 10% growth to $1.77 billion in sales is expected, while even further growth for 2015 is anticipated. Upon further analysis, growth in 2014 can be attributed to an increase in foreign order incomes in Germany.
"Strong momentum continues to come from abroad, particularly in the United States and Asia," said Wendel.
From January to September of 2014, there was a 13% increase in foreign order incomes, while there was a 9% increase in domestic orders, for a total increase of 12%.
Asia and the United States, in particular, will play a large role in the overall increase of the Germany machine vision industry. In 2013, exports to the United States grew by 11%, while exports to China rose significantly above average. A total of 10% of turnover in the Germany machine vision industry is exported to China, according to Wendel.
One sector of the machine vision industry that figures to have a significant impact on the expanded industry is industrial robotics. This year, according to Wendel, a 15% in robotics growth is predicted, and the accelerating demand for robots will continue each year. China, Japan, the United States, South Korea, and Germany rank as the top five markets for robots in the world (in that order.)
Furthermore, Wendel identified a number of new trends that will aid in increased sales moving forward. These include:
Embedded vision: Increased demand for integrated machine vision systems for more than inspection and quality control.
Further applications and growth due to:

Standardization/standardized interfaces
Simplification, intuitive use, simple configuration tools
Greater efficiency
Improved computer performance
Miniaturization
Continued use in Asia/China
3D technologies on the rise
Lastly, it was noted that the demand for non-industrial applications has risen, and will continue to do so. In 2013 alone, there was a 25% increase in non-industrial manufacturing applications. This includes intelligent traffic systems, medical imaging, logistics and postal sorting, and security and surveillance applications.
For the sake of comparison, the non-automotive manufacturing applications decreased by 3%, while automotive applications grew by 15%.
The survey sited by Wendel included input from 160 companies, 112 of which were from Germany. The other 48 companies came from throughout Europe.
View additional VISION coverage.
Share your vision-related news by contacting James Carroll, Senior Web Editor, Vision Systems Design
To receive news like this in your inbox, click here.
Join our LinkedIn group | Like us on Facebook | Follow us on Twitter | Check us out on Google +