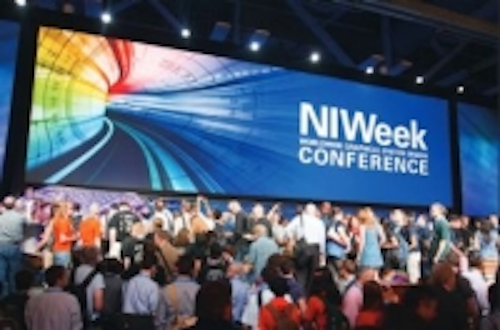 National Instrument's 20th annual NIWeek global graphical system design conference is expected to bring together more than 3,200 engineers and scientists across various industries, including imaging and machine vision professionals, manufacturing engineers, machine builders, researchers, quality control engineers, and academic professionals.
NI Week, which takes place August 4-7 at the Austin Convention Center in Austin, Texas, will feature more than 200 advanced technical presentations, an exhibition consisting of nearly 200 companies, and the following industry-focused summits:
In addition, NIWeek will feature four technical tracks that will enable attendees to learn the latest toolsand techniques in both lecture-style and hands-on sessions. The track topics include automated test systems, data acquisition systems, embedded systems, and software development techniques.
Vision Summit
National Instruments will also once again host its two-day Vision Summit, which consists of interactive technical sessions and workshops. Attendees will be able to learn about new products and industry best practices while networking with peers, vendors, integrators, and other vision experts. Technical sessions covered at the Vision Summit are as follows:
Automatically Detecting Cosmetic Defects Like a Human
Battle of the Buses: GigE Versus USB 3.0
Compact Vision System Teardown
Developing a Mobile Robot to Inspect Railway Switches
How to Improve Quality and Increase Efficiency in Manufacturing
Machine Vision in the Cloud
Real-World Techniques in High-Speed Vision Inspection
Robotic Microscopes--Improving the Search for a Cure
Turbocharging Drug Discovery Using NI Vision Tools
Vision on CompactRIO
Wacky Optics for Machine Vision
What's New in the Vision Development Module 2014
Featured vision products
To see our coverage of the products being showcased by exhibitors at NIWeek, visit the links below:
View more information on NIWeek here.
Also check out:
(Slideshow) Five unique examples of industrial machine vision inspection
Video interview: Industry expert discusses 360° vision for intelligent transportation systems
Global expansion aids record-setting 2013 for German machine vision market
Share your vision-related news by contacting James Carroll, Senior Web Editor, Vision Systems Design
To receive news like this in your inbox, click here.
Join our LinkedIn group | Like us on Facebook | Follow us on Twitter | Check us out on Google +