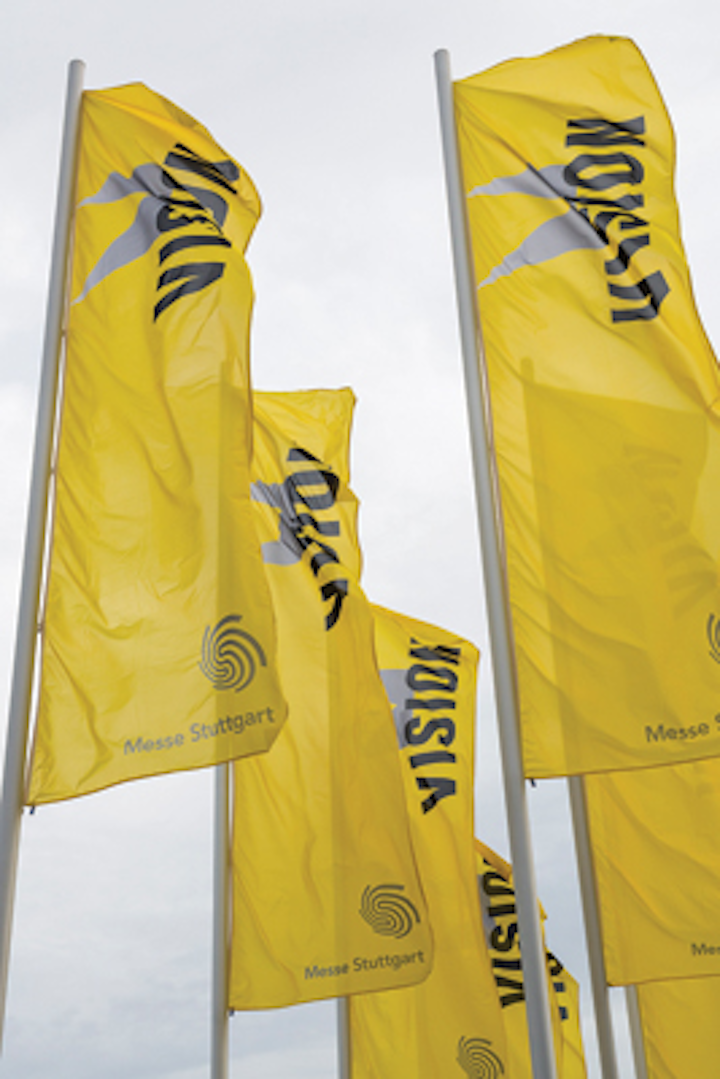 Trends and technologies emerge as early focus areas
Held every other year in Stuttgart, Germany, VISION is the world's largest trade fair for machine vision and imaging. From November 6-8, component developers, system providers, and integrators from across the world will gather at VISION to discuss the latest and greatest machine vision technology.
Exhibitors will showcase the latest application-specific machine vision systems, lighting and illumination, optics and lenses, sensors, software, cables and connectors, frame grabbers, and cameras, including area scan, line scan, high-speed, infrared, hyperspectral, multispectral, X-Ray, and smartcameras.
As the machine vision market continues to evolve, new technologies and the increased capabilities of existing technologies will reflect this at the exhibition at VISION 2018.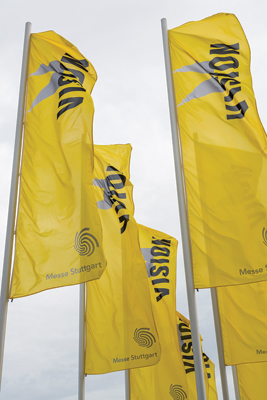 Figure 1:Pictured here is a view from outside the Messe Stuttgart exhibition center at VISION 2014
Hyperspectral imaging
HSI involves narrow, usually contiguous spectral bands, involving possibly hundreds or thousands of spectra. This is commonly accomplished through "push broom" imaging, in which a sensor or object is in motion. In this approach, the camera is working as a line scan device that acquires the full spectra of all spatial positions along the imaged line in one singlesnapshot.
This technology has been around for quite some time, but in the last few years, has started to expand rapidly, according to David Dechow, Principal Vision Systems Architect, Integro Technologies (Salisbury, NC, USA;www.integro-tech.com)
"Acquiring hyperspectral images enables us to measure hundreds or thousands of spectra, instead of a single spectrum. The spectra acquired by a camera are used to form an image of the target in a way that each image pixel includes a complete spectrum. In doing so, we are able to use this technology to accomplish really interesting things, particularly in color identification and classification, in applications such as mapping and in machine vision inspection for organic matter such as food or plants."
Though HSI enables vision systems developers to differentiate between materials that may appear similar in the visible spectrum, challenges remain. These include high price points and the fact that the technology is not entirely easy to understand and requires in-depth specialist knowledge in spectroscopy. Additionally, a lack of high-performance hyperspectral software and reliable spectral data presents challenges. Despite this, however, many companies in machine vision are still working hard on developing the technology even further because they see it as being enormously relevant in the future of machinevision.
"I think we will see it being increasingly useful in industrial applications, and this can be reflected by the fact that we've seen new players in the market, and new advances in the capabilities of the systems," said Dechow. "This includes systems that can be tuned, and even software that enables more easy tuning of the multispectral or hyperspectralbands."

Figure 2:Captured with Perception Park's Perception System, this hyperspectral image shows a plastic bottle in a plastic sorting application.
"I believe," he continued, "that the machine vision marketplace will see more and more value in these components and in the near future, we will see greater implementation of these types of components in a variety of applications."
Companies at VISION 2018 developing or working with hyperspectral imaging technology and products include imec (Leuven, Belgium;www.imec-int.com), HinaLea Imaging (Kapolei, Hawaii; www.hinaleaimaging.com), Perception Park (Graz, Austria; www.perception-park.com) Specim (Oulu, Finland, www.specim.fi), Stemmer Imaging ( Puchheim, Germany; www.stemmer-imaging.com), Tattile (Mairano, Italy; www.tattile.com), Thorlabs (Newton, NJ, USA; www.thorlabs.com), and XIMEA (Münster, Germany; www.ximea.com).
Lighting and illumination
Hyperspectral imaging systems require suitable illumination in order for them to function as intented. Because of this, lighting and illumination companies have had to evolve their technology and products to meet these and other increasing needs.
"The lighting industry still is finding ways to advance and make imaging components better and better for machine vision imaging," said Dechow. "Companies are now exclusively focused on the types of advanced techniques that can be used in high-quality imaging for machine vision applications, such as flexible lighting systems that provide more wavelengths in monochromatic light sources. Examples include NIR sources that are offered in wavelengths in the 800 to 950 nm range, hyperspectral LED systems with wavelengths in the 400 nm to NIR range, and in the SWIR wavelength range of 900 to 2500 nm, though I have not seen a light source available that delivers above 1650 nm."
At VISION 2018, several companies will present their latest developments. These include, but are not limited to: Advanced illumination (Rochester, VT, USA;www.advancedillumination.com), Büchner (Welden, Germany; www.buechner-lichtsysteme.de), CCS (Kyoto, Japan; www.ccs-grp.com), Effilux (Les Ulis, France; www.effilux.fr/en/), Falcon Illumination (Penang, Malaysia; www.falcon-illumination.com), Gardasoft (Cambridge, UK; www.gardasoft.com), Laser Components (Olching, Germany; www.lasercomponents.com), Metaphase Technologies (Bristol, PA, USA; www.metaphase-tech.com), Phlox (Aix-en-Provence, France; www.phlox-gc.com), Smart Vision Lights (Muskegon, MI, USA; www.smartvisionlights.com), TPL Vision (La Chevrolière, France; www.tpl-vision.com), and Z-Laser (Freiburg, Germany; www.z-laser.com).
Hyperspectral imaging, of course, is not the only application that has required lighting and illumination companies to adapt to market changes. Another trend that has emerged as of late, according to John Thrailkill, co-founder and CEO of Advanced illumination, is the increasing need for customized lighting products, and, the need for lighting with higher intensity and a lower price point, with an easier integration process. Additionally, he noted, customers increasingly require specific adaptation possibilities and options for factors such as illumination geometry and wavelengths.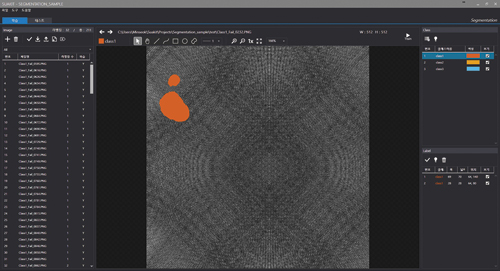 Figure 3:SUALAB's SuaKIT deep learning software offers a graphical user interface.
Another customer requirement that has become prominent as of late, according to Daniell Haug, Product Manager, Falcon Illumination, is the need for high power density in lighting. Falcon Illumination, as well as other companies at the show, are catering to this trend by making greater use of high-power LEDs and flash controllers.
Also expected to have a presence at the show are companies that develop LED alternatives, including those in the extended light spectrums in the ultraviolet and infrared range that are used in conjunction with correspondingly sensitive cameras, as well as lasers and lasermodules.
Intelligent lighting—which enables the use of lighting in a more efficient and economical manner—is another technology that will be highlighted at VISION 2018. Companies such as Stemmer Imaging offer intelligent illumination systems featuring Triniti technology which was developed by Gardasoft in collaboration with other lighting and illumination manufacturers such as CCS, Metaphase Technologies, and Smart VisionLights.
"Companies are recognizing that, in order to work with these advanced lighting systems, we need advanced controls when we integrate lighting with machine vision systems," said Dechow. "These are also much easier to use, and I think the ease of use in lighting controls is going to be a significant factor going forward."
He added, "Not much is likely to change in LEDs, but what will change is how manufacturers use these LEDs to benefit us when we are integrating machine vision systems."
Deep learning and embedded vision
Perhaps to the surprise of nobody within the machine vision community, deep learning will be a technology that is prominently featured at VISION 2018. Several machine vision software companies have deployed deep learning technology within their products, while others base their entire product on it.
"Deep learning offers the promise of solving more complex and nuanced machine vision inspection tasks with with the added benefit of less development time," said Tom Brennan, President, Artemis Vision (Denver, CO, USA;www.artemisvision.com). "The algorithms learn the most statistically predictive features within the training data and then apply those to inspect parts. As a result, complex definitions of 'good part' and 'bad part' can be learned with little developmenttime."
When deployed correctly, suggests Brennan, deep learning techniques are highly effective. "Additionally, the learning algorithms can apply far more techniques than a person could program and backpropagate those results into different layers of the classifier to learn the optimal model, in significantly less time than it would take to program using traditional machine vision techniques."
Several companies exhibiting at VISION 2018 are developing deep learning or deep learning-based technology and products. These include Eye Vision Technology (Karlsruhe, Germany;www.evt-web.com), Cognex (Natick, MA, USA; www.cognex.com), Matrox Imaging (Dorval, QC, Canada; www.matrox.com/imaging), MVTec (Munich, Germany; www.mvtec.com), Silicon Software (Manheimm, Germany; https://silicon.software), and Sualab (Seoul, South Korea;www.sualab.com).
Another popular topic in machine vision, as of late, is embedded vision. At VISION 2018, deep learning and embedded vision will intersect, as many companies are now deploying deep learning on embedded devices. Examples include the NVIDIA (Santa Clara, CA, USA;www.nvidia.com) Jetson TX2 embedded board supporting the deep learning inference in MVTec's HALCON software, as well as a forthcoming solution from Silicon Software that involves deep learning running on a VisualApplets environment on an FPGA. Additionally, Irida Labs (Magoula, Greece; www.iridalabs.gr) will present its DeepAPI framework, which is a library for implementing deep learning on any embeddeddevice.
Of course, there will also be several companies showing embedded vision products for applications beyond deep learning. This includes companies that develop embedded vision cameras, including Allied Vision (Stadtroda, Germany;www.alliedvision.com) Baumer (Frauenfeld,Switzerland; www.baumer.com), Basler (Ahrensburg, Germany; www.baslerweb.com), e-con Systems (Tamil Nadu, India; www.e-consystems.com), FLIR (Formerly Point Grey; Richmond, BC, Canada; www.ptgrey.com, IDS Imaging Development Systems (Obersulm, Germany; www.ids-imaging.com), and LUCID Vision Labs (Richmond, BC, Canada; www.thinklucid.com).
Additionally, companies developing industrial PCs and embedded systems that will be at the show include AAEON (New Taipei City, Taiwan;www.aaeon.com), ADLINK Technology (New Taipei City, Taiwan; www.adlinktech.com), Advantech (Taipei, Taiwan; www.advantech.com), Keyence Corporation (Osaka, Japan; www.keyence.com), Matrox Imaging, Opto Engineering (Mantova, Italy; www.opto-engineering.com), Tattile, Vecow (New Taipei City, Taiwan; www.vecow.com), and Xilinx (San Jose, CA, USA; www.xilinx.com).
"There has been an explosion in the availability of embedded computers. A few years ago, we talked about embedded computers as being 'industrial PCs' – which were very cutting edge, but now we are seeing a trend in both single-board and system solutions that are targeting machine vision and, in combination, deep learning," said Dechow. "It's exciting to be able to get a computer that has everything needed for machine vision and deep learning, in a package that is an industrialized or an embedded processor."
AAEON
New Taipei City, Taiwan
ADLINK Technology
New Taipei City, Taiwan
Advanced illumination
Rochester, VT, USA
Advantech
Taipei, Taiwan
Allied Vision
Stadtroda, Germany
Artemis Vision
Denver, CO, USA
Basler
Ahrensburg, Germany
Baumer
Frauenfeld, Switzerland
Büchner
Welden, Germany
CCS
Kyoto, Japan
Cognex
Natick, MA, USA
e-con Systems
Tamil Nadu, India
Effilux
Les Ulis, France
Eye Vision Technology
Karlsruhe, Germany
Falcon Illumination
Penang, Malaysia
FLIR (Formerly Point Grey)
Richmond, BC, Canada
Gardasoft
Cambridge, UK
HinaLea Imaging
Kapolei, Hawaii
IDS Imaging Development Systems
Obersulm, Germany
Imec
Leuven, Belgium
Integro Technologies
Salisbury, NC, USA
Irida Labs
Magoula, Greece
Keyence Corporation
Osaka, Japan
Laser Components
Olching, Germany
LUCID Vision Labs
Richmond, BC, Canada
Matrox Imaging
Dorval, QC, Canada
Metaphase Technologies
Bristol, PA, USA
MVTec
Munich, Germany
NVIDIA
Santa Clara, CA, USA
Opto Engineering
Mantova, Italy
Perception Park
Graz, Austria
Phlox
Aix-en-Provence, France
Photonfocus
Lachen, Switzerland
www.photonfocus.com
Silicon Software
Manheimm, Germany
Smart Vision Lights
Muskegon, MI, USA
Specim
Oulu, Finland
Stemmer Imaging
Puchheim, Germany
Sualab
Seoul, South Korea
Tattile
Mairano, Italy
Thorlabs
Newton, NJ, USA
TPL Vision
La Chevrolière, France
Vecow
New Taipei City, Taiwan
Xilinx
San Jose, CA, USA
XIMEA
Münster, Germany
Z-Laser
Freiburg, Germany