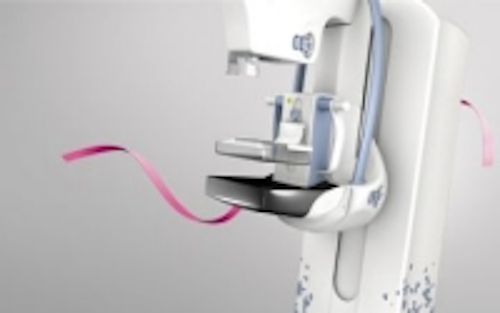 GE Healthcare's SenoClaire 3D tomosynthesis solution—which was developed in collaboration with Massachusetts General Hospital—has received FDA approval for purposes 3D mammography.
The SenoClaire technology enables clinicians to see breast tissue in 3D, but can do so without the need to increase the amount of X-rays used in standard 2D imaging. SenoClaire uses a low-dose short X-ray sweep around the positioned breast with nine exposures acquired with a "step-and-shoot" method. In this method, the system stops at each predetermined location where an image is taken unlike the continuous sweep, thus removing the potential motion from the tube helping to reduce blur and increase image sharpness. Each image acquisition takes less than ten seconds and is made possible with the use of the system's lightweight rotating tube arm.
"Today's announcement marks a key milestone in our mission of providing women with cutting edge screening technology to detect early breast cancer," said Dr. Daniel Kopans, Senior Radiologist, Breast Imaging Division Department of Radiology, Massachusetts General Hospital in a GE press release. "When cancer is identified and treated earlier, we know women have a better rate of survival."
This development is important because the radiation levels that patients are exposed to are as low as possible while still providing clinicians a method for identifying breast cancer. With the FDA's approval of the device, GE Healthcare hopes to "equip healthcare providers with a comprehensive set of tools that will help their patients across the entire breast care continuum," according to Catherine Tabaka, Chief Marketing Officer, GE Healthcare, Detection and Guidance Solutions.
View the GE Healthcare press release.
Also check out:
Researchers developing NASA-inspired vision-enabled surgical robot for children
QImaging introduces all-in-one live cell imaging solution
Laser-based cataract surgery system features multiple machine vision cameras
Share your vision-related news by contacting James Carroll, Senior Web Editor, Vision Systems Design
To receive news like this in your inbox, click here.
Join our LinkedIn group | Like us on Facebook | Follow us on Twitter | Check us out on Google +