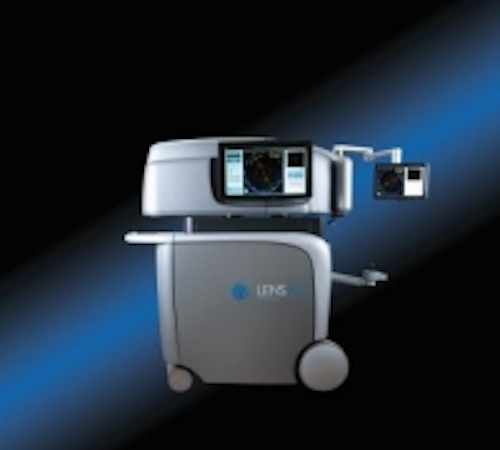 Built specifically for refractive cataract surgery, The LENSAR Laser System is a femtosecond laser device that collects biometric data and reconstructs a 3D model of the anterior segment of the eye using a proprietary augmented reality technology.
Within the LENSAR's augmented reality 3D imaging, measurement, and guidance system is an Adimec QUARTZ Qs-4A60 camera. The 4 MPixel Qs-4A60 camera features a CMV4000 CMOSIS global shutter CMOS image sensor with a 5.5 µm x 5.5 µm pixel size. The camera achieves a frame rate of 60 fps and features a dynamic range of 60 to 90dB as well as Camera Link and CoaXPress interfaces. Within the augmented reality system of the LENSAR, the Qs-4A60 rotates and captures anterior segment images and biometry at two different angles at up to eight different positions around the optical axis for a total of 16 potential images.
Multiple scans identify the precise location of the relevant anatomical structures from the anterior cornea to the posterior capsule, and using optical ray-tracing and biometric data, the augmented reality system creates a 3D model of each patient's eye prior to surgery, allowing for more precise laser delivery. The technology also facilitates precise surgical incisions and treatment for ultimate accuracy and outcomes, all in a single procedure room, according to the press release.
In addition, an Adimec A-1000 camera is also used in the LENSAR Laser System for alignment and overview purposes during surgery. The 1MPixel A-1000 camera features a 2/3" Interline CCD image sensor with a 7.4 µm x 7.4 µm pixel size. The camera achieves a frame rate of 50 fps and features a dynamic range of 62dB as well as a Camera Link interface.
View more information on the LENSAR Laser System. View other articles from our July 2 3D imaging e-newsletter.
Also check out:
Embryoscope imaging device may improve chances of In Vitro Fertilization
Latest da Vinci robotic surgical system features enhanced capabilities
Vision system uses scorpion venom protein and a laser to identify tumors
Share your vision-related news by contacting James Carroll, Senior Web Editor, Vision Systems Design
To receive news like this in your inbox, click here.
Join our LinkedIn group | Like us on Facebook | Follow us on Twitter | Check us out on Google +