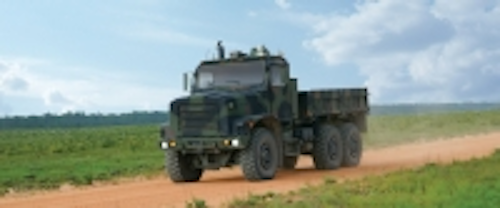 Oshkosh Defense demonstrated the capabilities of its vision-enabled TerraMax unmanned ground vehicle (UGV) technology at the land and air-land defense and security exhibition Eurosatory 2014. TerraMax UGVs are designed to autonomously navigate in military route clearance missions and effectively provide additional safety measures in frontline military operations.
"In today's conflicts, the frontlines have been blurred and troops carrying out logistics missions are exposed to improvised explosive devices and other lethal threats previously reserved for battle zones," said U.S. Army Major General (Retired), John Urias, executive vice president, Oshkosh Corporation and president, Oshkosh Defense, in a press release. "The Oshkosh TerraMax UGV has the potential to reduce troops' exposure to these threats, while optimizing the number of troops needed for such operations."
In order to navigate autonomously, each TerraMax UGV has a separate vision system. The trinocular system, according to a 2008 academic paper on the project, is equipped with three Point Grey Flea2 cameras that are connected to a PC. These cameras are on the upper part of the windshield inside the cab and are used for obstacle and path detection. Flea2 XGA (1024 x 768 pixels) cameras feature a 1/3" Sony ICX204 CCD image sensor with a 4.65 µm x 4.65 µm pixel size, a Bayer pattern filter, a frame rate of 30 fps. The cameras are linked with a laser scanner in the front for obstacle detection and lane detection and stereo detection algorithms are applied to the system.
For the TerraMax's stereo camera system, which consists of two on the front camera bar and two on the back of the truck for close-range sensing, four more Flea2 cameras are used. These cameras are linked to laser scanners in both the front and back for obstacle detection and the system utilizes lane detection, stop line detection, curb detection, and short-range stereo obstacle detection algorithms.
Page 1 | Page 2