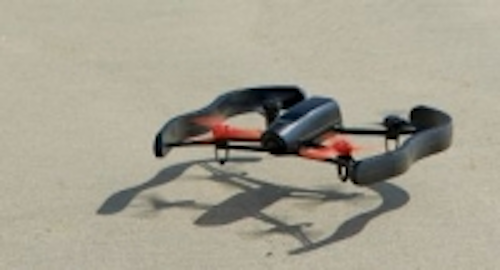 A newly-launched unmanned aerial vehicle (UAV) from Parrot called the Bebop Drone is equipped a 14 MPixel CMOS image sensor and is optimized to act as a "flying camera" aerial surveillance system.
Bebop, which is designed for both indoor and outdoor flying operations for 12 minutes at a time, has a 14 MPixel camera with a 1/2.3" CMOS image sensor that achieves 30 fps frame rates. The camera has a 180° fisheye lens, H264 video encoding, and a 3-axis digital image-stabilization system that provides a jitter-free view regardless of the drone's orientation or movement.
Users control the Bebop via a Wi-Fi connection using the iOS and Android compatible FreeFlight3.0 app for tablets and smartphones. A pair of on-screen dual thumbsticks allow for movement and vision control while the drone beams back a live video feed of what it sees to the tablet, according to IEEE Spectrum. The Bebop UAV integrates a GNSS chipset that associates the GPS, GLONASS and GALILEO data, enabling users to plan flights on a smartphone or tablet by touching waypoints on the screen and letting the UAV autonomously navigate.
In addition, the Bebop is compatible with the Oculus Rift virtual reality headset, meaning that users who happen to own an Oculus Rift can plug it into the Bebop's Skycontroller and get a "drone's eye view" of the world, streamed in real time.
With the integration of a 3-axis stabilization system and a 14 MPixel camera, Parrot has placed an emphasis on the Bebop's ability to capture high-resolution images. In addition, Bebop is the first UAV from Parrot that is able to transmit live streaming video of what it is seeing straight to a phone or tablet. It will be interesting to see what types of applications the UAV is used for, especially considering the recent ruling that civilian UAVs in public airspace are not, in fact, illegal.
Immediate thoughts that come to mind when considering how the UAV might be used include security and surveillance and agricultural or environmental imaging applications. How else could it be used? Here are some examples of UAVs being used in civilian applications.
View more information on the Bebop UAV.
Also check out:
Live from the AIA Vision Show: How surveillance and security technologies protect us
Google continues robotic push with purchase of UAV company
Headwall introduces airborne VNIR-SWIR sensor for UAVs or fixed-wing aircraft
Share your vision-related news by contacting James Carroll, Senior Web Editor, Vision Systems Design
To receive news like this in your inbox, click here.
Join our LinkedIn group | Like us on Facebook | Follow us on Twitter | Check us out on Google +