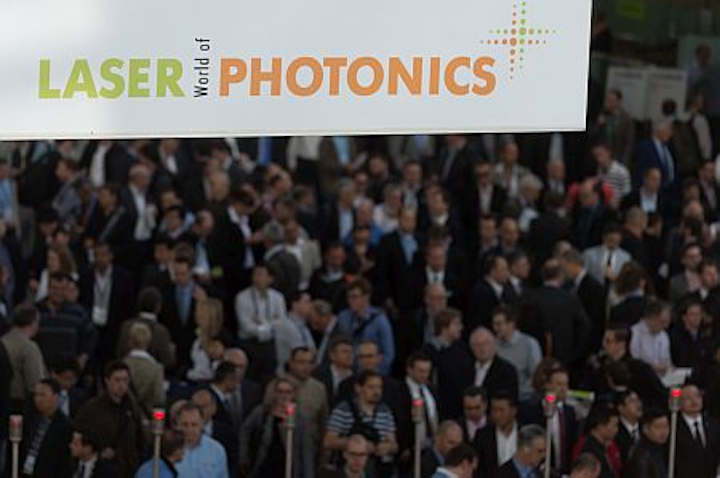 From June 26-29, more than 31,000 international researchersand professionals in photonicsare expected to once again gather in Munich for LASER World of Photonics, the international trade fair for the laser and photonics industry.
The exhibition—which is held in the Congress Center at Messe München—is set to showcase the entire range of photonics solutions, from components to systems, offering global suppliers and customers a chance to network. When the show was last held in 2015, 31,279 visitors from 72 different countries had the opportunity to connect with 1,227 tradeshow exhibitors from 42 different countries, highlighting the global nature of the event.
In the exhibition—which features five halls—the following application areas will be covered either in entire halls, or parts of halls:
Imaging
Optics
Sensors, test and measurement, and optical measurement systems
Optical information and communication
Lasers and laser systems for production engineering
Biophotonics and medical engineering
Manufacturing technology for optics
Lasers and optoelectronics
Illumination and energy
Security
Check out our coverage of some of the products that will be covered in the exhibition:
Held concurrently with the LASER World of Photonics Exhibition and trade fair is the World of Photonics Congress, which offers six conferences covering photonics research, almost 3,500 lectures and posters, and 16 panels featuring nearly 100 practice-oriented presentations. More than 5,600 participants are expected at the Congress, 73% of which are expected to come from abroad, if 2015 figures are any indicator. The six conferences—including the newly-launched SPIE Digital Optical Photonics Technologies conference—are as follows:
CLEO / Europe – EQEC 2017: The European Conference on Lasers and Electro-Optics and the European Quantum Electronics Conference will showcase the latest developments in lasers and photonics, while EQEC will showcase the fundamentals of quantum optics.
Lasers in Manufacturing (LiM 2017): LiM 2017 will focus on the latest advances and future trends in the field of laser materials processing, including its potential for industrial applications. It will also feature a sub-conference on additive manufacturing, all organized by the German Scientific Laser Society.
EOS Optical Technologies: This conference addresses all aspects of optical technologies, including optical systems and components, opto-fluidics, optomechanical engineering, and light engineering. This conference is organized by the European Optical Society.
Optical Metrology: Organized by SPIE Europe, the Optical Metrology conference focuses on the latest research in optical metrology, videometrics, and machine vision, with applications for solving measurement and inspection problems in industrial design and production engineering, vehicle navigation, multimedia technology, architecture, archaeology and the arts.
Digital Optical Technologies. SPIE's new conference focuses on the components, systems design, and applications of emerging optical technologies. This includes technologies such as 3D sensors, immersive multimedia, novel displays, light sources, and imaging systems.
European Conferences on Biomedical Optics (ECBO): Organized by the OSA with support from SPIE, this conference covers basic science, new technology, and applications, in the fields of advanced microscopy, clinical and biomedical spectroscopy, diffuse optical imaging, molecular
In addition to these, LASER World of Photonics will once again also feature Application Panels, which revolve around practical experiences in laser and photonics applications in medical technology and industrial manufacturing. The lectures will cover a range of topics and include information on new application sectors and the market potential for laser technology, such as machining lightweight components, additive manufacturing or ophthalmology.
Additional events being held at this year's event include:
The second Start-Up World, in which global companies that have been around for less than five years have the chance to present their latest developments live in front of an international audience.
The PHOTONICS Award 2017, which rewards the best product innovations in the field of optical technology. The prize pool has a total value of EUR 25,000, including cash, exhibition space, visibility, marketing, and business support.
The first Make Light MAKEATHON, which shows how different teams develop innovative products in various fields of photonics in only 24 hours. During the event, 80 of the brightest in the industry will be working together to build hardware or software products or products from scratch.
View more information on LASER World of Photonics.
Share your vision-related news by contacting James Carroll, Senior Web Editor, Vision Systems Design

To receive news like this in your inbox, click here.
Join our LinkedIn group | Like us on Facebook | Follow us on Twitter
Learn more: search the Vision Systems Design Buyer's Guide for companies, new products, press releases, and videos