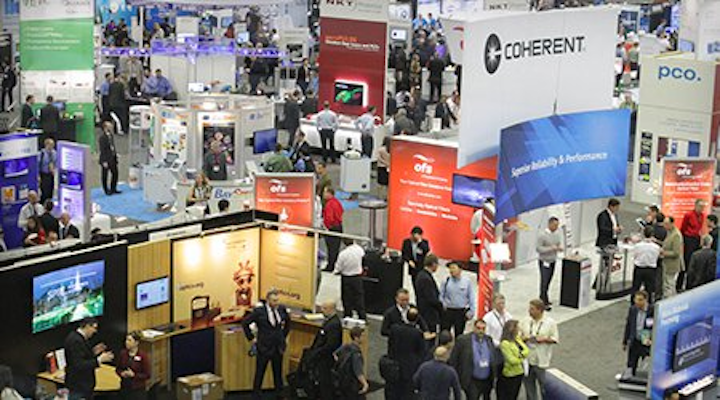 Running from January 27 to February 1, SPIE Photonics West is expected to draw 20,000 researchers, technology developers, and buyers from around the globe to the world's largest conference and exhibition on optics and photonics, where attendees will discuss and learn about the latest products, market insights, technologies, and technical presentations.
Once again taking place at the Moscone Center in San Francisco, the event will also feature an expanded program, touching on hot topics including quantum technology, LIDAR and autonomous vehicles, the role of 3D printing in Industry 4.0, and applications for virtual, augmented, and mixed reality.
Expanding programs at Photonics West and other SPIE events underscore the society's long and close connection with industry, according to SPIE Industry Development Director Stephen Anderson.
"The connection dates back to the society's founding, and is a reflection of the reality that industry plays a majority role in the global research and innovation infrastructure," Anderson said. "We aim to help our industry partners do what they do best: apply research and innovation to solving real-world problems with photonics, whether in energy production, advanced manufacturing, efficient lighting, medical diagnostics and treatment, communications, or other areas."
Photonics West 2018 will include three conferences, more than 5,200 leading-edge technical presentations, two major international exhibitions (BiOS Expo and Photonics West Exhibition), an expanded industry program, professional development courses, and other activities. Attendees can expect to hear the latest research and the latest devices and systems driving technology markets including biophotonics for brain research and healthcare, lasers for research and advanced manufacturing, sensors and camera systems, imaging and displays, communications and optoelectronics, plus the core optical components that enable many of today's consumer products.
BiOS and BiOS Expo
During the first weekend, the Biomedical Optics Symposium (BiOS) will take place, with conference sessions beginning early in the morning on January 27 and the exhibit hall opening at 10 AM. The exhibits will continue through Wednesday evening. Conference program tracks will focus on:

Additionally, the BiOS Expo, which runs January 27-28, will feature more than 200 companies showcasing their biomedical optics products, systems, and software. Featured technologies will include biomedical optics, lasers, molecular imaging, therapeutic lasers, nano/biophotonics, biosensors, and spectroscopic/microscopic imaging. Badges will attendees access to more than 40 free industry events, a job fair, product demonstrations, course and workshops, and more.
LASE 2018
Then from January 29 to February 1, SPIE LASE will offer 900 papers and presentations on laser technologies, including its main conference program tracks:
Topics covered in these programs include laser manufacturing, laser materials processing, micro-nano packaging, fiber, diode, solid state lasers, laser resonators, ultrafast, semiconductor lasers and LEDs, and 3D fabrication technologies.
OPTO 2018
With sessions running throughout the duration of Photonics West, SPIE OPTO will offer more than 2,000 papers and presentations on optoelectronics. The eight tracks are as follows:
Topics to be discussed in these tracks include silicon photonics, photonic crystals, optoelectronics, semiconductor lasers, quantum dots, and nanophotonics. This conference addresses the latest developments in a broad range of optoelectronic technologies and their integration for a variety of commercial applications, according to SPIE.
Each of the three conferences will feature plenary sessions and hot topic discussions. More information on these scheduled presentations can be found here:
>>> SPIE Photonics West Hot Topics and Plenary Sessions.
Photonics West Exhibition
Finally—the flagship event for the photonics industry—the Photonics West exhibition, will run January 30 to February 1 and will feature approximately 1,300 companies, many of which will debut new products on the show floor. Companies will showcase the latest components, devices, and systems for research or business needs.
Vision-related technologies that are expected to be prominently featured and discussed at the event, according to SPIE, are as follows:
Cameras and CCD components
Electronic imaging components
Lasers and other light sources
Laser systems and accessories
Fiber optic components, equipment, systems
High-speed imaging and sensing
Optical components, detectors, materials, substrates, and coatings
Lenses and filters
Infrared sources and detectors
Metrology
Communication technology
Positions and mounts
SPIE will also hold a one-day conference on January 29, "VR, AR, MR One-Day Industry Conference and Headset Demonstrations," which consists of 19 invited talks and a panel on the current optical technological challenges and successes for virtual reality (VR), augmented reality (AR), and mixed reality (MR). In addition, several special industry events will be held, covering topics such as the aforementioned quantum technology, as well as fiber technology, IP protection, and solid-state lighting.
>>>View more information on the special industry events here.
Additional events of note include:
SPIE Startup Challenge, which is an event held annually that invites new entrepreneurs to pitch their light-based technology business plan to a team of corporate development experts and venture capitalists to win cash and other prizes. (Monday January 29).
Startup Challenge Networking Lunch, where attendees network with judges and mentors. This event, held on January 29, is open to Startup Challenge participants only.
Photonics Cluster Reception, where all leaders from regional optics and photonics clusters are invited to join the SPIE-hosted reception.
Women Executives Meet-Up: On January 29, women executives (industry or academia), are invited to meet up, network, and socialize following the SPIE Women in Photonics presentation and reception.
New products in optics and photonics will be honored at the 2018 Prism Awards for Photonics Innovation. Awards are presented as a gala banquet on January 31 and are offered given out for the following categories: Detectors and sensors, environmental monitoring, illumination and light sources, imaging and cameras, lasers, life science instrumentation, material processing and additive manufacturing, medical diagnostics and therapeutics, optics and optomechanical components, and test and measurement. >>> View the finalists here.
View more information on the event.
View a press release on the event.
Share your vision-related news by contacting James Carroll, Senior Web Editor, Vision Systems Design

To receive news like this in your inbox, click here.
Join our LinkedIn group | Like us on Facebook | Follow us on Twitter