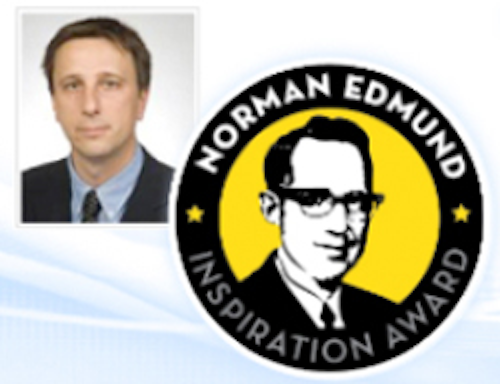 Edmund Optics (EO; Barrington, NJ, USA) has announced the recipient of the 2012 Norman Edmund Inspiration Award of $5,000 in EO products.

Tomasz Tkaczyk, assistant professor in bioengineering at Rice University (Houston, TX, USA), is being recognized for the development of optical imaging technologies used for the early detection and treatment of infectious diseases and cancer.

Tkaczyk's research has led to the development of new imaging technologies that are compact, portable, low cost and adaptable to mass production. Tkaczyk and his team have made significant advancements to miniature microscope objectives and endomicroscopy systems, which are being used to gain a better understanding of global health threats such as tuberculosis and malaria.

"The research done by Dr. Tkaczyk and his associates at Rice University embodies Norman Edmund's spirit of innovation. My father would be proud to know that EO's optics were used in the development of a technology which both advances the field of medical diagnosis and reduces its cost. My fellow board members and I congratulate Dr. Tkaczyk on this ingenious accomplishment," says Joan Husted, Edmund Optics board member and daughter of Norman Edmund.

Professor Tkaczyk, who is also the first place award recipient of Edmund Optics' 2012 Higher Education Grant Program in the Americas, is a postdoctoral fellow in applied optics and in biomedical imaging from the University of Arizona (Tucson, AZ, USA).

He has a PhD in optical engineering and physical optics from the Institute of Micromechanics and Photonics from Warsaw University of Technology (Warsaw, Poland).

More about the Edmund Optics' Higher Education Grant Program and the Norman Edmund Inspiration Award can be found here.

Recent articles on optics and lenses from Vision Systems Design that you might also be interested in.
1. Edmund Optics announces award winners

Edmund Optics (EO; Barrington, NJ USA) has announced the winners of its 2012 Higher Education Global Grant Program. The company awards are given in recognition of outstanding undergraduate and graduate optics programs in science, technology, engineering, and mathematics at non-profit colleges and universities worldwide.

2. Working with lenses beyond the visible

In choosing a lens for shortwave-infrared (SWIR) imaging, system integrators must weigh a number of important lens characteristics. Lucas Willis, a machine vision solutions engineer at Edmund Optics, addresses the issues involved.

3. Leverage lenses for better vision

As with many tasks involved with choosing OEM components for machine-vision systems, deciding on which lens to specify for a given application can be challenging, as Andrew Wilson, the Editor-in Chief of Vision Systems Design, explains.

Vision Systems Design magazine and e-newsletter subscriptions are free to qualified professionals. To subscribe, please complete the form here.

-- Dave Wilson, Senior Editor, Vision Systems Design