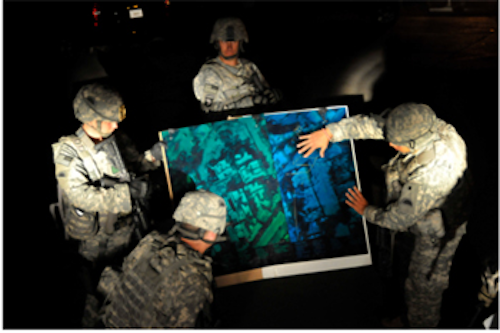 Engineers at Zebra Imaging (Austin, TX, USA) are creating 3-D holographic maps that enable soldiers and commanders to better see the terrain in which they are operating without 3-D glasses or goggles.

According to Lynn Schnurr, the US Army intelligence chief information officer and director of the intelligence community's information management directorate, using the holograms enables soldiers to improve their understanding, retention and situational awareness of an area of operations.
The hologram maps are 24-by-36 inches, are scratch-resistant and can be rolled up and easily carried on a vehicle.
To make the holograms, Zebra Imaging uses data from the Army -- both classified and unclassified -- along with open-source data, photos, and lidar imagery.

Each hologram is custom-made for a soldier or a unit that requested it so that it matches the specific area of operations.
So far, about 12,000 holographic images have been sent to soldiers in Iraq and Afghanistan. With operations over in Iraq, the priority is to supply troops in Afghanistan with these maps.

Vision Systems Design magazine and e-newsletter subscriptions are free to qualified professionals. To subscribe, please complete the form here.

-- by Dave Wilson, Senior Editor, Vision Systems Design