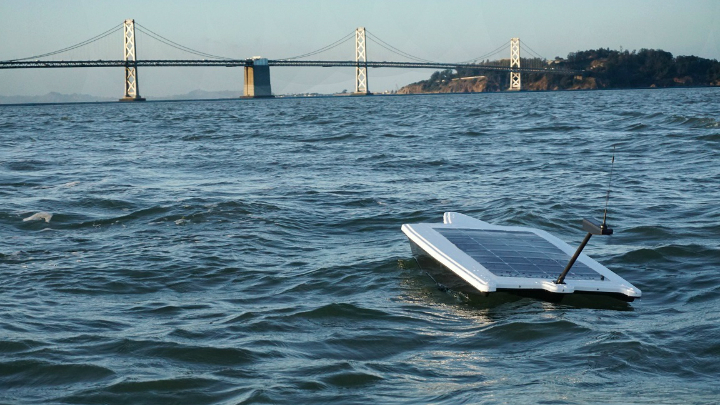 In this week's roundup from the Association for Unmanned Vehicle Systems International, which highlights some of the latest news and headlines in unmanned vehicles and robotics, UPS and CVS partner up under FAA approval for drone delivery of medical and person supplies, public safety officials in New York State receive UAS flight training for emergency scenarios, and Sofar Ocean Technologies reveals a new autonomous surface vehicle.
UPS, CVS complete first commercial medical prescription drone delivery in North Carolina
UPS and CVS have successfully completed the first commercial medical prescription drone delivery in the US under an FAA-approved program.
On Friday, Nov. 1, a Matternet M2 UAS completed two short, autonomous flights to customers' homes near a CVS store in Cary, North Carolina. One of the customers on the receiving end of the deliveries has limited mobility, which makes it a struggle for them to make it to the nearby store.
Using a cable, the prescriptions were lowered to their destinations while the UAS hovered about 20 feet above each address. According to UPS, both flights were conducted within the line of sight of a UPS drone operator, who was on hand to take over the flights if necessary.
Via CNET, UPS spokesman Kyle Peterson says that the flights were the beginning of an evaluation with CVS. Retail products such as shampoo and paper towels will be delivered during this exploratory period.
Via UPS Flight Forward, which is UPS' new UAS subsidiary, UPS is currently using UAS to make deliveries on WakeMed's flagship hospital campus in Raleigh, North Carolina, sending lab samples back and forth between neighboring buildings and the central lab center. In an effort to provide easier access to lifesaving medicines such as anti-venoms, UPS is considering UAS flights between hospitals.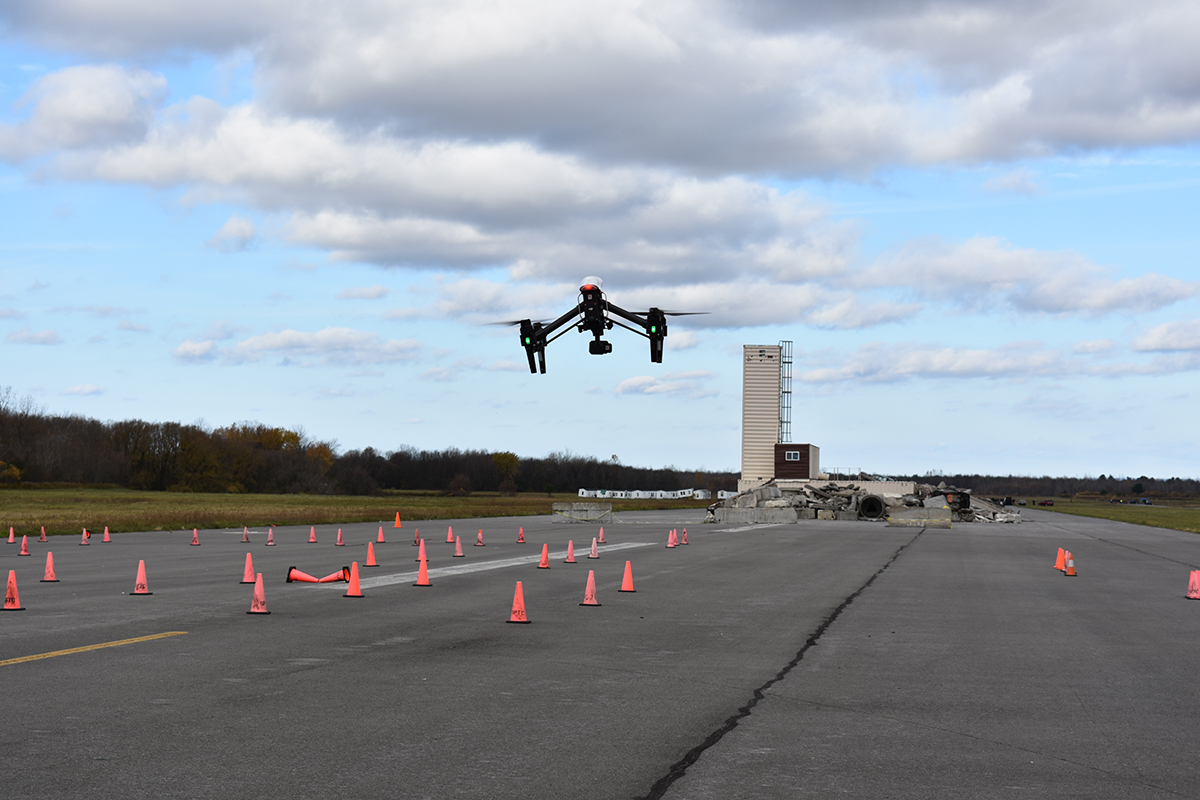 NUAIR hosts first New York UAS Public Safety Fly-In for public safety officials
NUAIR hosted its first New York UAS Public Safety Fly-In on Tuesday, Oct. 29.
During the event, which brought together more than 100 public safety officials from across New York State to the State Preparedness Training Center (SPTC) in Oriskany, New York, participants got the chance to learn about and fly UAS in a variety of emergency scenarios that were set up throughout the SPTC.
"Unmanned Aerial Systems have rapidly become a critical component of emergency response operations, making it essential first responders have the training they need to utilize these devices in the field," explains New York State Homeland Security and Emergency Services Commissioner Patrick A. Murphy.
"Thankfully for New Yorkers, our first responders need not look any further than the 1,100-acre State Preparedness Training Facility in Oriskany to receive the best training available. Not only does the property feature multiple training venues which provide the opportunity to train in several different scenarios, but our expert staff has developed and delivered one of the nation's strongest curriculums to more than 750 public safety officials."
Participants learned about and tested UAS through four different scenarios during the event. The first scenario involved indoor flights where participants learned about the different challenges associated with flying UAS indoors. Participants also learned about tactical flights, the use of thermal cameras and crime scene investigation.
"If we can deploy a drone during an active situation where firearms or explosives may be in play, we're going to do it," says Lee Bormann, chief deputy of the Albany County Sheriff's Department.
"Being able to fly a drone around a corner or through a window to gather potentially life-saving intel is invaluable."
The next scenario was on SPTC's old runway and involved a rubble pile that included broken down buildings and debris, disabled vehicles and an active smoke machine to simulate a real-life scenario. During this scenario, participants were taught how to use an infrared camera and hazmat gas-sensing equipment to scan the rubble. The infrared camera not only detects heat, but it also produces a thermal image on the pilot's remote-control display to help identify things within the rubble pile such as people and fire.
The third scenario was a "disaster village" that included several buildings, hazardous materials and open flames. During this scenario, participants had to find "people" (heat-sensor mannequins) trapped within and around the building by flying their UAS through the smoke-filled village. Participants also learned how to use their UAS to properly take pictures to accurately document a scene, and for post-emergency education.
The final scenario was a search and rescue mission in a highly wooded area. This scenario gave participants the opportunity to learn how difficult it is to fly a UAS in and around trees while utilizing their infrared camera to spot "people" lost in the woods. Participants also learned how to program their UAS to automatically fly in a "lawn-mower" pattern to accurately scan the wooded area, to make sure that every inch was covered.
"We [NUAIR] are making a concerted effort to help train and educate New York State emergency personnel on the proper use and implementation of drones into their operations," says Michael Hertzendorf, CEO of NUAIR.
"It was great to see the incredible participation from public safety organizations and to begin to work with them to help them understand how drones can be utilized to support their work and ultimately be deployed, helping them save lives faster."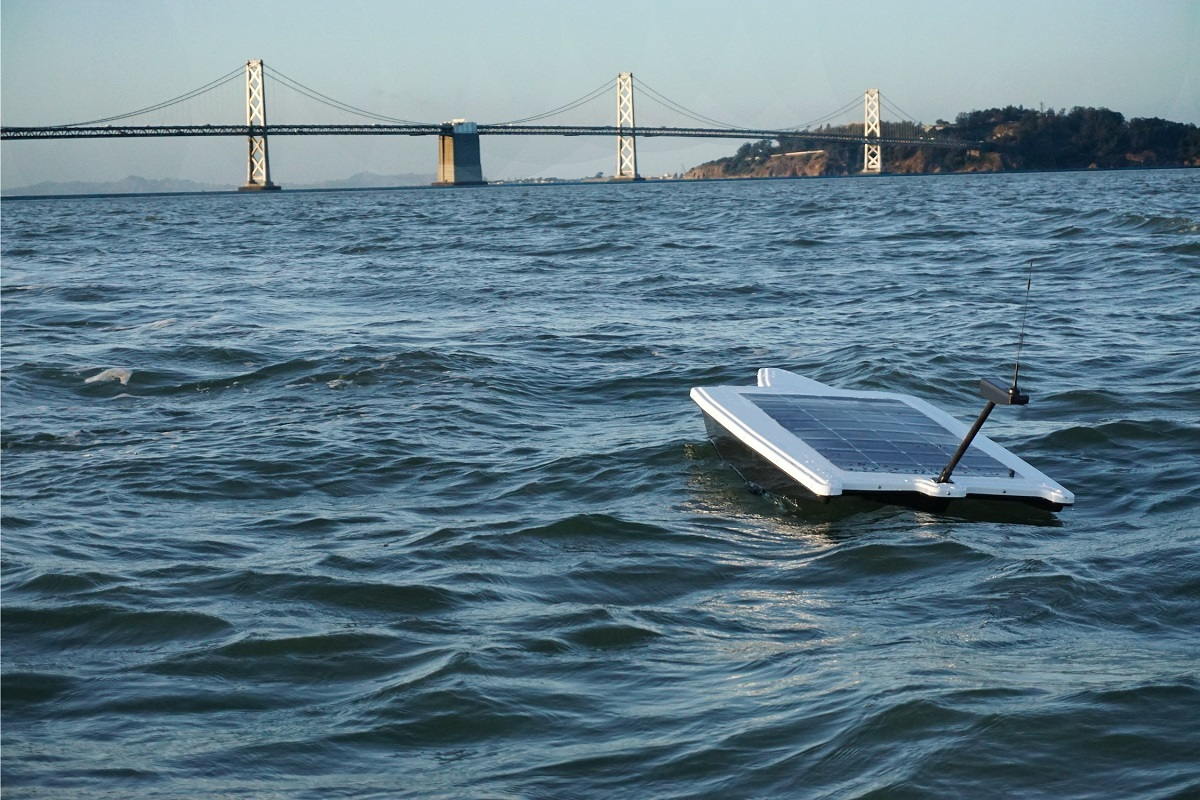 Sofar Ocean Technologies unveils Strider ASV
Ocean drone and sensor manufacturer Sofar Ocean Technologies has unveiled its new autonomous surface vehicle (ASV), Strider, which is designed to make ocean data collection more accessible.
Built to operate in coastal, near-shore and inland waters, the Sofar Strider can operate autonomously or remote-controlled through the internet—while integrating with a variety of sensors—thanks to the combination of autonomous navigation, solar power, and a modular design.
The ASV supports customizable payloads, and it is capable of collecting real-time video from above and below the waterline.
"Our goal is to enable a rapid increase in data density in critical regions of our global ocean and along our coastlines. Strider is an important step toward that goal," says Tim Janssen, Sofar co-founder and CEO.
"It combines a unique focus on autonomy, modularity, and scalability that provides unprecedented flexibility, affordability and ease-of-use to marine data collection."
According to Sofar, Strider will be available for "mission days" starting in December. During mission days, a Sofar technician will manage deployment and data collection for the needs of customers.
Share your vision-related news by contacting Dennis Scimeca, Associate Editor, Vision Systems Design

SUBSCRIBE TO OUR NEWSLETTERS