This week's roundup from the Association for Unmanned Vehicle Systems International (AUVSI), which highlights some of the latest news and headlines in unmanned vehicles and robotics, covers the integration of 3DR Robotics' Site Scan software with DJI unmanned aerial systems (UAS), beyond visual line of sight testing for drones in Canada, and a new mobile unmanned traffic management system.
3DR integrates Site Scan with DJI's UAS, also launches Enterprise Atlas platform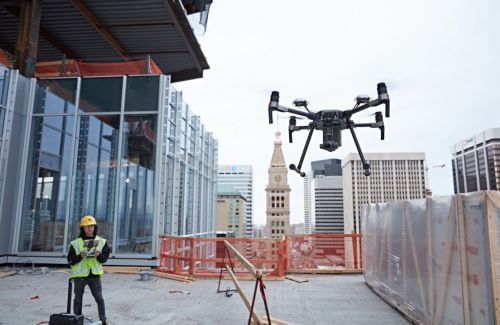 3D Robotics (3DR) has announced that its Site Scan software platform is integrating with DJI's UAS.
​Through this partnership, Site Scan customers will now be able to use DJI's UAS for their jobs while maintaining the same workflow as before, as they continue to use 3DR's mobile app, Site Scan Field, to collect data.
DJI's UAS will work seamlessly with Site Scan and all of its capabilities, including autonomous flight modes, multi-engine cloud processing, and its suite of tools designed for construction, which includes those used for performing topographic surveys, measuring stockpiles, and exporting native Autodesk file formats.
3DR's CEO Chris Anderson says that the integration of Site Scan with DJI is the ultimate merger.
"This integration will give Site Scan customers the best of both worlds: DJI's industry-leading drones, and 3DR's software for managing and analyzing the data they collect," Anderson says.
Michael Perry, Director of Strategic Partnerships at DJI, comments, "we're excited that 3DR Site Scan users can now use DJI drones to convert images into actionable data that helps project stakeholders save time and manage costs."
3DR has also announced the launch of its Enterprise Atlas platform, which the company describes as a "complete drone data solution designed specifically for large and fast-growing companies."
The Enterprise Atlas platform gives construction and engineering firms everything that they need to "successfully deploy and scale drone operations," whether it be in the field, or in the office while analyzing and managing UAS data.
Three features are at the core of Enterprise Atlas. The first feature is "role and project-based access." Through this feature, the right people, whether they're management, owners, subcontractors or employees, will have the appropriate data and privileges, thanks to multiple access licenses. Also, remote collaboration and status updates are a click way thanks to shareable links.
The second feature is "unlimited, secure storage." This features utilizes a secured 3DR cloud to store images, data, and flight history.
The final feature is "enterprise-ready support," which includes "comprehensive onboarding and implementation designed for organizations of any size, and customized for unique business requirements."
Through this feature, technical phone support is available 12 hours per day, and thanks to replacement and loaner vehicles, team members are ensured that they can fly wherever they need to.
3DR says that Enterprise Atlas is a perfect complement to its integration with DJI, because now different teams within an organization can use the UAS of their choosing, and the data is still accessible across teams and offices through Site Scan.
Microdrones conducts BVLOS test flights in Quebec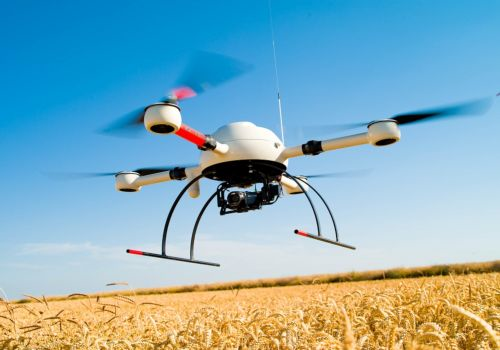 Via Unmanned Aerial, it has been announced that Microdrones completed a series of beyond visual line of sight (BVLOS) test flights on July 13 and 14 in Alma, Quebec, using the company's md4-1000 UAV.
Using the md4-1000 UAV with a variety of payloads attached to it, Microdrones conducted a total of 10 flights, which were flown by Microdrones' Jocelyne Bois, flight operations manager; Jeremy Jung, research and development engineer; and Yannick Savey, UAS pilot.
"We are very excited about the results," Bois says.
"All flights went well, and we easily exceeded our intended flight lengths. Our goal was to test the remote control, telemetry and battery endurance for those distances. Both performed beautifully."
The first set of test flights was made up of long-range flights over the Alma airport's runway. The longest flight in this set was three kilometers back and forth, and the aircraft made the trip with battery life to spare.
The second set of flights involved altitude flight testing, and the UAV reached a height of nearly 2,800 feet.
The flights were flown with a "standard configuration of RC, telemetry and batteries;" meaning that the UAV, as sold today, is ready for BVLOS flights, according to Microdrones.
Microdrones' md4-1000 UAV is one of just a few aircraft included in Transport Canada's list of compliant UAS.
Transport Canada granted Microdrones permission to conduct the flights, and Transport Canada also attended Microdrones' testing at the Unmanned Aerial System Centre for Excellence in Alma, Quebec.
Gryphon Sensors develops mobile UTM system called Mobile Skylight
Central New York-based Gryphon Sensors has developed a mobile Unmanned Traffic Management (UTM) system called Mobile Skylight.
Among its many capabilities, the Mobile Skylight system, which is equipped with a variety of self-contained multispectral sensors, provides "accurate three dimensional detection of low-flying, small UAS at a distance of out to 10 kilometers."
Mobile Skylight is contained in a "sleek, rugged van," and is described as a "complete mobile command center" that features 4x4 off-road capability, and can be transported anywhere without a commercial driver's license.
The system is designed for quick deployment for a number of different tasks, including search and rescue operations, special event security, and utility inspection, to name a few.
"We are excited to introduce Mobile Skylight, the nation's first operational mobile UAS Traffic Management and drone security system," says Anthony Albanese, President, Gryphon Sensors.
"The system provides unmatched versatility and air surveillance capability enabling Beyond Visual Line of Sight commercial and security UAS operations in the State's unique UAS flight corridor."
Mobile Skylight is a central component of "Central NY Rising," which is the region's "comprehensive blueprint to generate robust economic growth and community development."
As a part of "Central NY Rising," New York Governor Andrew M. Cuomo announced a $5 million commitment, through the Upstate Revitalization Initiative, to support Central New York's UAS industry. This announcement was made last August.
A few months later, at a UTM convention in Syracuse, Gov. Cuomo announced an additional $30 million investment that will be used to develop a 50-mile flight traffic management system between Syracuse and Griffiss International Airport in Rome.
For Gov. Cuomo, investing in this technology ensures that the state continues to be a major player in the UAS industry.
"By investing in the state-of-the-art technologies of tomorrow, we ensure that New York remains at the forefront of innovation and high-tech industry across the country," Cuomo says.
He adds, "with this new development, this region further secures its role as a national leader in drone technology, helping to spur job creation and economic activity - helping Central New York continue to rise for generations to come."
View more information on the AUVSI.
Share your vision-related news by contacting James Carroll, Senior Web Editor, Vision Systems Design

To receive news like this in your inbox, click here.
Join our LinkedIn group | Like us on Facebook | Follow us on Twitter