This week's article from the Association for Unmanned Vehicle Systems International (AUVSI), which highlights some of the latest news and headlines in unmanned vehicles and robotics, covers an unmanned mine hunting demonstration, unmanned aerial systems (UAS) rules in Europe, and a new all-weather, networkable ADS-B receiver for UAS.
Northrop Grumman demonstrates unmanned mine-hunting capabilities in Belgium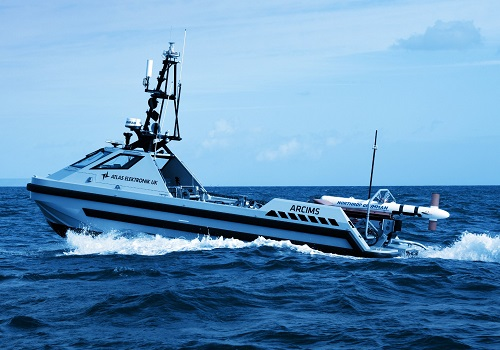 Northrop Grumman has announced that using the high-speed AQS-24B sensor, the company has successfully demonstrated unmanned mine-hunting capabilities during the Belgian Defense Technology and Industry Day trials at the Naval Base at Zeebrugge, Belgium.
The demonstration, which is a follow-on to a successful operation that took place in October 2016 during Unmanned Warrior in Scotland, showcased the high area coverage rate (ACR) that is attainable when combining Northrop Grumman's AQS-24B mine hunting system with the Atlas Elektronik UK ARCIMS USV, a platform that has proven to be extremely stable, and shown that it is ideally suited for towing the high-speed AQS-24B in rough seas.
"The ARCIMS - AQS-24B combination provides a highly effective and affordable mine countermeasure solution for our allies and theatre security partners," says Alan Lytle, vice president, undersea systems, Northrop Grumman Mission Systems.
Besides demonstrating the "modularity and ease of integration of the AQS-24B payload," the exercise also showed "the importance of the laser line scan sensor which serves as a gap filler for the high speed synthetic aperture sonar."
"Our team's demonstration at Belgium North Sea Unmanned MCM Trials proves that unmanned systems combined with the right payloads can perform high-speed mine countermeasures tasks, greatly reducing the mine clearance timeline while keeping naval personnel out of harm's way," Lytle adds.
John Sutcliffe, director of business development at Atlas Elektronik UK, says, "Atlas Elektronik UK and Northrop Grumman are leading the way in demonstrating a capability that is real, mature and tested in relevant operational environments in the North Atlantic at the Royal Navy's unmanned warrior and now in the North Sea at the Belgian Navy's Zeebrugge sea areas."
As a defence contractor in the naval and maritime systems domain, Atlas Elektronik UK specializes in technologies in anti-submarine warfare (ASW) and mine countermeasure (MCM). They are also world leaders in several areas such as hydro acoustics, underwater communications and maritime security.
Europe hopes to have UAS rules in place by 2019
The European Union's (EU) commission for developing a European air traffic control system hopes to have rules in place by 2019 that will facilitate the safe operation of UAS, in an effort to position Europe as a world leader for emerging UAS technology.
The ultimate goal of the EU is to create a traffic management system for UAS that is comparable to air traffic control for manned planes.
As the EU works to develop that traffic management system and have it ready by 2019, it has set short term goals to accomplish over the next two years. During that time frame, the commission plans to have a "European registration system for drones, a solution for keeping drones from flying over prohibited areas and remote identification of unmanned aircraft," according to Recode.net.
For remote identification of UAS to work though, there will likely need to be a place for the aircraft to register, or else they will function like an unmarked car on the road, with no driver, and no one to pull over should a problem arise.
uAvionix introduces all-weather, networkable ADS-B receiver for UAS
UAvionix has introduced its latest product, PingStation, which is an "all-weather, networkable ADS-B receiver for low and high altitude aircraft surveillance."
Because of its robustness, PingStation can be "permanently mounted outdoors in harsh environmental conditions," and it can also be used as a mobile asset for roaming operations thanks to its small size.
Among its many potential uses, PingStation could be used for Unmanned Traffic Management (UTM) systems, airport surface and region situational awareness, FBO/flight school fleet tracking and management, and it could be a component of UAS Ground Control Stations (GCS) and/or UAS Detect and Avoid (DAA) systems.
"uAvionix is excited to add PingStation to our product line of ADS-B transceivers and receivers," says uAvionix CEO Paul Beard.
"Our customers informed us for the need of robust and low-cost surveillance solutions to complement the airborne equipment used in their operations."
PingStation is a "dual band (978MHz and 1090MHz), networkable ADS-B receiver with a Power-Over-Ethernet (PoE) interface enclosed in an IP67 rated protective enclosure."
High-resolution timestamping for critical applications are possible thanks to the integration of the TSO certified uAvionix FYX GPS receiver. Ground, surface, or low-altitude ADS-B surveillance within line of sight of the antenna are provided, with ranges surpassing 250NM, depending on the transmission power.
For its initial application and use, PingStation is a component in Phase 1 of Project UAS Secure Autonomous Flight Environment (U-SAFE), which is a part of a low-altitude Beyond Visual Line of Sight (BVLOS), Unmanned Traffic Management (UTM) corridor extending from Griffiss International Airport to Syracuse, NY.
A grant from the Empire State Development Corporation is funding Project U-SAFE.
PingStation will also provide ADS-B receiver capability to Mobile SkyLight, which is the Mobile UTM System from Gryphon Sensors.
View more information on the AUVSI.
Share your vision-related news by contactingJames Carroll, Senior Web Editor, Vision Systems Design

To receive news like this in your inbox, click here.
Join our LinkedIn group | Like us on Facebook | Follow us on Twitter
Learn more: search the Vision Systems Design Buyer's Guide for companies, new products, press releases, and videos