This week's roundup from the Association for Unmanned Vehicle Systems International (AUVSI), which highlights some of the latest news and headlines in unmanned vehicles and robotics, covers the rollout of a turnkey drone service for the solar industry, additional details on Toyota Research Institute's new corporate venture capital subsidiary designed to provide early-stage financing to startup technology companies involved in such technologies as artificial intelligence (AI), robotics, autonomous driving, and data and cloud technology.
Measure rolls out turnkey drone services for solar industry
Measure, which is a leading provider of UAS services to enterprise customers, has launched new services for the solar energy industry, as it introduces a thorough suite of UAS inspection services for solar plant maintenance.
Thanks to the launch of the new services, entities within the solar energy industry who hire Measure will experience several benefits including improved efficiency and safety, specially designed 'snapshot' reports, and maximum revenue capture.
"Drone technology has resulted in new savings and efficiency opportunities for the solar energy industry, but a major investment of capital and human resources is required for solar PV plants and O&M contractors to run a drone program in-house," says Measure Vice President of Energy Infrastructure Harjeet Johal.
"Our turnkey solution – created and staffed by drone and solar industry experts gives them access to the fastest, safest, best-planned and most accurate drone inspections and data reporting in the market today."
According to Measure, the new turnkey solutions will allow solar facility owners, asset managers and O&M contractors "to realize the cost and operational benefits of aerial inspections," without having to invest in UAS, flight planning, pilots, GIS data specialists or data analysis infrastructure.
The cornerstone of the solution is solar panel inspections, which will result in the quick and cost-effective identification of "defective or damaged panels that are limiting energy output and associated business revenues."
Faster and more accurate detection of faulty panel infrastructure is possible thanks to Measure's temperature-specific thermal orthomosaics storing temperature in every pixel.
Also included in Measure's new solar solutions are UAS-based site overview and maintenance, tracker misalignment detection, and site shading and terrain analysis, among other things.
Bernerd Da Santos, Senior Vice President and Chief Operating Officer of The AES Corporation, says, "we selected Measure to inspect our energy infrastructure both in the U.S. and internationally because they provide an end-to-end solution that integrates seamlessly into our asset and work management processes, use the best available technology, and directly align with our 'safety first' commitment."
Da Santos adds, "Measure will help us scale our own drone program to cover our renewable and thermal generation, and transmission and distribution lines."
Toyota announces new venture capital fund for technology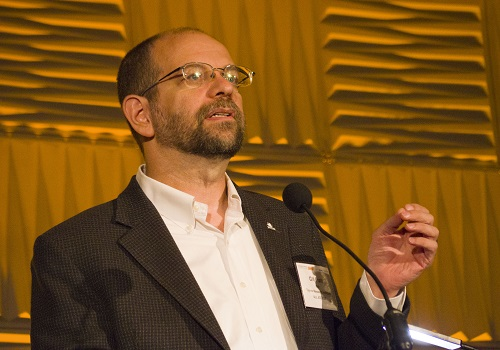 Have some good ideas for advanced technology? The Toyota Research Institute would like to hear about them, and may be willing to fund them and become a customer.
Gill Pratt, the former DARPA roboticist who is now COE of the TRI, announced a new venture fund named the Toyota AI Ventures at the Automated Vehicles Symposium on Tuesday, July 11, held by AUVSI and TRB in San Francisco.
The idea is to invite innovative companies "to join us in trying to move this field forward," Pratt said.
TRI was founded just last year with a $1 billion investment, and has quickly grown from zero employees to 200. Toyota AI Ventures is funded to the tune of $100 million from the $1 billion that TRI itself was founded with just last year.
The new fund will focus on four areas: artificial intelligence, cloud computing, robotics and autonomous vehicle mobility. It plans to issue what Pratt called "call and response" requests, and might pick the best two or three to help develop.
"Toyota provides funding, but also is a customer, but not the only customer — but a customer they can depend on," Pratt said.
It has already funded three companies — Nauto, which monitors driving behaviors; SLAMcore, which is developing a low-cost mapping system; and Intuition Robotics, which makes social robotic systems.
"It's the beginning of a much larger pool of investments that we plan to make," he said.
Pratt was the keynote speaker on the first day of the conference, following conference opener Malcolm Dougherty, director of the California Department of Transportation.
He said California has approved a spending package of $50 billion over the next decade, which includes money for cities and counties to focus on autonomous technology. It includes money for maintaining roads and bridges, but also requires projects to take into account future connected vehicle or autonomous technologies, "so we are accommodating that future look."
That could lead to mass distribution of collision avoidance systems, lane keeping, detect and avoid technology and ways to reduce distracted driving, he said.
"If we do all those things, thousands of lives can be saved, not only in California, but across the country," he said.
The state passed regulations for testing driverless vehicles in 2014, and 36 companies, from established automakers to startups, are now testing on public roads in the state. Rules covering the actual operation of such vehicles are still in the works, and draft regulations were published in March.
One big change is that "the new regulations would allow for driverless testing, completely driverless testing … and operation of those vehicles would be allowed," he said.
Current regulations require a steering wheel, gas pedal and other things not needed for self-driving cars.
French air force successfully completes first flight of MQ-9 Reaper UAS
The French air force has completed the first flight of the General Atomics Aeronautical Systems-built MQ-9 Reaper UAS at Cognac air base in France.
Designed to "meet and exceed reliability standards of manned aircraft," the Reaper has several unique capabilities that make it stand out, including an endurance of over 27 hours, an ability to travel at speeds of 240KTAS, and its ability to operate up to 50,000ft in the air.
The flight, which took place over the course of five hours, accomplished a variety of goals, including validating the performance of the UAS, testing the calibration of emergency parameters, and verifying satellite links.
The test was also conducted to "extend launch and recovery element (LRE) qualifications to land the Reaper."
Testing shows that the Drone Squadron 1/33 "Belfort" will now be able to operate the Reaper UAS on a daily basis over metropolitan France, which will give the air force "the increased autonomy of being able to train its own crews," according to Airforce-technology.com.
A crew of 30 is expected to operate a total of 12 aircraft that the Drone Squadron 1/33 is expected to have.
Currently, the squadron provides intelligence and support capabilities to Operation Barkhane and to the Special Forces, using six Reaper UAS that it operates.
View more information on the AUVSI.
Share your vision-related news by contacting James Carroll, Senior Web Editor, Vision Systems Design

To receive news like this in your inbox, click here.
Join our LinkedIn group | Like us on Facebook | Follow us on Twitter
Learn more: search the Vision Systems Design Buyer's Guide for companies, new products, press releases, and videos