This week's roundup from the Association for Unmanned Vehicle Systems International (AUVSI), which highlights some of the latest news and headlines in unmanned vehicles and robotics, covers a successful test of an Airbus UAV, a look at autonomous vehicles for ride sharing, and a combination aerial and underwater bridge inspection completed by a hybrid unmanned vehicle called the Naviator.
Airbus claims successful test of unmanned aircraft
Airbus has announced that its unmanned, jet-propelled craft, called "Sagitta," was successfully tested, as the aircraft flew by itself for around seven minutes over a test site in Overberg, South Africa.
Sagitta followed a pre-set course over the airfield, and it used automated take-off and landing capabilities. Data links were used to maintain connection to the ground during the flight.
Via CNBC, Grazia Vittadini, head of engineering at Airbus Defence and Space, says, "we are increasingly shifting our focus towards these kinds of innovative concepts, in particular for the development of UAVs (unmanned aerial vehicles), so that we can develop products quickly and efficiently for a growing market."
While the project is not meant for sale in itself, Airbus is using the demonstrator vehicle for future projects, although they are noncommittal on what kind of autonomous aircraft might result from this project. But Airbus has said that the design parameters focused on "a high degree of autonomy, variable mission profiles and low levels of perceptibility."
Ride sharing a first step to automated vehicles, speakers say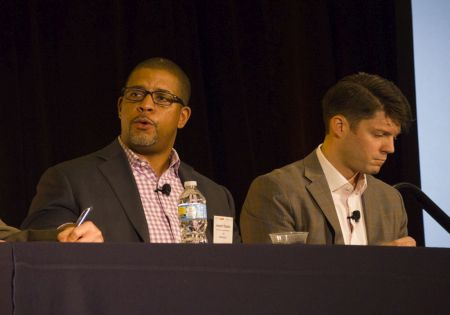 Shared rides—such as are offered by Lyft's Lyft Line and Uber's Uber Pool—are likely the first step to getting riders to accept future automated vehicles, representatives of those on-demand services said at the second day of the Automated Vehicles Symposium in San Francisco.
Joseph Okpaku, vice president of government operations for Lyft, said Lyft Line is available in 60 cities worldwide. In those cities, 20 percent of Lyft rides are shared rides, and some places, such as San Francisco, are much higher, verging on 50 to 60 percent.
Describing the company as "bullish" on automated vehicles, Okpaku said in five years, most of the company's rides will be in automated vehicles, at least in urban core areas.
Adam Gromis, global lead on sustainability and environmental impact at Uber, agreed that the road to automated vehicles is paved with ride sharing, and said there are one billion vehicles on the planet, which are in use for only 5 percent of their lives — "that's a lot of empty seats driving around."
He said Uber is tapping into its data to help design future self-driving technology.
"We're mapping cities … learning how people take trips," which will help get them ready for automated vehicles, he said.
Uber and Lyft appeared on a panel along with Jeff Hobson, deputy director for planning for the San Francisco County Transportation Authority. He said the city plans to use development on Treasure Island, home to a former military facility, as a proving ground for a ride-sharing system.
The island, home now to just a few thousand residents, will grow to tens of thousands of residents in coming years, who would overwhelm the Bay Bridge if they all drove. The city will instead use some grant money as part of the Smart Cities initiative to install an automated shuttle.
Even before automated vehicles become widespread, trucks that are automated to some degree will likely be on the roads, according to speakers on another panel. Volvo has done demonstrations for truck platooning, where a lead truck can partially control another, or even several others, and the California startup Peloton Technologies is devoted entirely to the concept.
Josh Switkes, founder and CEO of Peloton Technologies, was asked if platooning will be commonplace by 2030, and instead predicted it will be prevalent long before that.
Alden Woodrow, product lead for self-driving trucks for Uber Advanced Technologies Group, agreed, and said, "we are hiring. The more talented people we can hire, the sooner we will get there."
Naviator hybrid unmanned vehicle completes first air/water drone inspection of high value assets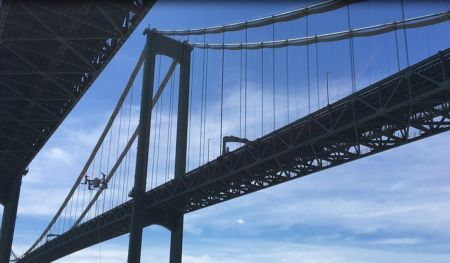 On June 18, the first combination aerial and underwater bridge inspectionwas successfully conducted on the Delaware Memorial Bridge Twin Spans, using a hybrid unmanned vehicle called the Naviator, which can fly and swim.
The inspection was a result of a collaborative effort that included the Delaware River Bay Authority (DRBA), Rutgers University-New Brunswick (RU-NB) and SubUAS LLC.
All parties involved with the inspection have high praises for the Naviator unmanned vehicle, and believe that the vehicle can be a gamechanger for a lot of industries moving forward.
"The ability to have a single autonomous vehicle inspect piers or vessels both above and below the water line is no longer science fiction," says Thomas J. Cook, executive director of the DRBA.
Rutgers-New Brunswick School of Engineering Professor F. Javier Diez says, "the Naviator's ability to seamlessly and rapidly transition from flying in the air to maneuvering underwater provides tremendous opportunities for a number of industries and naval operations."
"As these recent tests demonstrated, what previously might require a helicopter, boat, and underwater equipment, the Naviator was able to complete as a single deployment with fewer complications and in less time."
Finally, Mark Contarino, vice president of technology, SubUAS LLC, says "the Naviator drone's ability to repeatedly transition from water to air in less than two seconds has opened up novel markets that will find these capabilities advantageous."
Thanks to funding from the Office of Naval Research (ONR), the Naviator was developed at Rutgers School of Engineering, which is an official FAA UAS testing facility.
The Naviator prototype was developed in 2013 "with subsequent technologic advancements to its propulsion, buoyancy and control systems," by researchers in the Department of Mechanical and Aerospace Engineering at Rutgers-New Brunswick, under the direction of Professor Diez.
Support of the Naviator's development has also come from the Rutgers Center for Advanced Infrastructure and Transportation (CAIT).
The Naviator research team is making enhancements to the vehicle so that it can be used not only for bridge inspections, but also for applications such as ocean floor mapping, harbor security, and search and rescue operations, to name a few.
View more information on the AUVSI.
Share your vision-related news by contacting James Carroll, Senior Web Editor, Vision Systems Design

To receive news like this in your inbox, click here.
Join our LinkedIn group | Like us on Facebook | Follow us on Twitter
Learn more: search the Vision Systems Design Buyer's Guide for companies, new products, press releases, and videos