This week's article from the Association for Unmanned Vehicle Systems International (AUVSI), which highlights some of the latest news and headlines in unmanned vehicles and robotics, covers DJI's gesture-controlled consumer drone, the Spark, as well as a UAS that performs tornado damage assessment, an Alabama sheriff's office that will begin to use drones, and using radar in beyond line of sight drone operations.
DJI brings gesture control to consumer drones with the diminutive Spark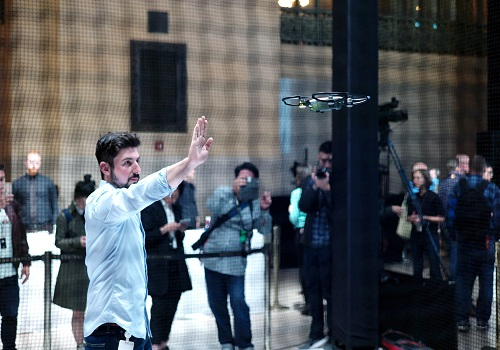 There's no excuse for boring home videos anymore, as long as you have $499 to pony up for DJI's latest consumer drone, the hand-launched, gesture-controlled Spark.
DJI unveiled the highly-anticipated Spark at a "Seize the Moment" event at New York City's Grand Central Station.
Michael Perry, director of strategic partnerships for the company, said Spark is controlled "by the simplest control interface we could think of, and it's not your phone."
It is, instead, your palm. An operator can direct the drones up-and-down and side-to-side motion using an outstretched palm, direct the aircraft to land by waving both hands, and even snap a selfie by making a box-shaped motion with their fingers.
"It's that simple to control, and it totally feels like magic," Perry said.
Other consumer drones have also featured gesture control, but sometimes require external hardware to do it, or cost considerably more than the Spark.
DJI's app allows the Spark to conduct a series of complicated flight patterns, such as flying in a spiral while keeping the camera trained on its subject, or looking down while zooming up. Using the Quick Shots command, it flies for a minute and then edits the resulting footage down to a 10-second clip suitable for sharing.
Spark flies at speeds up to 31mph for up to 16 minutes of flight time, features quick-swap batteries and can also be charged via a mini-USB port. Its onboard processing includes obstacle avoidance and DJI's geofencing system that keeps users from flying where they shouldn't.
The Spark weighs just over the cutoff requiring registration of the vehicle with the Federal Aviation Administration, although a federal court has just ruled that registration doesn't apply to hobbyist drones.
Aeryon Labs provides SkyRanger UAS to help assess tornado damage in Oklahoma
Aeryon Labs provided its SkyRanger small UAS to help rapidly and safely assess the damage caused by an EF-2 tornado that took place in Elk City, Oklahoma on May 16.
The SkyRanger UAS was used to collect more than one hour of high definition video and georeferenced still imagery over the tornado's damage.
Representatives from Aeryon Labs and Textron Systems Unmanned Systems' Civil & Commercial team traveled more than 100 miles to the impact site of the tornado to provide full-motion video in real-time to the Emergency Operations Center in Oklahoma City and the National Weather Service in Norman, Oklahoma.
Thanks to the AeryonLive Video & Telemetry technology, which "streams live video, images and aircraft telemetry from the SkyRanger sUAS across a secure bonded cellular network connection," Oklahoma's regional Emergency Operations Centers were able to receive the real-time video feed directly, and the National Weather Service also received a live broadcast of the video as well.
"We are honored that our technology and personnel could play a part in the disaster response effort in Oklahoma," says Aeryon Labs' CEO Bill McHale.
Dennis Racine, Textron Systems Senior Director of Sales and Marketing of Civil & Commercial Products, says, "it is difficult for first-responders to quickly assess the damage after a tornado impact due to downed powerlines and other debris."
"However, with our support, the Oklahoma Department of Emergency Management was able to rapidly and safely assess the damage to determine what types of resources were needed to help those in Elk City."
Avion Unmanned helps Limestone County Sheriff's Office receive COA from the FAA to operate UAS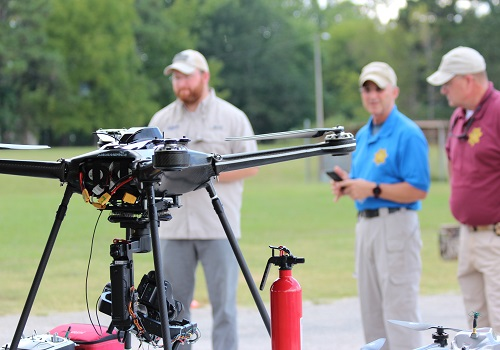 The Limestone County Sheriff's Office (LCSO) in Athens, AL, USA will now begin implementing UAS into their daily operations, after receiving a Certificate of Authorization (COA) from the FAA.
The FAA, in coordination with the local Air Traffic Organization (ATO) at Huntsville International Airport, issued the COA, which authorizes the LCSO to operate UAS within Limestone County, as well as in surrounding areas.
The LCSO received support from Huntsville, Alabama-based Avion Unmanned, which is a commercial branch of Avion Solutions, Inc. Avion Unmanned provided officers and deputies within the department with training on how to become FAA-compliant, legal, and safe UAS operators.
Avion Unmanned also helped develop the operating procedures of the agency, as well as the COA requests.
Taylor Abington, Avion's UAS Program Manager, says, "the only way to be effective with a tool is to be properly trained in how to use it."
"Avion launched our unmanned division specifically to ensure agencies like emergency management and law enforcement are properly trained to operate UAS legally, effectively, and most importantly, safely."
The UAS can be used for a variety of tasks, including lifesaving missions involving the search for missing people, and the monitoring of situations where a hazardous condition exists.
The UAS can also be used to gather information on a location before a search warrant is issued, or to help locate an inmate that has possibly escaped.
Springfield Beckley Municipal Airport installing radar to help UAS fly BLOS
In June, crews at the Springfield Beckley Municipal Airport in Clark County, Ohio will begin installing a new radarthat would allow an air traffic controller looking at the special radar on the ground in a trailer to guide UAS operators, while air traffic controllers in the tower would continue to focus on planes.
The $5 million bill for the radar will be paid for by the Air Force and the state of Ohio. Both entities hope that the "first-of-its-kind testing" of the radar will lead to FAA approval for beyond line of sight (BLOS) flight.
According to an article from WOSU Radio, the Air Force is expected to receive approval from the FAA within six to nine months, with Ohio's application expected to follow. If Ohio receives approval, private companies such as Amazon would be able to begin testing in Springfield.
Wright Patterson Air Force research lab deputy director Art Huber believes that the radar will be a big boost for safety, as he says, "now knowing where they are and the vectors in space, what space they are going, what direction they are going, the operator can now tell the pilot in charge of a small UAV, 'Hey, you have an airplane such and such distance from you. Why don't you turn in a new direction or airspeed or new altitude or whatever in order to stay away or avoid a collision?'"
Current rules require UAS to "fly with visual line of sight, or an unobstructed path between the vehicle and the controller," which means at the Springfield airport, there is seven nautical square miles' worth of flying space.
But with BLOS flight capabilities, that range increases to 200 miles and an altitude of up to 10,000 feet.
View more information on the AUVSI.
Share your vision-related news by contacting James Carroll, Senior Web Editor, Vision Systems Design

To receive news like this in your inbox, click here.
Join our LinkedIn group | Like us on Facebook | Follow us on Twitter
Learn more: search the Vision Systems Design Buyer's Guide for companies, new products, press releases, and videos