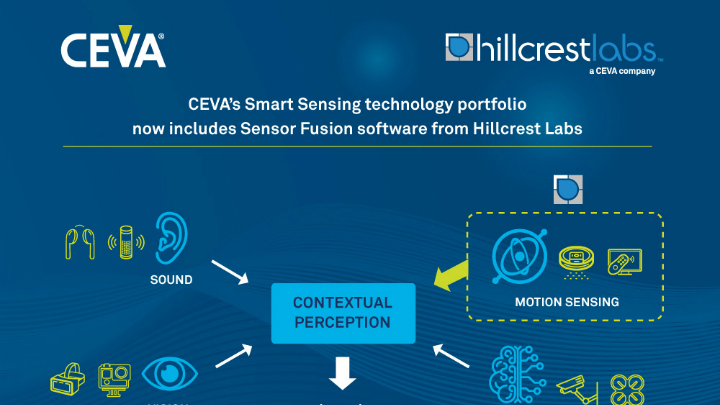 Hillcrest Laboratories, a supplier of sensor processing software and components, has been acquired from InterDigital, Inc. by CEVA Inc., a licensor of signal processing platforms and AI processors.
According to CEVA representatives the company's smart sensing technology, used in computer vision, AI processing, and microphone sound processing, will be complemented by the algorithms and software developed by Hillcrest Labs, such as MotionEngine, that fuse data from multiple sources into intelligent systems such as sensors and Inertial Measurement Units.
CEVA also expects the acquisition to broaden the company's software licensing with OEMs and ODMs and add IMU-based software applications to CEVA's merchant SoCs.
Further details of the acquisition will be shared on August 8, 2019, during CEVA's Q2 2019 earnings conference call.
Related stories:
Macnica Inc. acquires ATD Electronique
RIA reports Q1 2019 robot orders and shipping numbers down from Q1 2018
Machine vision component and system orders in North America slowed in Q1 2019
Share your vision-related news by contacting Dennis Scimeca, Associate Editor, Vision Systems Design

SUBSCRIBE TO OUR NEWSLETTERS