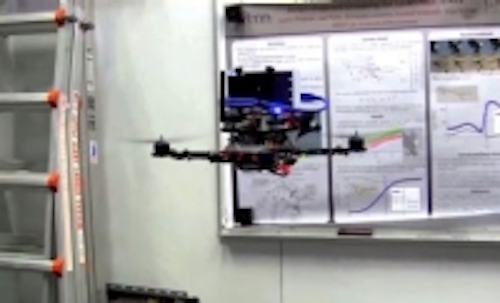 Researchers from the University of Pennsylvania have equipped one of their quadrotor unmanned aerial vehicles (UAV) with one of Google's Project Tango computer vision devices.
Google has been working over the past year to develop the Tango, which aims to give mobile devices a human-scale understanding of space and motion. With the device, Google wants to concentrate various technologies into a single device containing customized hardware and software designed to track the full 3D motion of a device while simultaneously creating a map of the environment.
Sensors in the device will enable it to make 3D measurements, updating its position and orientation in real time, and combining that data into a single 3D model of UAV's environment. The sensors used are the OV4682 and OV7251 CMOS image sensors from OmniVision Technologies, Inc. OV4682 records both RGB and IR information, the latter of which is used for depth analysis. OmniVision's OV7251 global shutter sensor is used for the device's motion tracking and orientation. In addition, the Myriad 1 computer vision processor from Movidius helps to process computer vision data.
Led by Professor Vijay Kumar, the UPenn researchers have attached the Tango mobile phone to the quadrotor for autonomous navigation. Of the Tango, Kumar says it is remarkable because it lets you "literally velcro it to a robot and have it be autonomous," according to IEEE Spectrum.
In a video in the IEEE Spectrum article, PhD student and group member Giuseppe Loianno shows the initial tests of the device. In the first part, Loianno sets the UAV to hover at a fixed position and then perturbs it by moving it around, but the UAV is able to promptly return to its starting point. He then commands the UAV to go to different places throughout the room and even if disturbed, the UAV will recover and stay on its programmed path.
Kumar and his team are now studying the Tango's accuracy of localization and comparing it to external motion tracking systems. As a result of initial tests, however, the team estimates the accuracy of the Tango to be within a centimeter.
View the IEEE Spectrum article.
Also check out:
FAA considering the approval of small commercial UAVs
Bebop surveillance UAV features advanced imaging capabilities
UAVs to be used to inspect aircraft for UK's largest airline
Share your vision-related news by contacting James Carroll, Senior Web Editor, Vision Systems Design
To receive news like this in your inbox, click here.
Join our LinkedIn group | Like us on Facebook | Follow us on Twitter | Check us out on Google +