3D imaging identified as hottest vision topic of 2015
3D imaging, according to the Vision Systems Design audience, was identifed as the "hot topic" in vision that readers are most interested in right now.
May 12th, 2015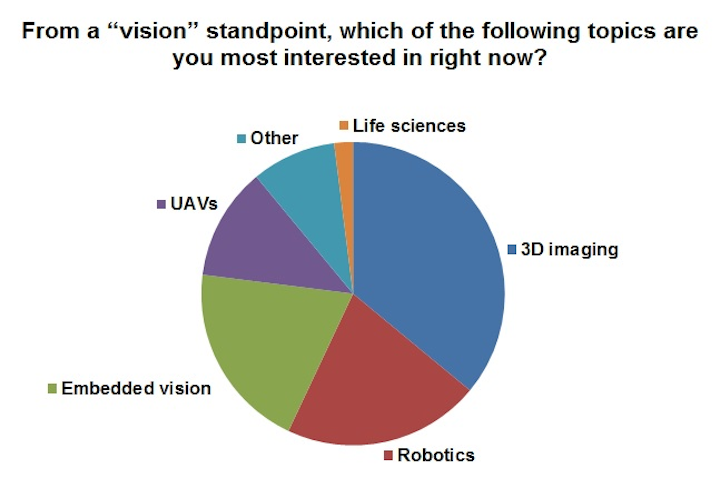 When we asked our audience about the hottest vision topics of 2015, the answer was loud and clear.3D imaging, by a wide margin, was identified as the topic that our readers are most interested in right now.
It is, perhaps, not surprising that 3D imaging took the top spot. This has been a rather hot topic as of late. Throughout the course of theVISION show in Stuttgart, I conducted numerous interviews with industry executives and experts on a number of different topics related to imaging and machine vision. When asked about what the "next big thing" could be, many of these folks suggested that the importance of 3D imaging will grow in the not-so-distant future.
Furthermore, Editor in Chief Andy Wilson recently wrote an informative article that covers not only 3D imaging, but also the second most popular response, which wasrobots. In the article, "Choosing a 3D vision system for automated robotics applications," Andy describes many of the 3D techniques and products that are now available for object recognition, classification, and analysis.
The other options not cover each and every application or market segment, but were instead identified as areas that could potentially see growth, and have definitely seen increased interest and technological advancement as of late. Here is the original question, along with the answers and the percentage of the 107 readers who responded to each option.
From a "vision" standpoint, which of the following topics are you most interested in right now?
3D imaging (36%)
Robotics (21%)
Embedded vision (20%)
UAVs (12%)
Other (9%)
Life sciences (2%)
Of the 8 respondents who indicated "Other," the answers included factory automation/machine vision (4), lighting (2), as well as automotive safety (1), and infrared imaging (1).
Learn more about these "hot topics" with the following selection of editorial coverage:
3D imaging
Robotics
Embedded vision
UAVs
Life sciences
Share your vision-related news by contactingJames Carroll, Senior Web Editor, Vision Systems Design
To receive news like this in your inbox,click here.
Join ourLinkedIn group | Like us on Facebook | Follow us on Twitter| Check us out on Google +