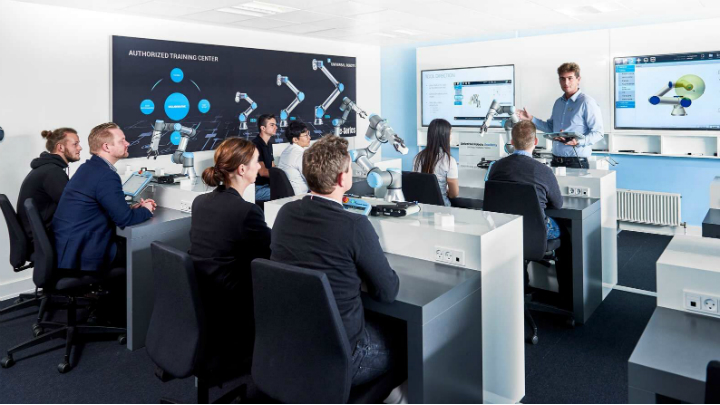 Universal Robots will focus on hands-on training with and understanding use cases for collaborative robots, or cobots, in its new worldwide network of authorized training centers.
The training centers are an outgrowth of the online training modules offered through the UR Academy. 13 of the new centers will be located in North America, with a total of 50 authorized training centers worldwide planned for launch.
Core and advanced cobot programming skills, that include scripting, industrial communication, and interface usage, will form the nucleus of the new training centers' curriculum. Service and troubleshooting classes will also be offered for users, technicians, and engineers who want to learn how to diagnose and resolve issues with cobot operation.
According to Universal Robots, classes will be kept small. Students will have the opportunity to try grippers and vision system hardware, technologies that students may not have previously been exposed to.
Some of the first authorized training centers will be opened at Advanced Control systems in Marietta, Georgia; Applied Controls in Malvern, Pennsylvania; HTE Automation Technologies in St. Louis, Missouri; and Ralph W. Earl Company in Syracuse, New York.
Training centers will also be opened at Universal Robots offices in Ann Arbor, Michigan; Irving, Texas; Garden City, New York; and Irvine, California. Class schedules have been posted on the Universal Robots Academy website.
Related stories:
Report: Collaborative robots to boost Internet of Things market growth
Industrial robots: Universal Robots sells its 25,000th collaborative robot
Collaborative robot from Universal Robots rings New York Stock Exchange bell
Share your vision-related news by contacting Dennis Scimeca, Associate Editor, Vision Systems Design

SUBSCRIBE TO OUR NEWSLETTERS