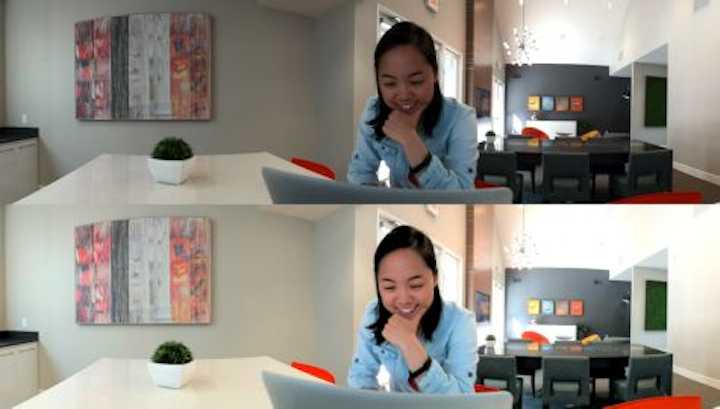 PanaCast Vivid is a new high dynamic range solution from Altia Systems that is based on a patented algorithm which enables the company's PanaCast 2 camera to mimic how the human eye handles various lighting conditions to autonomously optimize video quality in any collaboration setting.
Designed to alleviate visual distractions and distortions caused by things such as whiteboard glare or bright sunlight shining in through a window, PanaCast Vivid is a firmware update that will run in the PanaCast Video Processor within the PanaCast 2 camera system. The new tool is built around a patented biomimetic signal processing algorithm which enables the camera system to mimic how the human eye handles the vast changes in luminance in the real world by autonomously optimizing video quality in any lighting condition, according to Altia Systems.
Vivid, according to the company, autonomously enhances contrast, displays realistic colors, shows details even in dark areas and delivers a video stream that mimics how the eye naturally perceives light.
Yash Gupta, Director of Engineering for Camera Systems Development at Altia Systems, commented on the new product and how it can improve upon or eliminate any distractions or distortions during video calls caused by inadequate lighting situations in their rooms: "PanaCast Vivid provides instant, autonomous improvements for both the people in the room and remote participants, continuously optimizing video quality in any lighting condition to provide the best video experience possible."
Panacast 2 is a panoramic camera system with three separate imagers and an adjustable field of view through a USB video class (UVC) PTZ (pan, tilt, zoom) command set. The camera has USB 2.0 and USB 3.0 interfaces and features a 180° wide by 54° tall field of view, enabling it to see an entire meeting space without the use of electromechanical PTZ cameras.
Altia Systems' PanaCast Whiteboard is designed to be a computer vision capability for the PanaCast 2 camera system. PanCast Whiteboard—a collaboration with Intel—which is a computer vision software that detects content on an existing whiteboard and displays it as an individual screen within a video conference. Since the PanaCast Vivid HDR tool will be running on the PanaCast 2 camera, the new tool will also be available for users of the Whiteboard video conferencing software.
"It's great to see Altia Systems add automatic HDR capabilities to their existing PanaCast 2 camera with a simple firmware update. This update, plus automatic intelligent framing and its advanced features, keep PanaCast 2 amongst the top videoconferencing cameras for huddle rooms and small conference rooms for organizations that have specifically chosen to use software apps instead of hardware codecs in their rooms," said David Danto, Director of Emerging Technology, IMCCA.
"Now, he continued, "distractions such as imperfect lighting and bright windows will no longer get in the way of making useful collaboration footage for its users."
Companies such as Intermedia UK, NEC Networks & System Integration Corporation and The Enright Company have deployed PanaCast Vivid, according to Altia Systems.
View more information on PanaCast Vivid.
Share your vision-related news by contacting James Carroll, Senior Web Editor, Vision Systems Design

To receive news like this in your inbox, click here.
Join our LinkedIn group | Like us on Facebook | Follow us on Twitter